McIntosh C34V
See also C34VW EQ, Monitor amp
Original List Price: 2499.00 EA


---
Grade: S1
S1: 1999.00 EA
Special Item Call for Details
Electrical: Meets or exceeds original specs, all funtions operate
Comments:

---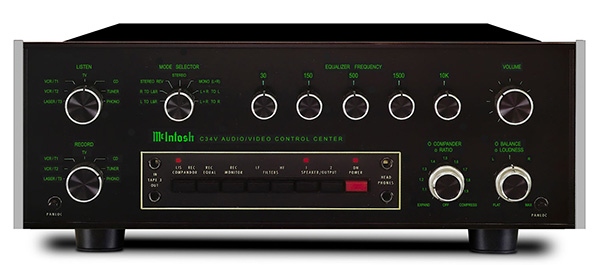 File Photo for Representation of item. May not be the actual item offered for sale.


See also C34VW with, 5 band EQ, compander, Monitor Amp
Phono, Record and Listen Buss.

Shipping weight: 45 lbs.

Related Categories: Interconnects Line Conditioners


Feedback: I really enjoy the c34v pre amplifier, my system sound better then ever. thanks again for the help with my trade in,that really made all of this possible for me. keep up the good work and quality service. A.G., NY
Got home on Saturday and setup immediately. Forget the bi-amping, the Rotel 1080 with the C34 is amazing. Big bass, clear mids and high end, and great warm sound. Couldn't be happier. Thanks for all your effort and help getting us back in the game... appreciate it much. It is a pleasure turning business into pleasure when working with people who are not just in it for the money, but truly enjoy seeing others happy to achieve a good sound. Thanks again. T.M. NY
..the C34V preamp is superb! M.W., MD
Received the C34V yesterday and as with the MC2002 and MR78, it is in pristine condition. Your honest representation of condition and service make your company unique in todays business world. D.I., MI.
Convenient payment plans: Audio Classics, Ltd. accepts Mastercard, VISA, Discover and American Express. For Your protection, we thoroughly investigate the validity of all credit card charges. To avoid delays, we prefer to send credit card orders to Your billing address only. You can pay by personal check, postal money order, certified check or bank cashier's check. Personal checks are subject to credit verification and can delay orders up to two weeks. COD orders must be paid by cash, bank check or money order and require a 10% deposit. The deposit can be paid by check or credit card.
Expert Packing: Your purchase is packed in the original shipping container whenever possible. Double boxing is used for extra protection on most items and Your shipment is insured. Large or heavy items can be crated at an additional charge. Audio Classics, Ltd. ships by your choice of UPS, FEDEX, US Mail, BAX, Roadway or Consolidated and you pay the shipping and handling charges.