McIntosh MA6300
100 WPC Integrated amp
Original List Price: 4500.00 EA


---
Grade: A1
A1: 4500.00 EA
Physical: Mint condition
Electrical: Meets or exceeds original specs, all funtions operate
Comments:with box, manual & remote.

---

NEW McIntosh available in store only

---

DEMO McIntosh available in store only

---

Grade: B1
B1: 3339.00 EA
Physical: Some light scratches - Excellent Condition
Electrical: Meets or exceeds original specs, all functions operate
Comments:

---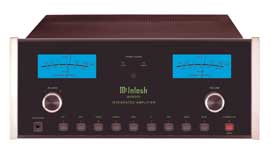 File Photo for Representation of item. May not be the actual item offered for sale.


2 x 100/150 WPC into 8/4 Ohms Direct-Coupled Amplifier
Exclusive McIntosh Power Assurance System
MM Phono-Stage
Peak Responding Watt meters
Fiber-Optic Illuminated Glass Front Pane
1/4" Headphone Jack

Shipping weight: 50 lbs.

Related Categories: Interconnects Speaker Cable Line Conditioners


Feedback: I just got the MA6300 hooked up to the Thiel 2.2's and the Clearaudio TT. All I can cay is ".... AWESOME" M.H., FL
Just wanted you to know I got my MA6300 today safe and sound. Got it set up and it sounds beautiful! Thank you so much for helping me with my purchase and making sure it arrived when I needed. J.M, NY
I had been considering McIntosh components to replace my aging Sansui equipment, and the folks at Audioclassics were absolutely outstanding. The (MA6300, MR85, MVP861) arrived in perfect condition, and their grading system is surprisingly conservative. The (MA6300, MR85, MVP861) condition and appearance was far better than the advertised "B1". The (MA6300, MR85, MVP861) performs flawlessly, and compared to anything I have owned for the last 40 years, is a far noticeable improvement. I would highly recommend Audioclassics as the source for McIntosh. M.M., FL
Convenient payment plans: Audio Classics, Ltd. accepts Mastercard, VISA, Discover and American Express. For Your protection, we thoroughly investigate the validity of all credit card charges. To avoid delays, we prefer to send credit card orders to Your billing address only. You can pay by personal check, postal money order, certified check or bank cashier's check. Personal checks are subject to credit verification and can delay orders up to two weeks. COD orders must be paid by cash, bank check or money order and require a 10% deposit. The deposit can be paid by check or credit card.
Expert Packing: Your purchase is packed in the original shipping container whenever possible. Double boxing is used for extra protection on most items and Your shipment is insured. Large or heavy items can be crated at an additional charge. Audio Classics, Ltd. ships by your choice of UPS, FEDEX, US Mail, BAX, Roadway or Consolidated and you pay the shipping and handling charges.