Grade: B1
B1: Call for availability
Physical: Some light scratches - Excellent Condition
Electrical: Meets or exceeds original specs, all functions operate
Comments:with inner box, manual & remote.



---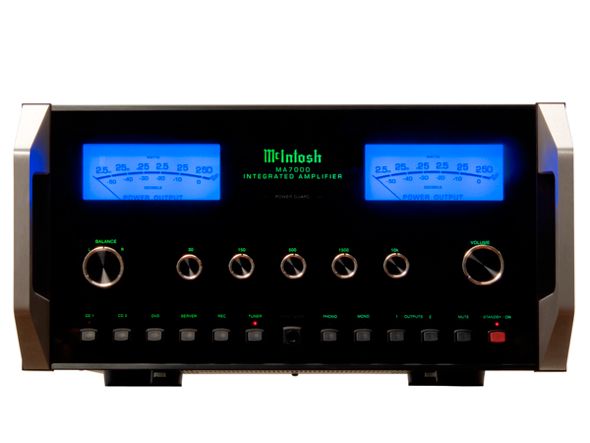 File Photo for Representation of item. May not be the actual item offered for sale.


2 x 250 Watts Peak Responding Watt meters
Output Autoformers for 2, 4 & 8 Ohms
Exclusive McIntosh Power Assurance System
High-Output Current Capability
5-Band Equalizer MM Phono-Stage
Fiber-Optic Illuminated Glass Front Panel
1/4" Headphone Jack

Shipping weight: 132 lbs.

Related Categories: Interconnects Speaker Cable Line Conditioners


Feedback: I have installed to Behemoth and after a long and Considerable break-in, I have concluded that I have never been a Huge McIntosh Fan, I find myself Attracted to the large Blue Meters and Classic look. However I have myself actually looking forward to a listen just about every night. I'm not sure why but I see why so many people use the word organic when talkin bout the Mac Sound but this bad boy really cooks. In Short even though I would love to Ramble on and waste your Time, I love this amp! The louder I play it the better it sounds. Well I must get back to work so I can send more money this week to you. M.G., NY
Convenient payment plans: Audio Classics, Ltd. accepts Mastercard, VISA, Discover and American Express. For Your protection, we thoroughly investigate the validity of all credit card charges. To avoid delays, we prefer to send credit card orders to Your billing address only. You can pay by personal check, postal money order, certified check or bank cashier's check. Personal checks are subject to credit verification and can delay orders up to two weeks. COD orders must be paid by cash, bank check or money order and require a 10% deposit. The deposit can be paid by check or credit card.
Expert Packing: Your purchase is packed in the original shipping container whenever possible. Double boxing is used for extra protection on most items and Your shipment is insured. Large or heavy items can be crated at an additional charge. Audio Classics, Ltd. ships by your choice of UPS, FEDEX, US Mail, BAX, Roadway or Consolidated and you pay the shipping and handling charges.