McIntosh MR67
McIntosh FM Stereo Tube Tuner
Original List Price: 299.00 EA


---
Grade: S1
S1: 1899.00 EA
Special Item Call for Details
Electrical: Meets or exceeds original specs, all funtions operate
Comments:Performance Certified by Audio Classics, RTM.

---

Grade: C?
C?: 699.00 EA
Physical: Some scratches or nicks, light oxidation - Good Condition
Electrical: Not graded AS IS
Comments:

---

Grade: D5
D5: 499.00 EA
Physical: Some dents or oxidation - Fair Condition
Electrical: Does not meet spec, some functions broken AS IS
Comments:

---

Grade: D?
D?: 499.00 EA
Physical: Some dents or oxidation - Fair Condition
Electrical: Not graded AS IS
Comments:Parts Unit, Dirty, rusty, needs alignment.

---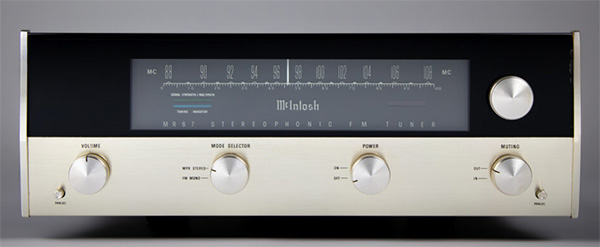 File Photo for Representation of item. May not be the actual item offered for sale.


Front Panel: Anodized gold and black aluminum panel. Illuminated tuning dial. Electron ray tube: multipath and signal strength. Stereo MPX indicator. Illuminated tuning meter. Tuning control. Volume control. Mode selector switch: MPX stereo or FM mono. Power switch: on or off. Muting switch: on or off. Panloc buttons. Early units had electron ray tuning (green) and multipath and signal strength (blue) on the left with mpx stereo (red) light on the right.
Back Panel: Muting adjustment. Left and right audio outputs: 2.5V fixed output and 2.5V front panel controlled. Screw terminals for 300 or 75 ohm FM antenna. Power cord. Fuse. Unswitched AC outlet. Panloc mounting.
Top Panel: Pilot lamp intensity: bright or dim. Indicator function: signal strength or multipath.
FM Section: RF Sensitivity 2.5uV. AF Response 20Hz to 20kHz ± 0.5dB. Distortion < 0.5%. Capture 1.7dB. Image rejection > 60dB. Four IF stages. Two limiters. Separation 30dB.
Tubes: 6DS4, 12AT7, 6AB4, (3) 6AU6, 6CS6, 6AV6, EMM801, (2) 6BL8, 6U8, 12AU7
Production: 6,507 units made from April 1963 to November 1968. SN 100T1 to 608T7
FM Stereo Tube Tuner. Precision engineered & highly sensitive,
this outstanding tuner provides magnificient mono & stereo FM
reproduction.

Shipping weight: 35 lbs.

Related Categories: Modafferi Modifications Antennas


Feedback: Just one word to say that I have been able (at last !) to test the MR67 I bought two months ago ; It works fine, and is really very beautiful ; the sweetness of its "tube sound" is very pleasant ; Thank you ! E.B., France
just a quick note to say that the MA5100 arrived safely back... Thank you for the fast fix of its tape monitor switch problem. The MR67 and MA5100 look fabulous together in their L12R wood cases and sound even better. You know it's funny that with all the talk about poor sound from first generation solid state how sweet and musical the MA5100 sounds. Same thing for first generation CD players - yet the MCD7000 continues to astound me with its great sound. (I guess McIntosh got it right the first time!) The MR67, MA5100 and MCD7000 are making great music in my living room and I thank you Frank, as always, for your excellent sales support and concern for your customers. After all the years of doing business with you I hope to be able to get out to Vestal to meet you in person sometime soon now that I'm retired and finally have some control over my schedule. Take Care and Thanks Again! C.G., IL
Received the MR67 back ... It sounds just stunning. Listened to an opera broadcast last evening - it sounded transparent, present, real! Beautiful singing voices and instrument sounds, fantastic portrayal of a huge stage, etc. (The MR67 was so involving I couldn't turn if off and I don't even like opera.) Thanks to Richard for the great modifications, Ryan for the quick fix of the power switch and tuning eye tube, and to you for proactively replacing its glass and including an original owner's manual with the tuner. Your customer service, as always, is the best in the business. Very Best Wishes, C.G., IL
... I received the MR67 tuner and cabinet yesterday. I was surprised at their condition (especially the cabinet,) considering their conservative gradings. The tuner pulls in stations that not even my old Tandberg could do very well. Thanks for your extra efforts in getting this tuner to me in a timely manner. J.T., CA.
Heard from "your customer" in Germany. He's very happy with his MR67. Thanks for your help. S, AZ.
The MR67 arrived and all is fine. I am very happy. Thanks. R.M., Germany
Thank you for expertly packing & sending the MR67 tuner. It is double packaged to withstand a nuclear blast. G.H., VA
Convenient payment plans: Audio Classics, Ltd. accepts Mastercard, VISA, Discover and American Express. For Your protection, we thoroughly investigate the validity of all credit card charges. To avoid delays, we prefer to send credit card orders to Your billing address only. You can pay by personal check, postal money order, certified check or bank cashier's check. Personal checks are subject to credit verification and can delay orders up to two weeks. COD orders must be paid by cash, bank check or money order and require a 10% deposit. The deposit can be paid by check or credit card.
Expert Packing: Your purchase is packed in the original shipping container whenever possible. Double boxing is used for extra protection on most items and Your shipment is insured. Large or heavy items can be crated at an additional charge. Audio Classics, Ltd. ships by your choice of UPS, FEDEX, US Mail, BAX, Roadway or Consolidated and you pay the shipping and handling charges.