Grade: GOOD
GOOD: 3999.00 EA
Physical: Some scratches or nicks, light oxidation - Good Condition
Electrical: Meets or exceeds original specs, all functions operate
Comments:Circa 1961. Performance Certified by Audio Classics, IMM.
Call for availability



---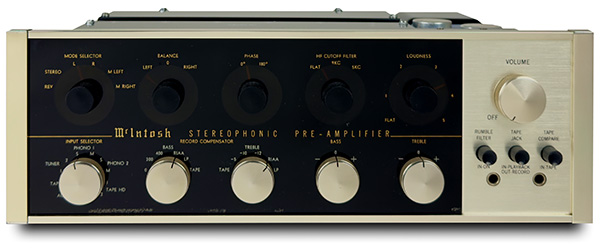 File Photo for Representation of item. May not be the actual item offered for sale.


Shipping weight: 35 lbs.

Related Categories: Interconnects Line Conditioners


Feedback: I wanted to get back to you with a follow-up on your restoration of my venerable Mac C20. I got it in the mail yesterday after an unexpectedly short turn-around. It came packed in a professional, fresh, double box with plenty of holes from shipping but absolutely no damage to the preamp, thanks to your experience and care. I plugged it in and let it idle into my two MC 30s. From the moment I put on "Famous Blue Raincoat" I heard depth of detail I hadn't picked up before. At listening levels, music came out of a silent background, what I would expect from modern transistors, like my Apt-Holman, or Denon. Turned up past earbleed, there was only a faint hiss and hum with my ear up to the Scan-Speak/Dynaudio speakers. I am very impressed! All controls are silent, and the volume control is trimmed to track, as promised. You updated just what was needed and let be what didn't need changing. I'm glad to see the old prized Telefunken tubes are all still there but I expected that from a company with your reputation.So, that's my glowing testimonial. Great work! You might see the unit again in fifty years! C.E., ME
Love my MC240, C20 & MR67 that Andy sold me!! It was everything I expected & more. I hooked it up to a pair of vintage JBL C38's and it was pure heaven. Even the tuner sounds great listening to my favorite jazz station.B.M., CA
... after more than a year with it, I am extremely happy with the C20. Your tech did a masterful job on the updates. It seems to get better every time I turn it on. LP listening is more enjoyable than ever. Even some of my audio-snob friends have started watching and waiting for a C20 on ebay for a reasonable price. C.J., CO
Convenient payment plans: Audio Classics, Ltd. accepts Mastercard, VISA, Discover and American Express. For Your protection, we thoroughly investigate the validity of all credit card charges. To avoid delays, we prefer to send credit card orders to Your billing address only. You can pay by personal check, postal money order, certified check or bank cashier's check. Personal checks are subject to credit verification and can delay orders up to two weeks. COD orders must be paid by cash, bank check or money order and require a 10% deposit. The deposit can be paid by check or credit card.
Expert Packing: Your purchase is packed in the original shipping container whenever possible. Double boxing is used for extra protection on most items and Your shipment is insured. Large or heavy items can be crated at an additional charge. Audio Classics, Ltd. ships by your choice of UPS, FEDEX, US Mail, BAX, Roadway or Consolidated and you pay the shipping and handling charges.