McIntosh C2500
Remote Tube Preamp w DAC
Original List Price: 7000.00 EA


---
Grade: B1
B1: 4499.00 EA
Physical: Some light scratches - Excellent Condition
Electrical: Meets or exceeds original specs, all functions operate
Comments:with remote & manual.
Call to order

---

Grade: B?
B?: 4499.00 EA
Physical: Some light scratches - Excellent Condition
Electrical: Not graded AS IS
Comments:
Call to order

---

Grade: C1
C1: 4499.00 EA
Physical: Some scratches or nicks, light oxidation - Good Condition
Electrical: Meets or exceeds original specs, all functions operate
Comments:Ghosted glass.
Call to order

---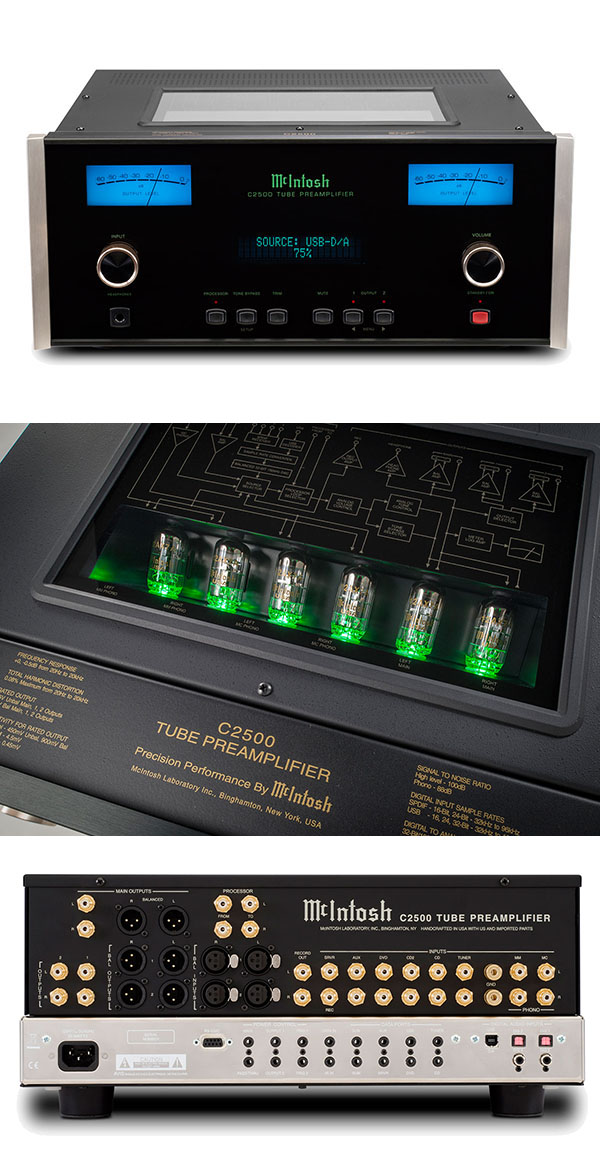 File Photo for Representation of item. May not be the actual item offered for sale.


Vacuum Tube Preamplifier
5 Digital Inputs: 2 Coaxial, 2 Optical and 1 USB
6 High-Level Unbalanced & 2 High-Level Balanced Inputs
3 Sets Each: Balanced and Unbalanced Outputs
MC & MM Phono Sections Power and Data Control Ports
32-bit, 192kHz D/A Converter
Wide Dynamic Range and Extremely Low Distortion
Burr Brown 32/192 DAC.

Shipping weight: 50 lbs.

Related Categories: Interconnects Line Conditioners


Feedback: Fantastic Customer Service from Audio Classics I purchased a McIntosh C2500 tube preamp from Audio Classics late December 2017 and received it around the 5th of January. I loved it ever since it went into my system. Last week I couldn't get the preamp to turn on so I did the processor reset and viola, it came on. It happened 3 more times within the next 4 days, so last Friday night at 11pm, I emailed my salesman (Mike Sastra) and told him of the situation. Saturday morning I received email from Mike saying he would talk with the Tech and would get back to me as soon as he heard. Sunday afternoon Mike sent me a message saying he would swap the preamp for another they had in stock. I told him I would pick up the next day as I don't like shipping tube equipment. At 11am on Monday morning, Mike loaded the new to me preamp into my car and by 5pm I was listening to it in my system. Consider that Audio Classics is closed on the weekend except for special appointments. The fact that they took such good care of me on a weekend no less, speaks volumes about their work ethic and integrity. I have purchased 6 McIntosh pieces from Mike in the past10 months and for any McIntosh equipment, I wouldn't consider going anywhere else. They truly go the extra miles to make sure every customer is treated well. I just can't say enough good things about Audio Classics. R.V., RI
I just want to let you know that I received the preamp ... and everything is fine!,she got here safe and sound, such a gorgeous piece of craftsmanship!,just beautiful machine,I can wait to listen to it this weekend, thank you very much!... P.P., FL
I want to thank Mike Sastra, he recommended and sold me the McIntosh C2500 (and) a McIntosh MCT450 from ....Audio Classics. R.W., DE
That the the C2500 is one of the best purchases I've ever made. Congrats on the great review. The recognition is well deserved.B.B., NY
I received the Mc C2500 .. in just one day! It is a beauty for sure. If I didn't know it was B1 I would have thought it was brand spankin' new. Although the C48 is a great piece that I got from you a while back, I'm very pleased with my upgrade to the C2500. Sounds fantastic. I guess I'm just a tube guy. So, again thanks very much for your help, quick reply to my emails, and a quick and smooth transaction. Hope to deal again soon.B.S, MA
Wanted to let you know I received the pre amp today. It looks brand new! ... Normally I wouldn't make a purchase like this unless I was face to face, as I'm very particular. I'm extremely pleased with your service, and look forward to more translations in the very near future. F.S., SC
thank you for the great day and all the time you spent with us to make a decision. Certainly it was way above and beyond what I would have expected in the scope of a sale. J.J., NY
got one from you. Love it. M.D., FL
The C2500 arrived today and it is absolutely PERFECT!!! It even looks brand new and the tubes definitely sound better in my system! It's a nice improvement over the C48 - the tubes in the preamp add just a touch of warmth or glow to the sound of the big solid state amp. Absolutely thrilled! THANK YOU! THANK YOU!!! T.G., NV
Convenient payment plans: Audio Classics, Ltd. accepts Mastercard, VISA, Discover and American Express. For Your protection, we thoroughly investigate the validity of all credit card charges. To avoid delays, we prefer to send credit card orders to Your billing address only. You can pay by personal check, postal money order, certified check or bank cashier's check. Personal checks are subject to credit verification and can delay orders up to two weeks. COD orders must be paid by cash, bank check or money order and require a 10% deposit. The deposit can be paid by check or credit card.
Expert Packing: Your purchase is packed in the original shipping container whenever possible. Double boxing is used for extra protection on most items and Your shipment is insured. Large or heavy items can be crated at an additional charge. Audio Classics, Ltd. ships by your choice of UPS, FEDEX, US Mail, BAX, Roadway or Consolidated and you pay the shipping and handling charges.