McIntosh C32
Preamp, 5 Band Eq, Monitor Amp
Original List Price: 1895.00 EA


---
Grade: C4
C4: 999.00 EA
Physical: Some scratches or nicks, light oxidation - Good Condition
Electrical: Does not meet spec, all functions operate AS IS
Comments:Performance Certified by Audio Classics, DEP
Call to order

---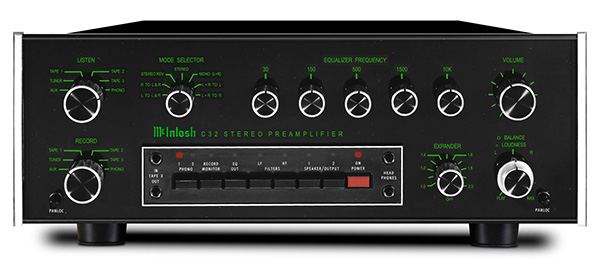 File Photo for Representation of item. May not be the actual item offered for sale.


Stereo Preamp with 5 Band EQ, Variable Loudness, record buss.

Shipping weight: 40 lbs.

Related Categories: Interconnects Line Conditioners


Feedback: I just got a McIntosh C-32 from you. It is 100% perfect! Stereo equipment that is 30 years old is never perfect, but my C-32 is. No scratchy pot or switches! Sounds great too. One more thing, all the C-32s on ebay at this time were more $. G.S.
Although it's just a budget system, I finally got my McIntosh. I'm really impressed with the sound quality. C.C., MD
My C32 arrived today and all I can say is WOW! This unit looks like it just came out of the box from the factory! The packing was perfect and once again, you have proved to me why I need to keep you at the top of my list for quality components. Thanks again for your professional advice and excellent service. Best Regards, C.P., TX
The C32 is lovely - it looks great and everything seems to work. My albums never sounded better! I'm looking forward to doing business with you again. B.D.,N.D.
Convenient payment plans: Audio Classics, Ltd. accepts Mastercard, VISA, Discover and American Express. For Your protection, we thoroughly investigate the validity of all credit card charges. To avoid delays, we prefer to send credit card orders to Your billing address only. You can pay by personal check, postal money order, certified check or bank cashier's check. Personal checks are subject to credit verification and can delay orders up to two weeks. COD orders must be paid by cash, bank check or money order and require a 10% deposit. The deposit can be paid by check or credit card.
Expert Packing: Your purchase is packed in the original shipping container whenever possible. Double boxing is used for extra protection on most items and Your shipment is insured. Large or heavy items can be crated at an additional charge. Audio Classics, Ltd. ships by your choice of UPS, FEDEX, US Mail, BAX, Roadway or Consolidated and you pay the shipping and handling charges.