Grade: B1
B1: 2699.00 EA
Physical: Some light scratches - Excellent Condition
Electrical: Meets or exceeds original specs, all functions operate
Comments:with manual & remote.
Call to order

---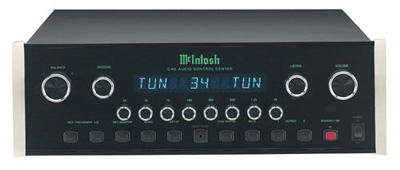 File Photo for Representation of item. May not be the actual item offered for sale.


Solid State Stereo Preamp. Programmable Source Selections.
One Main and Two Switched Outputs
Logic Driver Electromagnetic Switching.
Fiber-Optic Illumination. Eight Frequency Equalizer Circuit.
Input Level Matching. Separate Listen & Record Input Selection.

Shipping weight: 45 lbs.

Related Categories: Interconnects Line Conditioners


Feedback: I received the C46 today cheer for the quality of packing. the c46 is really a qualitative gain for me compared to the C712 that I had previously. V.H. France
Just wanted to say that I received the C46 from you in perfect condition. Packaged securely as always. I am thrilled with this purchase. I love this unit. It took my system to the next level of excellence and sounds magnificent with my MC275. And I appreciate the service as well. Thanks again for the new addition to my McIntosh family. M.D., IL
Still very happy with the Mac C46 I bought from you. B.B. CA
I have owned and enjoyed McIntosh equipment for over 40 years and I trust McIntosh. Every day I use my C-46 preamp and 352 amp to play compact disks when I exercise in the basement and/or I use my other C46- and 205 CD player upstairs. I have also had a wonderful relationship with Mike at Audioclassics. I will only buy equipment that is made by McIntosh and that Mike sells to me. In these times of disposable everything, it is nice to be happy with a good quality purchase that endures. J.S., VA.
Just a quick note to say both units have arrived safely. We started with the C46 and the difference it made was just awesome. One of the reasons I wanted the C46 was because of the equalizer. Its turned out the unit is so good, I do not need tone controls at all - unbelievable! Adding the 402 a week later took things to a much higher plane and we now no longer feel the urgent need to change our speakers. Thanks again for two superb pieces of kit. R.B.
Convenient payment plans: Audio Classics, Ltd. accepts Mastercard, VISA, Discover and American Express. For Your protection, we thoroughly investigate the validity of all credit card charges. To avoid delays, we prefer to send credit card orders to Your billing address only. You can pay by personal check, postal money order, certified check or bank cashier's check. Personal checks are subject to credit verification and can delay orders up to two weeks. COD orders must be paid by cash, bank check or money order and require a 10% deposit. The deposit can be paid by check or credit card.
Expert Packing: Your purchase is packed in the original shipping container whenever possible. Double boxing is used for extra protection on most items and Your shipment is insured. Large or heavy items can be crated at an additional charge. Audio Classics, Ltd. ships by your choice of UPS, FEDEX, US Mail, BAX, Roadway or Consolidated and you pay the shipping and handling charges.