ACL FIRST-NIGHT-CD
Southern Tier Celebrates 1st Night
Original List Price: 10.00 EA


---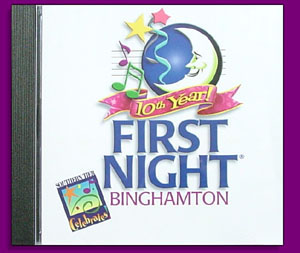 File Photo for Representation of item. May not be the actual item offered for sale.


First Night Binghamton 10th Year
presented by AudioClassics.com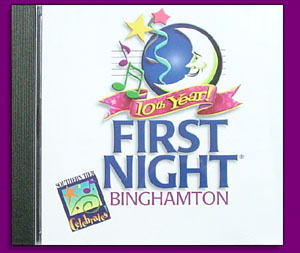 We are thrilled to present this 10th Anniversary First Night® Binghamton Commemorative CD celebrating ten years of exceptional music performances. Acclaimed artists, renowned for their musical artistry and dedication to their community, have generously contributed inspiring music for this CD, which reflects a variety of genres from classical to folk to rock.

It is an honor for Southern Tier Celebrates! to once again present these First Night® Binghamton performers in this commemorative CD, and we hope you will have many hours of enjoyment listening to these artists.

Thank you for supporting Southern Tier Celebrates! and we hope to see you at our arts events throughout the year.

Ellen Kodadek
Chief Executive Officer Southern Tier Celebrates
www.stcelebrates.org


Jared Campbell - Sweet Jenny (3:57)
©2004 Jared Campbell Music. In just two short years of pursuing his music career, Jared Campbell, a 23 year old singer songwriter from Binghamton, NY, has developed himself as a fixture in the Northeast independent music scene. His thought provoking lyrics and melodic vocals cross many genres as well as appeal to many demographics. By connecting with his loyal fans on an individual basis, Jared has been able to sell over 10,000 CDs independently. As Jared explains, his goal "is to have his music impact the lives of his listeners, whether it be a feel good song like "Only Getting Better" or a deeply rooted song about overcoming life's obstacles such as "Catch A Glimpse of Blue". Although Jared's recordings are mostly full band productions, Jared typically performs as a solo acoustic artist which affords him the opportunity to invite listeners into the depth of his songs. www.JaredCampbellMusic.com


Annie Burns - Days In Italy (4:54)
by Annie Burns and Rich Depaolo ©2003 Annie Burns. Annie Burns plays emotional adult contemporary music, in the vein of Sarah McLachlan. Burns' voice is very fluid and pleasant, kind of like an old friend welcoming you with a cozy little hug. www.annieburns.com


Curt Osgood - Munster Cloak Pigeon on The Gate (3:43)
Curt Osgood, of Binghamton NY, has been pleasing audiences with his dulcimer artistry for over twenty years, both as a solo and ensemble performer. The hammered dulcimer, a member of the zither family, is different from the Appalachian or fretted dulcimer in that the strings of the hammered dulcimer are tapped with little mallets or hammers rather than strummed. Its harp like sound can invoke numerous musical textures. www.curtosgood.com


John Rossbach - Gemstone Reel (2:39)
John Rossbach has a powerful and compelling voice that evokes the many moods and magic of traditional American roots music. An award winning multi-instrumentalist, he can lift you with the lilt of an old time mandolin melody, rivet you with a lowdown slide guitar blues and fire you up with a driving banjo breakdown! John's notorious puns, outrageous tall tales, and humorous anecdotes share deep insights into the fascinating stories behind America's indigenous musical art forms. www.johnrossbach.com


Morgan String Band - Stop Rocking the Boat (3:38)
Traditional, contemporary & original Bluegrass mixed with some "converted" classic rock songs. With vocals & tight harmonies, a sure crowd pleaser to bring in the new year. www.quorument.com/morganstring


Terry Kelleher with Dannielle Spinndler-Swart and Carrie Shore - The Island Privateers (3:05)
©2001 Terry Kelleher is a singer/songwriter and occasional performer around Ithaca and Binghamton. He has a deep appreciation of story songs, and a love of humorous songs. He performs a wide range of contemporary folk music in addition to his own originals. Dannielle Spindler-Swart enjoys making music with her friends around the Binghamton-Ithaca area and demonstrating to children that music does not come from small plastic disks, but from people just like them! Carrie Shore plays in the traditional duo, Phil Shapiro and Carrie Shore.


John Covelli - Chopin Waltz in E Minor, Op.Posth. (3:08)
John Covelli is a dazzling musician who has a way of winning standing ovations from audiences without flash or gimmicks.... a gift that can only be described as an endowment of special charisma, tasteful and elegant music making as a conductor pianist, along with substantial and colorful programming, and a winning stage charm are all in his magnetic spectrum. www.johncovelli.com


Binghamton High School Steel Drum Band, Joel Smales, Director. - Just a Moment Ago (4:36)
The BHS Steel Drum Band has performed for many festivities through out the year, every year since 2000. It has received rave reviews and consistent standing ovations for its music and "island sound" and "feel". The band has also enjoyed the opportunity to provide a South American Batacuda march processional during many festivities through out the year and for First Night®. This energetic processional features authentic South American instruments and rhythms with audience participation winding through downtown streets, office buildings, and concert halls. www.bhssteelband.org


Gene Henry - Amazing Grace (2:44)
Gene has been a regular performer on New Year's Eve in Binghamton, NY, for the citywide First Night® Celebration for the past four years. Audiences are attracted to his sweet voice, sincere smile and the genuine interest he shows in entertaining his fans. www.genehenrymusic.com


The Stoutmen - Hills of Connemara (2:52)
The Stoutmen are an Irish folk quartet in the Binghamton area of upstate NY. Their strong, straightforward singing of traditional songs in the style of the Clancy Brothers & Tommy Makem, Dubliners, and Wolfe Tones is a great fit for festivals, family events and, of course, an evening in the pub! With a great mix of powerful rebel songs, jovial drinking songs, toe tapping reels and beautiful Irish ballads, The Stoutmen portray Ireland's past and present in vocal harmony and colorful arrangements. www.stoutmen.com


Zela Zola - Con Brio (3:41)
Zela Zola is a duo based in Ithaca, NY, featuring Arthur "Arturo" Bakert on acoustic lead guitar and mandolin, and A.N. Bakert on rhythm guitar. They play a style of music inspired by Django Reinhardt and Louis Armstrong, with classical and European folk influences. They have been featured on "Gypsy Jazz" websites around the world, and usually perform around the Finger Lakes region of New York. www.zelazola.com


Seneca Moon String Band - Fish In The Millpond/Johnny Don't Get Drunk No More (3:23)
An upstate NY string band who perform traditional music from America & British Isles on over 30 instruments. You'll hear songs from the top 40 of 100 years ago- ballads and dance tunes that would have been heard in the grange halls, camp meetings & kitchens of long ago.


Judy Vail-Giblin with Lyman Strong - God Bless The Child (4:35)
Judy Vail-Giblin has been singing for as long as she can remember, her influences being her parents and older brothers, musicians all. She performs with Don Godfrey, Al Hamme and other jazz groups, as well as with local theater groups. She is the featured vocalist with the 17-piece Mason Warrington Orchestra. Lyman Strong has appeared in concert with Sarah Vaughn, Steve Allen, Quincy Jones, Tony Bennet and Jack Jones. Since 1996, he has been pursuing both solo and group settings to perform in and has an on-going collaboration with jazz vocalist Nancy Kelly. Through the use of digital technology, Lyman is able to reproduce the sounds of acoustic piano, the classic sound of the Hammond B-3 organ or a fully arranged and orchestrated piece of music.


Lynne Stanford - Manhattan Meditation (4:07)
An accomplished piano soloist, Lynne has performed in a wide variety of settings in the United States and Europe, reaching a very diverse audience. From dinner clubs to recital halls to major community events such as First Night® Binghamton, she has performed everything from important classical works to original and new age compositions. Career highlights include perfomances in the White House, East Room in 1997 and 1999, and the opportunity to perform a medley of her first compositions at a gala performance with several American artists in La Teste, France. Lynne has also performed live for radio broadcast as a part of a "Music and Artist" series. As a recording artist, she has arranged and recorded keyboard parts for "Heal the Child" in 1997 and for 2001's "My Soul's Kiss". www.lynnestanford.com


Ceili Rain - Barely Stay Inside My Own Skin (3:52)
by Bob Halligan Jr. ©1999 WBOB Music ASCAP. "Ceili" (say:KAY-lee) is a Gaelic (Irish) word that means "party". Specifically one with live musicians, dancing, general merriment, and all ages crowd. "Ceili" is a form of the word "heaven". Rain is the stuff that falls from the sky. Thus, Ceili Rain is a "downpour of heavenly partiness". May it be ever thus!!!! www.ceilirain.com


Tom Egan & the Mojo Boogie Band - Almost Zydeco (5:08)
Tom Egan and the Mojo Boogie Band have been adding a little spice and a whole lotta interactive fun to the music scene in the Twin Tiers area for over three years now. What started as a weekend project among a group of new found friends (who just happened to rank as some of the most versatile and experienced players around) has become a phenomenon. www.mojoboogieband.com


Jan DeAngelo & Co. - Silent Night (3:34)
Jan DeAngelo & Co. Productions is now in its 10th year of presenting plays, musicals and variety shows. The company has at least two productions a year with performances held at different venues throughout the Tier.


Shipping weight: 1 lbs.



Feedback: I got the package today -- thanks to everyone concerned for the quick delivery. Both the Clinics book and the CD are excellent pieces of work. J.T., CA
Convenient payment plans: Audio Classics, Ltd. accepts Mastercard, VISA, Discover and American Express. For Your protection, we thoroughly investigate the validity of all credit card charges. To avoid delays, we prefer to send credit card orders to Your billing address only. You can pay by personal check, postal money order, certified check or bank cashier's check. Personal checks are subject to credit verification and can delay orders up to two weeks. COD orders must be paid by cash, bank check or money order and require a 10% deposit. The deposit can be paid by check or credit card.
Expert Packing: Your purchase is packed in the original shipping container whenever possible. Double boxing is used for extra protection on most items and Your shipment is insured. Large or heavy items can be crated at an additional charge. Audio Classics, Ltd. ships by your choice of UPS, FEDEX, US Mail, BAX, Roadway or Consolidated and you pay the shipping and handling charges.
Copyright © 2018 Audio Classics, Ltd. Website by Rob Monkovich
Showroom Hours: Monday-Friday 8AM-5PM, Saturday by Appointment Only
3501 Vestal Rd. Vestal, NY 13850 Phone: 800-321-2834 or 607-766-3501