Klipsch KLIPSCHORN
The Classic Klipschorn.
Original List Price: 5999.00 EA


---
DEMO Klipsch available in store only

---

Grade: S1
S1: 4999.00 EA
Special Item Call for Details
Electrical: Meets or exceeds original specs, all funtions operate
Comments:Early 1959 Klipschorn with wooden horn. Mahogany.
Call to order

---

Grade: C?
C?: 3999.00 EA
Physical: Some scratches or nicks, light oxidation - Good Condition
Electrical: Not graded AS IS
Comments:Oiled Walnut, single cutaway display model
Call to order

---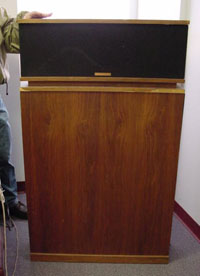 File Photo for Representation of item. May not be the actual item offered for sale.


The Classic Klipschorn Wanted
480 lbs 63x36x64

Shipping weight: 240 lbs.

Related Categories: Speaker Cable Speaker Stands


Feedback: RE Klipschorns, McIntosh MEN220: We are dialed in at 98% room correction with the McIntosh. Just heard A Day In The Life off the DVD audio for Beatles Love and it was pretty freakin' awesome. R.C., GA
RE McIntosh MC275-MKVI: I really want to thank you for the recommendation for the McIntosh tube amp for my Klipschorns. I truly love the sound, and couldn't be happier. It is so clean and clear, and the 75 watts is plenty of power. I'm extremely pleased with my purchase. M.C., HI
love my 1993 Klipschorns! A.Z., FL
Thanks again for all your help and awesome looking equipment G.G., NY
As always everything perfect (perfect packaging, perfect delivery, excellent product) E.M. Italy
Convenient payment plans: Audio Classics, Ltd. accepts Mastercard, VISA, Discover and American Express. For Your protection, we thoroughly investigate the validity of all credit card charges. To avoid delays, we prefer to send credit card orders to Your billing address only. You can pay by personal check, postal money order, certified check or bank cashier's check. Personal checks are subject to credit verification and can delay orders up to two weeks. COD orders must be paid by cash, bank check or money order and require a 10% deposit. The deposit can be paid by check or credit card.
Expert Packing: Your purchase is packed in the original shipping container whenever possible. Double boxing is used for extra protection on most items and Your shipment is insured. Large or heavy items can be crated at an additional charge. Audio Classics, Ltd. ships by your choice of UPS, FEDEX, US Mail, BAX, Roadway or Consolidated and you pay the shipping and handling charges.