McIntosh MA6200
75 WPC Preamp-Amp, Power Guard
Original List Price: 1895.00 EA


---
Grade: B1
B1: 1799.00 EA
Physical: Some light scratches - Excellent Condition
Electrical: Meets or exceeds original specs, all functions operate
Comments:
Call to order

---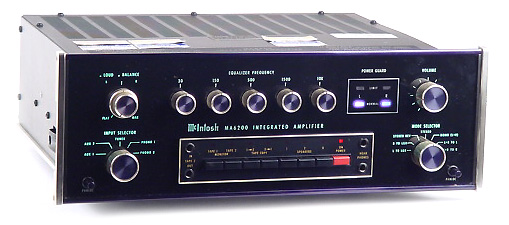 File Photo for Representation of item. May not be the actual item offered for sale.


Five input integrated amplifier
100w per channel into 4 ohms
75w per channel into 8 ohms
Less than 0.05% THD
5 band Equalizer

Shipping weight: 50 lbs.

Related Categories: Interconnects Speaker Cable Line Conditioners


Feedback: Just wanted to thank you for the great service that you and audioclassics gave me on my purchase of the Mcintosh MA6200. The packing was absolutely the best. It would've had to been run over my a tank to damage the amp. I had up till now; I only seen pictures of the MA6200, and didn't realize how really gorgeous it is. It is stunningly beautiful and makes you realize how plain the majority of audio equipment is in comparison. Now for the best part:I had been running my Cambridge Soundworks M80 speakers with a Pioneer Elite Amplifier and was fairly satisfied. The speakers sounded pretty good but lacked "something".When I hooked them up to the MA6200, I couldn't beleive that they were the same speakers. Even with the loudness in the flat position and the equalizers flat,the richness of the bass and the "depth" to the sound was incredible! Yet the sound was not "boomy" but very smooth. Individual instruments and vocals were clearly defined. What an incredible amplifier. My other amp could play loudly, but there is no comparison to the Mcintosh. And by the way,the Mcintosh looks brand new.Many thanks again. M.P.,VA
I ... picked the MA6200 ... Man, what a gorgeous unit. .... Thank you again for all you have helped me with. Audio classics is a top notch group and I look forward to doing business with you guys again. C.C., OK
I received my McIntosh MA6200 today (a day earlier than scheduled). ....I'm very, very pleased. It was just what I needed to spice up the small system in my office. After having had a C28 many years ago, I knew that I could depend on a used McIntosh -- they're built like tanks. Thanks for all your help, and the great service!! J.A., FL.
Thanks again for your help the other day. I've been putting some time in with the MA 6200 that you sold me, and it sounds fantastic. It's exactly what I was looking for - a great reference for projects that I work on, and a nice addition for personal listening. N.M., NY
Convenient payment plans: Audio Classics, Ltd. accepts Mastercard, VISA, Discover and American Express. For Your protection, we thoroughly investigate the validity of all credit card charges. To avoid delays, we prefer to send credit card orders to Your billing address only. You can pay by personal check, postal money order, certified check or bank cashier's check. Personal checks are subject to credit verification and can delay orders up to two weeks. COD orders must be paid by cash, bank check or money order and require a 10% deposit. The deposit can be paid by check or credit card.
Expert Packing: Your purchase is packed in the original shipping container whenever possible. Double boxing is used for extra protection on most items and Your shipment is insured. Large or heavy items can be crated at an additional charge. Audio Classics, Ltd. ships by your choice of UPS, FEDEX, US Mail, BAX, Roadway or Consolidated and you pay the shipping and handling charges.