Grade: B1
B1: 1999.00 EA
Physical: Some light scratches - Excellent Condition
Electrical: Meets or exceeds original specs, all functions operate
Comments:Prototype
Call for availability



---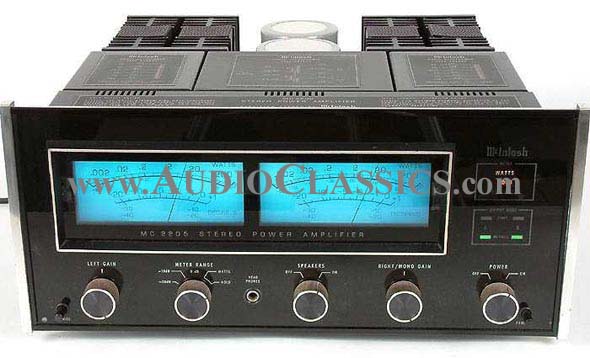 File Photo for Representation of item. May not be the actual item offered for sale.


SPECIFICATIONS


POWER OUTPUT
STEREO
200 watts minimum sine wave continuous average power output, per channel, both channels operating into 1 ohm, 2 ohms, 4 ohms, or 8 ohms load impedance, which is:
14.1 volts RMS across 1 ohm
20.0 volts RMS across 2 ohms
28.3 volts RMS across 4 ohms
40.0 volts RMS across 8 ohms
MONO
400 watts minimum sine wave continuous average power output into 0.5 ohm, 1 ohm, 2 ohms, or 4 ohms load impedance, which is:
14.1 volts RMS across 0.5 ohm
20.0 volts RMS across 1 ohm
28.3 volts RMS across 2 ohms
40.0 volts RMS across 4 ohms
OUTPUT LOAD IMPEDANCE
STEREO
1 ohm, 2 ohms, 4 ohms, and 8 ohms; separate terminals are provided for each output
MONO
0.5 ohm, 1 ohm, 2 ohms, and 4 ohms; obtained by connecting together the appropriate terminals of both channels
RATED POWER BAND
20 Hz to 20,000 Hz
TOTAL HARMONIC DISTORTION
STEREO
0.1% maximum harmonic distortion at any power level from 250 milliwatts to 200 watts per channel from 20 Hz to 20,000 Hz, both channels operating
MONO
0.1% maximum harmonic distortion at any power level from 250 milliwatts to 400 watts from 20 Hz to 20,000 Hz INTERMODULATION DISTORTION
STEREO
0.1% maximum if instantaneous peak power output is 400 watts or less per channel with both channels operating for any combination of frequencies, 20 Hz to 20,000 Hz
MONO
0.1% maximum if instantaneous peak power output is 800 watts or less for any combination of frequencies, 20 Hz to 20.000 Hz


FREQUENCY RESPONSE (at one watt output)
20 Hz to 20,000 Hz, +0 -0.25 dB
10 Hz to 100,000 Hz +0 -3.0 dB
NOISE AND HUM
95 dB below rated output
OUTPUT VOLTAGES
25 volts for distribution lines
DAMPING FACTOR
STEREO
16 at 1 ohm output, 50 at 2 ohms output, 30 at 4 ohms output, 16 at 8 ohms output
MONO
16 at 0.5 ohms, 50 at 1 ohm, 30 at 2 ohms, and 16 at 4 ohms output
INPUT IMPEDANCE
100,000 ohms
INPUT SENSITIVITY
Switchable: 0.75 volt or 2.5 volts-Level control provided for higher input voltages
POWER REQUIREMENTS
120 volts 50/60 Hz, 70 to 550 watts
SEMICONDUCTOR COMPLEMENT
49 silicon transistors
45 silicon rectifiers and diodes
8 integrated circuits
SIZE
Front panel measures 16-3/16 inches wide (41.1cm) by 7-1/8 inches high (18.1 cm). Chassis measures 14-3/4 inches deep (37.5 cm) by 6-1/2 inches high (16.5 cm) by 14-1/2 inches deep (36.8 cm), including connectors. Knob clearance required is 1-1/4 inches (3.2 cm) in front of mounting panel
FINISH
Front panel is anodized gold and black with special gold/ teal nomenclature illumination. Chassis is chrome and black
WEIGHT
84 pounds (38.1 kg) net, 98 pounds (44.5 kg) in shipping carton

200 WPC with meters, Power Guard, Chrome Chassis.
Designed by Ron Evans.

Shipping weight: 105 lbs.

Related Categories: Interconnects Speaker Cable Line Conditioners


Feedback: A museum quality MCD7007 just acquired sings in a bedroom system consisting of C33V, MC2205, and XR5s. McIntosh remains unparalled for sound quality and reliability—Steve and all at Audio Classics set an unparalleled standard for service, product knowledge, and general good-guyness. And—Jane .... is the Wife of the Century! T.B., VA
would like to take this opportunity to thank you and your staff for a job very well done in the restoration of my C28, MC2205 and MR78 some time back...........The strapped pallet shipped back to me was so beautiful, I didn't want to open it up right away.......Your shipping technique is unmatched...........Nothing short of an explosion or fire could cause any damage to units shipped via your packing methods..........All is well and the units are looking and sounding, at least to my ears, like they did in 1973.........Thanks again for making the decision to have you ship them back to me a "no-brainer"........... I also very much enjoyed the book about the Amplifier Clinics, of which I took advantage a few times at Stuart's Audio in Westfield, NJ. J.G., PA
Thanks so much for everything. All is set up and sounds amazing. Almost broke my back going up three flights of stairs with the amp, but it was worth it. M.D., NY
Thanks to Mike at Audio Classics, this beauty arrived perfectly safe in its triple box(1). Mint mint mint! A really beautiful one. ... I can say that together with the C48 preamp and the PMC EB1i, it sounds incredibly beautiful. Pure McIntosh sound: velvet smooth. Detailed. Non fatiguing. Natural. Tubey. Vintage sound. Probably a bit sweeter than today's amps but really just a bit and does not seem colored at all. I love it a lot. M.B., FL
(The MC2205) amp arrived alive and well early this afternoon. Very nice unit, if this is B condition, A must be mint flawless. Exceeds my expectations, you really have to look hard to find anything bad about this guy. Packaging was excellent and obvious that you guys have done this before. The outer box looked a little beat up and i was a little nervous until I opened it up and found two more boxes for buffers. Nicely done. Owners manual was unexpected and a very welcome touch. Thank you. All in all Mike it was a pleasure doing business with you and the next time I am in the market for something, I will check you people first. Anyway, thank you ... J.S. NV
....have not talked to you in a while. But as I listen to my system I can not thank the staff at Audio Classics enough. I still marvel at the quality of the sound. But then again, its a McIntosh. G.B., IN.
I never would have believed how much difference an amp would make in my system. As a long time Audiokarma guy I always bought the wisdom that the speakers are the first place to spend money, and sources are second. I now know better! I really appreciate the service I've received from you (and the gang on Saturday, when I picked up the box). The amp sounded and looked way, way better than it did during my first visit, I believe new gels or equiv were done to the meters, since instead of faded and streaky they are now ballsy Mac blue. The unit really looks like it just drove off the factory lot instead of being 30 years old. THANKS!!! I can tell you one thing... I am done messing with Audiogon, eBay and CraigsList for used audio. You guys simply make those choices obsolete. Once again, thanks and I hope to see you guys again soon. C.L., NY
Just wanted to say how pleased I am with how things turned out on the Mac tuner and amp. Got everything hooked up and the system never sounded better. Your packaging for return shipment of the amp and tuner was super. My thanks to everyone at Audio Classics who made this happen. Hope to work with you folks again. J.D., MD
Thanks for following up with the info on my equipment (MC2205 and C28). You might be surprised at how few places have the selection of equipment I am used to, can repair what I already have, and where the people are friendly and actually know what they are talking about. I look forward to doing more business with Audio Classics in the future. Thanks again for your help. J.M., NJ
I am delighted that the McIntosh made the long journey, and it performing well. V.A., Vietnam
Convenient payment plans: Audio Classics, Ltd. accepts Mastercard, VISA, Discover and American Express. For Your protection, we thoroughly investigate the validity of all credit card charges. To avoid delays, we prefer to send credit card orders to Your billing address only. You can pay by personal check, postal money order, certified check or bank cashier's check. Personal checks are subject to credit verification and can delay orders up to two weeks. COD orders must be paid by cash, bank check or money order and require a 10% deposit. The deposit can be paid by check or credit card.
Expert Packing: Your purchase is packed in the original shipping container whenever possible. Double boxing is used for extra protection on most items and Your shipment is insured. Large or heavy items can be crated at an additional charge. Audio Classics, Ltd. ships by your choice of UPS, FEDEX, US Mail, BAX, Roadway or Consolidated and you pay the shipping and handling charges.