McIntosh MC2505
50 WPC amp with Meters
Original List Price: 549.00 EA


---
Grade: B1
B1: 1399.00 EA
Physical: Some light scratches - Excellent Condition
Electrical: Meets or exceeds original specs, all functions operate
Comments:
Call for availability



---

Grade: C1
C1: 1299.00 EA
Physical: Some scratches or nicks, light oxidation - Good Condition
Electrical: Meets or exceeds original specs, all functions operate
Comments:Performance Certified by Audio Classics, IMM.
Call to order

---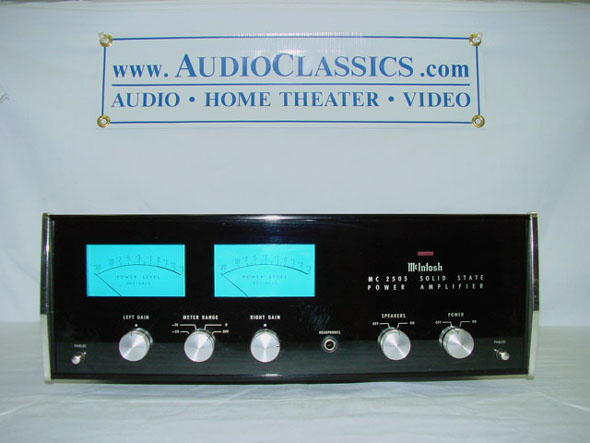 File Photo for Representation of item. May not be the actual item offered for sale.


SPECIFICATIONS


POWER OUTPUT:
STEREO- 50 RMS watts continuous per channel into 4, 8, or 16 ohms with both channels operating.
HARMONIC DISTORTION:
STEREO- Less than 0.25% at 50 watts output from 20 Hz to 20 kHz both channels operating. Typical performance is less than 0.1% at rated power. Distortion decreases as output power is reduced.
INTERMODULATION DISTORTION:
STEREO-Less than 0.25% if instantaneous peak power output is 100 watts or less per channel with both channels operating for any combination of frequencies 20 Hz to 20 kHz.
FREQUENCY RANGE:
20 Hz to 29kHz +0, -0.1 dB at rated power. 15 Hz to 60 kHz +0, -0.5 dB at rated power. 10 Hz to 100 kHz +0, -3.0 dB at one-half of rated power.
NOISE AND HUM:
90 dB or more below rated output.
OUTPUT IMPEDANCE:
STEREO-4, 8, and 16 ohms
OUTPUT VOLTAGES:
25 volts STEREO

DAMPING FACTOR:
14 at 4 ohms output 27 at 8 ohms output 13 at 16 ohms output
INPUT IMPEDANCE:
200,000 ohms
INPUT SENSITIVITY:
0.5 volt. Level control provided for higher in- put voltage.
POWER REQUIREMENTS:
117 volts AC 50/60 Hz, 75 watts at zero signal output.
250 watts at rated output.
SEMICONDUCTOR COMPLEMENT:
26 silicon transistors.
27 silicon rectifiers and diodes.
SIZE:
5-7/16 inches high, 16 inches wide, 13 inches deep.
CHASSIS:
Chrome and black.
WEIGHT:
38 pounds net, 53 pounds in shipping carton

50 WPC Power Amp with Glass and Meters.

Shipping weight: 55 lbs.

Related Categories: Interconnects Speaker Cable Line Conditioners


Feedback: Thanks again for all your help and awesome looking equipment G.G., NY
Just wanted to say thanks and let you know how thrilled I am with the MC2505. What a stunning compliment to the C26! I started braking it in last night with some vintage Miles Davis. What a treat! Thanks again to you and to Audio Classics for the outstanding service. This is my second purchase from you guys within the past year and I'll definitely be back! M.O., PA
Thanks for the excellent service on my MC2505-2, it looks right now, functions correctly and sounds great. D.K., MI
The amp arrived ... and it was packaged so well I have no doubt it would survive an atomic blast! I've read quite a bit about the MC2505 and I have to say its sound has risen far above and beyond my expectations. I haven't been able to pull myself away from the warm, rich, non-fatiguing sound. I've definitely lost track of time these last few evenings. Everything on my system sounds noticeably better with the MC2505 in place. I will be holding onto this one for quite some time. And once again a BIG THANK YOU for the outstanding customer service you provided with the sale of the MC2505. The gold RCA jacks look beautiful and I couldn't be happier. I've said it before but the quality of service and the experience of dealing with you and Audio Classics have simply been unparalleled. Z.C., NY
Thanks so much for your time spent on the phone with me about a week ago. I received my order of the McIntosh MC2505 amplifier, the McIntosh MX112 tuner/preamp, and the audio cables yesterday. I hooked it up this morning into the rest of my system & am in audio heaven! F.C., SD
I just thought I would let you know that the MC2505 arrived and I was very pleased with its overall condition.H.O., Japan
Convenient payment plans: Audio Classics, Ltd. accepts Mastercard, VISA, Discover and American Express. For Your protection, we thoroughly investigate the validity of all credit card charges. To avoid delays, we prefer to send credit card orders to Your billing address only. You can pay by personal check, postal money order, certified check or bank cashier's check. Personal checks are subject to credit verification and can delay orders up to two weeks. COD orders must be paid by cash, bank check or money order and require a 10% deposit. The deposit can be paid by check or credit card.
Expert Packing: Your purchase is packed in the original shipping container whenever possible. Double boxing is used for extra protection on most items and Your shipment is insured. Large or heavy items can be crated at an additional charge. Audio Classics, Ltd. ships by your choice of UPS, FEDEX, US Mail, BAX, Roadway or Consolidated and you pay the shipping and handling charges.