McIntosh MC75-60TH
60th Anniversary tube amp
Original List Price: 4399.00 EA


---
Grade: NOS
NOS: 4399.00 EA
New Old Stock - older item still in stock, never sold
Comments:
Call for availability



---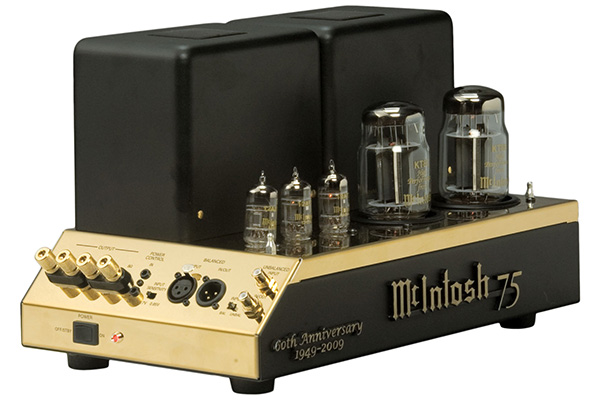 File Photo for Representation of item. May not be the actual item offered for sale.


60th Anniversary Tube Amp
75 Watts into 2,4 or 8 ohms.
Balanced Inputs, Sentry Monitor Tube Protection.
Gold Plated Binding Posts, High Capacity Power Supply.
Titanum Stainless Steel Chassis. Remote Power Control.

Shipping weight: 65 lbs.

Related Categories: Interconnects Speaker Cable Line Conditioners


Feedback: Re McIntosh MC75-60th: Fired up the amps tonight..... WOW!! They are beautiful! Thanks so much for all your help. Audioclassics is really the top in service and expertise... Packaging was excellent and shows total care and dedication to the type of service audiophiles expect... Thanks again C.C., NY
Convenient payment plans: Audio Classics, Ltd. accepts Mastercard, VISA, Discover and American Express. For Your protection, we thoroughly investigate the validity of all credit card charges. To avoid delays, we prefer to send credit card orders to Your billing address only. You can pay by personal check, postal money order, certified check or bank cashier's check. Personal checks are subject to credit verification and can delay orders up to two weeks. COD orders must be paid by cash, bank check or money order and require a 10% deposit. The deposit can be paid by check or credit card.
Expert Packing: Your purchase is packed in the original shipping container whenever possible. Double boxing is used for extra protection on most items and Your shipment is insured. Large or heavy items can be crated at an additional charge. Audio Classics, Ltd. ships by your choice of UPS, FEDEX, US Mail, BAX, Roadway or Consolidated and you pay the shipping and handling charges.