McIntosh MEQ450
4 channel, 3 band Parametric Car Equalizer
Original List Price: 399.00 EA


---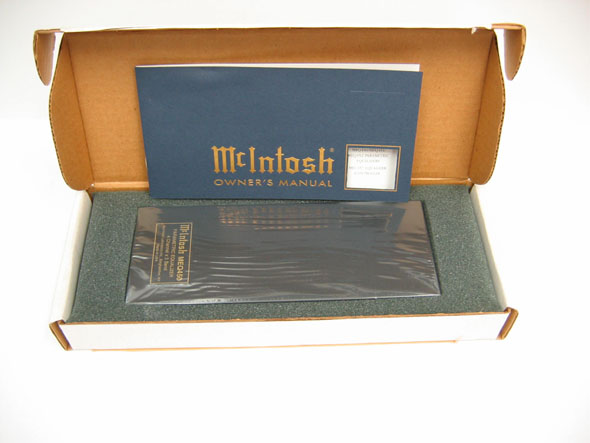 File Photo for Representation of item. May not be the actual item offered for sale.


This parametric equalizer offers 4 channels with three bands each. It is designed to be used with the MC series of McIntosh automotive power amplifiers, and is not compatible with any other makes or models of power amplifiers. The equalizer is a modular plug-in unit that uses the power supply of the amplifier it is installed with. Actual adjustments are made with the MEC457 digital remote controller (available for rent or purchase).
Adjustments can be made to the center frequency, bandwith, boost and cut for each band.
The adjustable frequency range per band is:
Band 1 31.5Hz - 630Hz
Band 2 160Hz - 2.5kHz
Band 3 1kHz - 20kHz

Q factor adjustment range of 1 - 10
Maximum boost/cut center frequency ±15dB
S/N ratio 100dB
THD 0.005%
This parametric equalizer is in excellent physical condition and meets or exceeds factory specifications. The unit will be shipped in the original McIntosh carton with the owners manual included.
Parametric Eualizer, 4 Channels x 3 Bands Per Channel
15db Boost or Cut, Digitally Controlled Analog Filters,
Modular Design, Adjustable Q and Center Frequency.

Shipping weight: 10 lbs.



Convenient payment plans: Audio Classics, Ltd. accepts Mastercard, VISA, Discover and American Express. For Your protection, we thoroughly investigate the validity of all credit card charges. To avoid delays, we prefer to send credit card orders to Your billing address only. You can pay by personal check, postal money order, certified check or bank cashier's check. Personal checks are subject to credit verification and can delay orders up to two weeks. COD orders must be paid by cash, bank check or money order and require a 10% deposit. The deposit can be paid by check or credit card.
Expert Packing: Your purchase is packed in the original shipping container whenever possible. Double boxing is used for extra protection on most items and Your shipment is insured. Large or heavy items can be crated at an additional charge. Audio Classics, Ltd. ships by your choice of UPS, FEDEX, US Mail, BAX, Roadway or Consolidated and you pay the shipping and handling charges.
Copyright © 2018 Audio Classics, Ltd. Website by Rob Monkovich
Showroom Hours: Monday-Friday 8AM-5PM, Saturday by Appointment Only
3501 Vestal Rd. Vestal, NY 13850 Phone: 800-321-2834 or 607-766-3501