McIntosh MR7083
AM/FM Stereo Tuner
Original List Price: 1750.00 EA


---
Grade: C1
C1: 799.00 EA
Physical: Some scratches or nicks, light oxidation - Good Condition
Electrical: Meets or exceeds original specs, all functions operate
Comments:
Call to order

---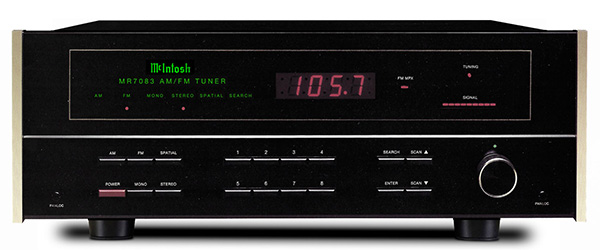 File Photo for Representation of item. May not be the actual item offered for sale.


SPECIFICATIONS

PERFORMANCE LIMITS
FM SECTION

USABLE SENSITIVITY
11.25dBF which is 1.0 microvolts across
75 ohms
QUIETING SENSITIVITY
Mono: 15dBF which is 1.6 microvolts
across 75 ohms
Stereo: 37dBF which is 20 microvolts
across 75 ohms
SIGNAL TO NOISE RATIO
Mono: 80dB
Stereo: 75dB
FREQUENCY RESPONSE
Mono: +0, -1dB from 20Hz to
15,000Hz
Stereo: +0, -1dB from 20Hz to
15,000Hz
HARMONIC DISTORTION
Mono: 0.08% at 100Hz
0.08% at 1000Hz
0.12% at 10,000Hz
Stereo 0.08% at 100Hz
0.08% at 1000Hz
0.12% at 10,000Hz
INTERMODULATION DISTORTION
Mono: 0.08%
Stereo: 0.12%
CAPTURE RATIO
1.5dB
ALTERNATE CHANNEL SELECTIVITY
70dB
SPURIOUS RESPONSE
100dB
IMAGE RESPONSE
80dB
STEREO SEPARATION
50dB

AM SECTION

SENSATIVITY
AM 20 microvolt external antenna in-
put (50 ohm source input)
SIGNAL TO NOISE RATIO
50dB at 30% modulation
60db at 100% modulation
HARMONIC DISTORTION
0.5% maximum at 30% modulation
FREQUENCY RESPONSE
50Hz to 6000Hz NRSC
ADJACENT CHANNEL SELECTIVITY
45dB minimum IHF
IMAGE REJECTION
78dB minimum
AUDIO OUTPUT, AM and FM
Fixed: 1.2 volt RMS at 100%
modulation
Variable: 1.2 millivolts to 1.2 volts at
100% modulation
POWER REQUIREMENTS
120 volts 50/60Hz, 10 watts

MECHANICAL

SIZE
Front Panel: (wide Model), 17-1/2
inches (44.5cm) wide, (Regular Model),
16-1/8 inches (41cm) wide, by 5-3/8
(13.7cm) high. Depth behind the mount-
ing surface including clearance for
connectors, 14 inches (33cm). Knob
clearance required in front of the
mounting panel is 1-1/4 inches (3.2cm)
WEIGHT
15-1/2 pounds (7Kg) net, 27-1/2 pounds
(12.5Kg) in shipping carton.


Shipping weight: 29 lbs.

Related Categories: Modafferi Modifications Antennas


Feedback: Re: McIntosh MR7083 Got the Tuner, love it. T.S., MA
Convenient payment plans: Audio Classics, Ltd. accepts Mastercard, VISA, Discover and American Express. For Your protection, we thoroughly investigate the validity of all credit card charges. To avoid delays, we prefer to send credit card orders to Your billing address only. You can pay by personal check, postal money order, certified check or bank cashier's check. Personal checks are subject to credit verification and can delay orders up to two weeks. COD orders must be paid by cash, bank check or money order and require a 10% deposit. The deposit can be paid by check or credit card.
Expert Packing: Your purchase is packed in the original shipping container whenever possible. Double boxing is used for extra protection on most items and Your shipment is insured. Large or heavy items can be crated at an additional charge. Audio Classics, Ltd. ships by your choice of UPS, FEDEX, US Mail, BAX, Roadway or Consolidated and you pay the shipping and handling charges.