Grade: B1
B1: 1199.00 EA
Physical: Some light scratches - Excellent Condition
Electrical: Meets or exceeds original specs, all functions operate
Comments:with box, manual & remote. Certified by Audio Classics, MAC.
Call to order

---

Grade: B4
B4: 999.00 EA
Physical: Some light scratches - Excellent Condition
Electrical: Does not meet spec, all functions operate AS IS
Comments:with box, manual & remote.
Call for availability



---

Grade: D3
D3: 899.00 EA
Physical: Some dents or oxidation - Fair Condition
Electrical: Meets original specs, some functions broken NO WARRANTY
Comments:
Call to order

---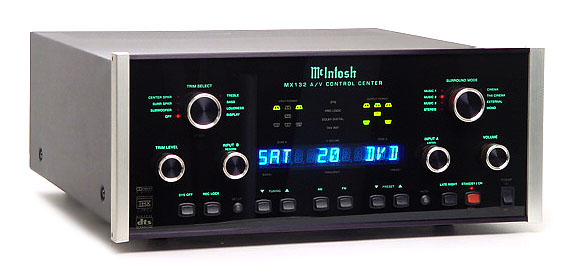 File Photo for Representation of item. May not be the actual item offered for sale.


Now you can take advantage of traditional McIntosh standars of excellence in the MX132 A/V Tuner Control Center as the heart of your home theater system. The MX132 provides superior six channel reproduction, Dolby Digital and DTS decoding combined with complete audio and video switching. The McIntosh MX132 sets new standards for accuracy in a home theater system

Performance Features

24 Bit DSP Processing and Conversion
Digital Audio Input Switching
On Screen Displays
Audio/Video Inputs
Automatic Mode Switching
Re-Assignable Input Selection
External IR Sensors
LED Channel Status Indicators
Pure Stereo Outputs
Adjustable Channel Level
Adjustable Time Delay
Precision Tracking Volume Control
Digitally Controlled Tone Control
Composite/S Video Switching
External Six Channel Inputs



Zone Expansion
Auto Memory of Mode Settings
Multifunction Fluorescent Display
THX® Signal Processing
Late Night Dynamic Audio Compression
Automatic Input Level Control
Full Remote Control
Speaker Settings for Bass Management
DMOS-FET FM RF Amplifier
FM Stereo Auto Blend Circuitry
Preset Stations
External AM RF Amplifier
Dual Zone
Listen and Record Circuitry
Double Shielded Power Transformer

Audio Specifications
Rated Output
All Modes: 2.0VRMS for full bit digital input
Input Impedance
22K ohms
Output Impedance
47 ohms at all outputs
Maximum Output Voltage
9.5 VRMS
Total Harmonic Distortion
0.005% at all outputs
Sensitivity
Analog Input: 400mV for 2.0V output
Signal To Noise Ratio - All Outputs
Greater than 90dB un-weighted
Greater than 100dB A-weighted
Greater than 98db CCIR
Maximum Input Signal
Analog Input: 6Vrms
Voltage Gain
Analog Input to Output: 14dB
Frequency Response
+0, -0.5dB from flat setting
Tone Controls
+12dB, -12dB from flat setting


AM Tuner Specifications
Sensitivity
20uV external Antenna Input
Signal To Noise Ratio
48dB at 30% modulation
58dB ay 100% modulation
Harmonic Distortion
0.5% maximum at 50% modulation
Frequency Response
50Hz to 6kHz NRSC
Adjacent Channel Selectivity
45dB minimum IHF
Image Rejection
65dB minimum from 540 to 1600kHz

FM Tuner Specifications
Usable Sensitivity
14dBF which is 1.4uV across 75 ohms
50dB Quieting Sensitivity
Mono: 19dBF which is 2.4uV across 75 ohms
Stereo: 35dBF which is 15uV across 75 ohms
Signal To Noise Ratio
Mono: 75dB
Stereo: 70dB
Frequency Response
Mono: +0, -1dB from 20 to 15,000Hz
Stereo: +0, -1dB from 20 to 15,000Hz
Harmonic Distortion
Mono: 0.3% at 100Hz
0.3% at 1000Hz
0.3% at 10,000Hz
Stereo: 0.45% at 100Hz
0.45% at 1000Hz
0.65% at 10,000Hz
Intermodulation Distortion
Mono: 0.25%
Stereo: 0.45%
Capture Ratio
1.2dB
Alternate Channel Selectivity
75dB
Spurious Response
100dB
Image Response
75dB
RF Intermodulation
65dB
Stereo Separation
45dB at 100Hz
45dB at 1000Hz
35dB at 10,000Hz
SCA Rejection
65dB

Shipping weight: 60 lbs.

Related Categories: Interconnects Line Conditioners


Feedback: i just received my mx132. you were right i am happy with it. i just want to say that you guys at audio classics are the best. G.N., CA
Convenient payment plans: Audio Classics, Ltd. accepts Mastercard, VISA, Discover and American Express. For Your protection, we thoroughly investigate the validity of all credit card charges. To avoid delays, we prefer to send credit card orders to Your billing address only. You can pay by personal check, postal money order, certified check or bank cashier's check. Personal checks are subject to credit verification and can delay orders up to two weeks. COD orders must be paid by cash, bank check or money order and require a 10% deposit. The deposit can be paid by check or credit card.
Expert Packing: Your purchase is packed in the original shipping container whenever possible. Double boxing is used for extra protection on most items and Your shipment is insured. Large or heavy items can be crated at an additional charge. Audio Classics, Ltd. ships by your choice of UPS, FEDEX, US Mail, BAX, Roadway or Consolidated and you pay the shipping and handling charges.