| | | |
| --- | --- | --- |
| | Luxman L507Z | |
110/210 WPC 8/4 Ohm MM/MC phono
Original List Price: 8995.00


---
Call 607-766-3501 for availability.

---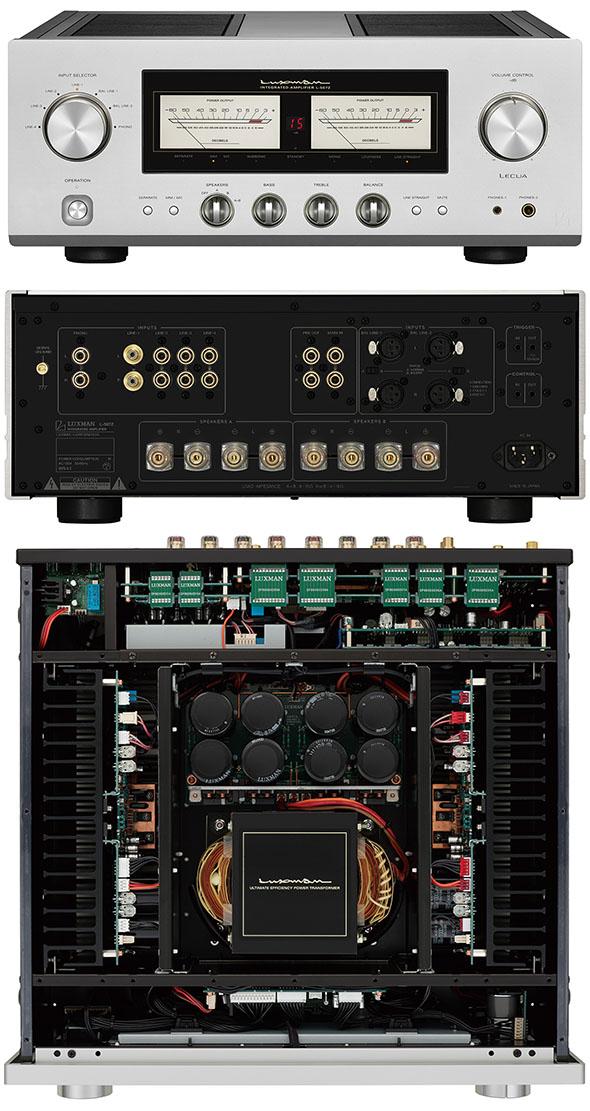 File photo for representation of item. May not be the actual item offered for sale.


The L-507z joins Luxman's integrated amplifier range with numerous advances and features our newly designed "LIFES1.0" distortion canceling feedback engine. "LIFES" is a significant evolution from "ODNF" circuitry, which has long been a key advantage of Luxman amplifiers since its 2010 introduction in our X-series. The robust L-507z marks the beginning of Z-Series, all being developed to include this latest "LIFES" high-quality amplification system, a core technology also shared with our new flagship M-10x stereo/mono power amplifier.
In addition, new user features enhance both convenience and performance required by today's music listeners. Updated front panel VU meters combine with a 7-segment LED display to improve visibility of volume levels from any listening position. Alongside the standard 6.3mm headphone jack is a new 4mm "Pentaconn" balanced output jack for better L-R separation. Rear-panel 12 volt trigger connections are now incorporated enabling more convenient integration among automated systems or a home-theater.
Shipping weight: 75 lbs.

Related Categories: Interconnects Speaker Cable Line Conditioners



Convenient payment plans: Audio Classics, Ltd. accepts Mastercard, VISA, Discover and American Express. For Your protection, we thoroughly investigate the validity of all credit card charges. To avoid delays, we prefer to send credit card orders to Your billing address only. You can pay by personal check, postal money order, certified check or bank cashier's check. Personal checks are subject to credit verification and can delay orders up to two weeks. COD orders must be paid by cash, bank check or money order and require a 10% deposit. The deposit can be paid by check or credit card.

Expert Packing: Your purchase is packed in the original shipping container whenever possible. Double boxing is used for extra protection on most items and Your shipment is insured. Large or heavy items can be crated at an additional charge. Audio Classics, Ltd. ships by your choice of UPS, FEDEX, US Mail, BAX, Roadway or Consolidated and you pay the shipping and handling charges.