McIntosh L52
See condition
Original List Price: 199.00 EA


---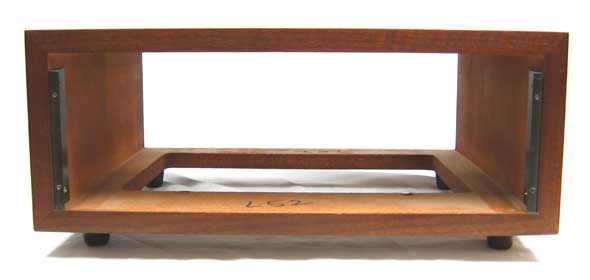 File Photo for Representation of item. May not be the actual item offered for sale.


Oiled walnut version fits 5" narrow units

Shipping weight: 20 lbs.



Feedback: ....I received yesterday ..... my wood cabinet (L52) and it's just wonderful, ......your kindness and patience through the transaction and we want you to know we appreciate it. Thanks to Audioclassics and to you Ryan. J.R. Dominican Republic
....I must admit I have been to your web sight many times but I usually backed off because of the prices. Well, I couldn't seem to find the Mac case in the condition I was looking for on the other web sights so I took a chance and ordered a L52 rated as "good" condition and paid what I thought was too much. I got it about a week ago and finally unpacked it. WOW...if this is what you call good, I can only imagine what you call excellent or mint. I will be ordering again... ... Please feel free to pass this along to your employees. They deserve a pat on the back too...again, thanks for a great product... L.S., TX
I just wanted to say \"thanks\" for the L-52 cabinet I recently ordered. It arrived the other day, perfectly packed, and in the Original shipping carton! It was in mint condition; I almost felt like I had bought a brand new cabinet. My MR-78 looks great in it! J.H.,CA
Convenient payment plans: Audio Classics, Ltd. accepts Mastercard, VISA, Discover and American Express. For Your protection, we thoroughly investigate the validity of all credit card charges. To avoid delays, we prefer to send credit card orders to Your billing address only. You can pay by personal check, postal money order, certified check or bank cashier's check. Personal checks are subject to credit verification and can delay orders up to two weeks. COD orders must be paid by cash, bank check or money order and require a 10% deposit. The deposit can be paid by check or credit card.
Expert Packing: Your purchase is packed in the original shipping container whenever possible. Double boxing is used for extra protection on most items and Your shipment is insured. Large or heavy items can be crated at an additional charge. Audio Classics, Ltd. ships by your choice of UPS, FEDEX, US Mail, BAX, Roadway or Consolidated and you pay the shipping and handling charges.
© 2018 Audio Classics, Ltd.
Showroom Hours: Monday-Friday 8AM-5PM, Saturday by Appointment Only
3501 Vestal Rd. Vestal, NY 13850 Phone: 800-321-2834 or 607-766-3501