Shure M97XE
Very Low Mass/High Accuracy
Original List Price: 165.00 EA


---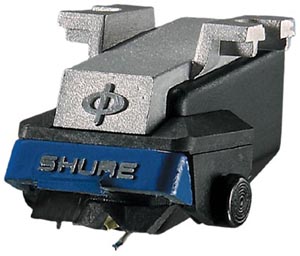 File Photo for Representation of item. May not be the actual item offered for sale.


Shipping weight: 5 lbs.



Feedback: Then it was time to try the new photo cartridge. Installation is a pretty scary process, but B.K. feels that he did it correctly. We're happy with the sound. We have to increase the volume to make the sound as bright as the old cartridge, but the Shure provides what we consider to be an increased availability for the equalizer to reveal the spaces between instruments (as if they were in the room). It's hard for me to communicate this well. It's also hard to know what kind of needle is poor for our setup and what kind is too good. That's why we really appreciated your advice. ....Anyway, the Shure reduces some of the distracting sound of scratches on the records that have lived a long rough life. Well, we've been enjoying getting to hear our old music (From ABBA to Zappa) and all points in between and beyond in new ways. We've decided that we need the master tapes so that we can do our own engineering on the best equipment, because quality seems to be in great part all about engineering. The drive for better equipment is immediate and strong. Our fairy godmother is on endless vacation, so this is truly wonderful. Thanks again for doing what you do and for making the acquisition such a good experience. JK and BK, FL
Convenient payment plans: Audio Classics, Ltd. accepts Mastercard, VISA, Discover and American Express. For Your protection, we thoroughly investigate the validity of all credit card charges. To avoid delays, we prefer to send credit card orders to Your billing address only. You can pay by personal check, postal money order, certified check or bank cashier's check. Personal checks are subject to credit verification and can delay orders up to two weeks. COD orders must be paid by cash, bank check or money order and require a 10% deposit. The deposit can be paid by check or credit card.
Expert Packing: Your purchase is packed in the original shipping container whenever possible. Double boxing is used for extra protection on most items and Your shipment is insured. Large or heavy items can be crated at an additional charge. Audio Classics, Ltd. ships by your choice of UPS, FEDEX, US Mail, BAX, Roadway or Consolidated and you pay the shipping and handling charges.
Copyright © 2018 Audio Classics, Ltd. Website by Rob Monkovich
Showroom Hours: Monday-Friday 8AM-5PM, Saturday by Appointment Only
3501 Vestal Rd. Vestal, NY 13850 Phone: 800-321-2834 or 607-766-3501