4-6", 8-2", 1-3/4" Tower System

---
DEMO McIntosh available in store only
Pre-owned call for availability
---
NEW McIntosh available in store only
Pre-owned call for availability
---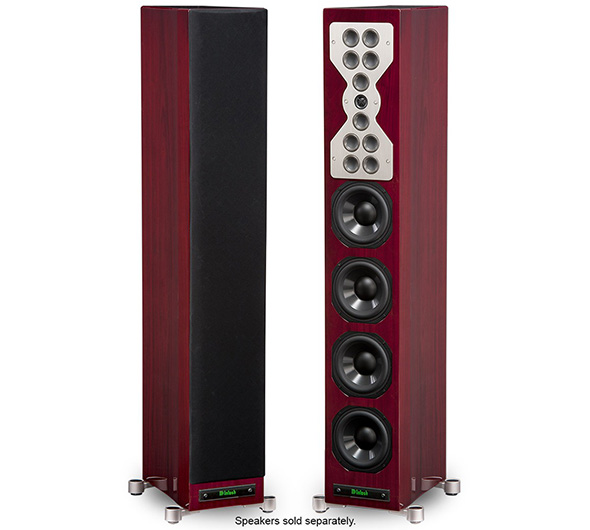 File photo for representation of item. May not be the actual item offered for sale.


True 4-way Floor-Standing 30 Hz - 45 kHz Frequency Response
4 x 6" LDHP Woofers 8 x 2" Titanium Midrange
2 x 2" Titanium Tweeters 1 x 3/4" Titanium Super Tweeter
2 Sets of Patented Binding Posts for Bi-Wire or Bi-Amplification
600-Watt Music Power Handling
Front-Panel McIntosh Logo Illumination Using Power Control
Premium Finishes: Red Walnut, Gloss Black and Pear Maple

Shipping weight: 210 lbs.

Related Categories: Speaker Cable


Feedback: the XR100 speakers are beyond amazing sounding. I can't believe how beautiful they sound. Totally incredible and 0% BUYERS REMORSE for this purchase. Just incredible... Thank you. S.S., WA
Thank you for all you have done! The speakers are, without a doubt superb. The cabinets look terrific. If you want you may use my name and number for anyone who may be in doubt as to the quality of the workmanship. It is one thing to make a new cabinet, it is another to refurbish and refinish. New speakers do not look that good. The sound, well as you folks know they are McIntosh, so the sound is also outstanding and easy to listen to. ... the sound just warmed the room! So Steve, you know you got a staff any company would want, so keep them happy. They made me happy. S.M., NY

Convenient payment plans: Audio Classics, Ltd. accepts Mastercard, VISA, Discover and American Express. For Your protection, we thoroughly investigate the validity of all credit card charges. To avoid delays, we prefer to send credit card orders to Your billing address only. You can pay by personal check, postal money order, certified check or bank cashier's check. Personal checks are subject to credit verification and can delay orders up to two weeks. COD orders must be paid by cash, bank check or money order and require a 10% deposit. The deposit can be paid by check or credit card.

Expert Packing: Your purchase is packed in the original shipping container whenever possible. Double boxing is used for extra protection on most items and Your shipment is insured. Large or heavy items can be crated at an additional charge. Audio Classics, Ltd. ships by your choice of UPS, FEDEX, US Mail, BAX, Roadway or Consolidated and you pay the shipping and handling charges.