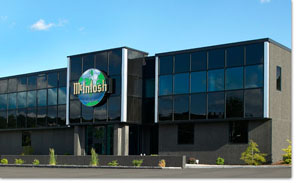 McIntosh factory tours are temporarily suspended due to the current pandemic. However, we will let you know right here when the tours will begin again! Once the tours resume, simply arrange to pick up your New or Certified Pre-Owned McIntosh component at Audio Classics and we will take you on a tour of 2 Chambers Street. You'll be astounded at the percentage of McIntosh people who have been hard at work for more than 10, 20, even 30 years.

They're happy to tell you that they're fully accountable for every tiny detail. Each component is initialed by everyone who touches it, until it passes a strict white glove review by Shirley Callan (whom her co-workers proudly refer to as "the pickiest, and the sweetest, woman in the world") and goes forth to represent its creators to the most discriminating listeners ever to purchase audio equipment.

Peer into one of the offices in the engineering department, and you're likely to see an engineer working on next generation processor or tube equipment. You might see an electrical engineer holding a spirited discussion with a longtime McIntosh owner, scheming to better a product that many doubt could ever be improved.

Stick around until long after typical people have gone home from work, and you're likely to be startled by an acoustic engineer emerging with a pensive look from the silent depths of the unique Anechoic Chamber. Or you could stumble across a strange assemblage on particleboard ... the precursor to a speaker that will change the audio world as we know it.

The goings-on can at times seem a little odd -- but for professional audiophiles, this place is a dream come true. There's no other explanation for this relentless dedication to excellence, this stubborn refusal to make economies of scale at a sacrifice to quality -- and for fact that day after day, year after year, McIntosh people love what they do.