Professional Service Department:
Audio Classics has the three essential elements required to give you the best possible repair service on your stereo equipment should it need it.

1. Professional and experienced repair technicians whose knowledge is continuously upgraded to keep current with the rapid changes and advances in electronic technology.

2. Today's sophisticated circuits and electronics require sophisticated test instruments. Dual trace scopes, distortion analyzers, alignment generators, and more are all a part of the more than $30,000 investment we've made to protect your investment.

3. You are assured of the quickest repair possible using the correct parts and procedures. Rapid, complete service depends on rapid receipt of authorized factory repair parts. Audio Classics uses the fastest method of communication consistent with factory requirements. Audio Classics is committed to you, your enjoyment and your peace of mind.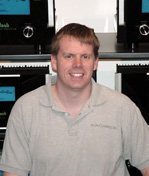 Ryan Kilpatrick
Service Manager · 8:30-5:00 M-F · 607-766-3501 x104
Ryan is our highly experienced sales consultant and manager of our service department. Ryan began working with Audio Classics in 1992. Call Ryan for any sales related questions or service inquiries.
George Melnyk
George is an independant service consultant to Audio Classics. He is a retired IBM Senior Engineer with 8 patents and 15 publications to his credit. George headed a group of individuals who restored and rebuilt a Robert Morton Theater pipe organ at the forum in Binghamton. If it's electrical, mechanical, metal, wood, analog, digital, solid state or tube, George can make it work.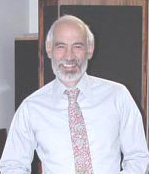 Richard Modafferi
Inventor and independent consultant to Audio Classics, Rich Modafferi has established himself as one of the world's foremost authorities on tuner and loudspeaker design and development. He holds Masters degrees in Electrical Engineering and Computer Science from the NJ Institute of Technology. A Senior Engineer at McIntosh Laboratories from 1968-74, he designed the MR77 and MR78 tuners and the famous "Rimo" filter. The MR78 tuner has received world wide acclaim for its State of the Art performance. From 1974 to the present, Richard has been a self employed inventor at Modafferi Acoustical Systems, Inc. He has been granted a United States patent for Phase Shift Bass Loading and for the Infinite Slope Crossover. These patents are currently being licensed to Joseph Audio of White Plains NY for use in their speaker systems. Richard also serves as a writer, reviewer and test lab for Audio, Audio Critic, The Sensible Sound.
ATTENTION MCINTOSH TUNER AND TUNER PREAMP OWNERS (any model, any age) NOW Your McIntosh Tuner or Tuner preamp will perform even better. RICHARD MODAFFERI has agreed to do repairs, modifications and updates for customers of AUDIO CLASSICS. His intimate knowledge of the circuits allow him to improve the units audibly and measurably beyond their original performance limits. Your investment in this service is protected by a limited one year parts and labor guarantee.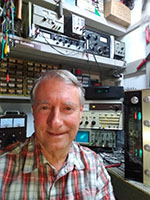 Kevin Schmalz
Kevin comes from a musical family and began playing the French horn when he was 12. He became interested in audio around the same time and started building kit audio equipment and speaker enclosures for friends while in high school. With the ongoing improvement in the quality of electronic components over time, he realized that older equipment could often be tweaked to sound better, and this discovery began a life-long interest in audio equipment. He attended Carnegie-Mellon University and earned BFA and MFA degrees in music performance, and was a member of the Caracas Philharmonic for several years during the early 1980s. When he returned to the States in the mid 1980s he continued to freelance around the Buffalo NY area, but got a day gig working for NYSEG which turned into a 30-year career in various capacities beginning with performing energy audits, marketing, credit, and finally program management. He recently retired from NYSEG and now is having a blast working for Audio Classics. His specialty is restoring vintage tube and solid-state equipment.