McIntosh C22
Classic McIntosh Tube Preamp
Original List Price: 279.00


---
Grade: C1
C1: 4499.00
Physical: Some scratches or nicks, light oxidation - Good Condition
Electrical: Meets or exceeds original specs, all functions operate
Comments:Performance Certified by AudioClassics, IMM
Call for availability



---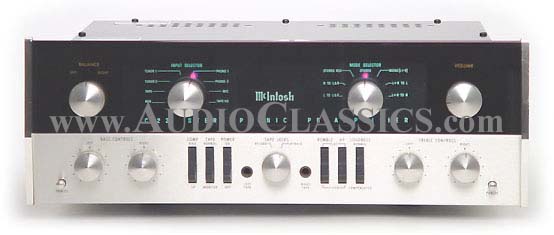 File photo for representation of item. May not be the actual item offered for sale.


Stereo Preamplifier Tube.
ELECTRICAL: Response 20-20kHz (+0.5 -0.5dB). Distortion
0.02%. Noise and hum -85dB high level. Output rated
2.5v, 10v max. Input sensitivity and impedance: aux
0.25V at 250k, phono 2mV at 47k. Center channel out
(L+R) 1.0v with control. Individual tone controls:
bass and treble +20dB to -20dB. Rumble filter 50Hz
at 12dB/octave. HF filter 5kHz at 12dB/octave. Low
frequency trim controls 6dB of boost below 100Hz. Voltage
gain 20dB aux, 62dB phono.
FRONT PANEL: Glass panel at top. Anodized gold at bottom.
Input selector with indicator lights: aux, tape, tuner
2, tuner 1, phono 1, phono 2, mic and tape hd. Mode
selector with indicator lights: L to L+R, R to L+R,
stereo rev, stereo, mono (L+R), L+R to L and L+R to
R. Volume. Bass controls: left and right, Treble controls:
left and right. Tape jacks: left and right. Tape jacks
switch: record and playback. Rocker switches: comp:
RIAA or LP, tape: normal or monitor, power: on or off,
rumble: flat or filter, hf: flat or filter, loudness:
normal or compensated.
TOP PANEL: L+R level. Left level. Right level. Low
frequency trim: L and R. Tape equalization: L and R
with NAB mark. Phase switch: left channel speaker reverse(180)
or normal (0). Pilot lamp intensity: dim or bright.
BACK PANEL:Outputs: L+R, main, tape. High level inputs:
tape monitor, aux, tape, tuner 1, tuner 2. Low level
inputs: phono 1 phono 2, mic and tape hd. Ground binding
post. AC outlets: 4 switched, 1 unswitched. Fuse, Panloc
mounting.
TUBES: 6-12AX7. Solid state rectifier bridge.
Size 5-7/16"H, 16"W and 13"D behind panel. Weight 16
lb. Sold from 1963-1968. Last retail price $279.00


Shipping weight: 30 lbs.

Related Categories: Interconnects Line Conditioners


Feedback: I just wanted to say thanks for your great service on my c22 and mc240 that you restored ....The equipment sounds fantastic better than I would have imagined. But I hope that you don39t tire of hearing this kind of praise G.F. NY
Just a note to let you know that my wife and I could not be more pleased with our recent purchase at Audio Classics. We drove up from New York this past Saturday with the intent of purchasing classic McIntosh vacuum tube equipment (I had purchased an MR67 tuner from you about five years ago). I have a very large record collection, over 20,000 LPs, and I was way overdue for a sound system upgrade. We spent a couple of hours with Ernie Schleider who was extremely courteous and helpful. He set us up in the listening room and left us to our own devices. I had brought along a dozen LPs, both jazz and classical, with widely varying voice and instruments for comparison testing purposes. My wife really got into the comparative testing mode and she played an active part in the selection process. After listening to three different MC275 power amplifiers, coupled to both C20 and C22 pre-amplifiers, we selected the MC275 and C22 combination that seemed to be producing the best sound. Of course, there is nothing like hearing the equipment in your own home and listening space. All I can tell you is that the equipment has exceeded our best expectations. The clarity and depth of sound coming out of the LPs is just spectacular. There is also a notable improvement in the sound quality of FM radio broadcasts. Bottom line: we could not be happier and we couldn't think of shopping anywhere else for this classic equipment. We should have made this purchase years ago and we sure are glad that we did it now. N.C., NY
You are a worthy humane cause to and for Everything McIntosh ! You did a fantastic job refurbishing my Dad' vintage 68' C22 Preamplifier and MC250 Amp which coincided with a personal visit to AUDIO CLASSICS, you arranged... a free MAC FACTORY TOUR and kept me busy ... while you did your magic to my McIntosh gear . ...."I DON'T FORGET A GOOD TIME by your presence and detailed efforts..! R.R., CT
I was extremely pleased with the upgrade Richard did on a C22.... T.B., VA
I could not be more pleased with the performance of the C22....; so once again thanks much. L.M., NY

Convenient payment plans: Audio Classics, Ltd. accepts Mastercard, VISA, Discover and American Express. For Your protection, we thoroughly investigate the validity of all credit card charges. To avoid delays, we prefer to send credit card orders to Your billing address only. You can pay by personal check, postal money order, certified check or bank cashier's check. Personal checks are subject to credit verification and can delay orders up to two weeks. COD orders must be paid by cash, bank check or money order and require a 10% deposit. The deposit can be paid by check or credit card.

Expert Packing: Your purchase is packed in the original shipping container whenever possible. Double boxing is used for extra protection on most items and Your shipment is insured. Large or heavy items can be crated at an additional charge. Audio Classics, Ltd. ships by your choice of UPS, FEDEX, US Mail, BAX, Roadway or Consolidated and you pay the shipping and handling charges.