McIntosh MR73
AM/FM stereo tuner
Original List Price: 549.00 EA


---
Grade: C1-29T56.RTM
C1-29T56.RTM: 999.00 EA

Comments:with Modaferri Mod.

---

Grade: B1
B1: 799.00 EA
Physical: Some light scratches - Excellent Condition
Electrical: Meets or exceeds original specs, all functions operate
Comments:Performance Certified by AudioClassics, RKS

---

Grade: D5
D5: 299.00 EA
Physical: Some dents or oxidation - Fair Condition
Electrical: Does not meet spec, some functions broken AS IS
Comments:No output, scratches, rust, bubbles

---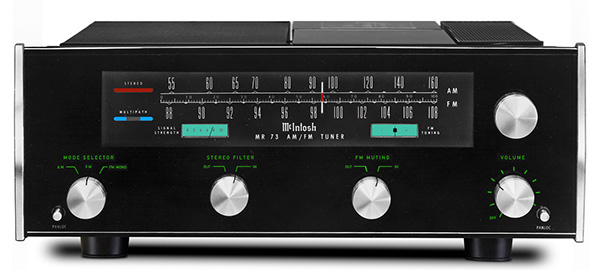 File Photo for Representation of item. May not be the actual item offered for sale.


Shipping weight: 40 lbs.

Related Categories: Modafferi Modifications Antennas


Feedback: All is connected and sounding awesome. Thanks for the help and suggestions. The tuner (MR73) is a perfect fit. S.B., PA
Just wanted to let you know that the MR73 arrived intact, looks fantastic, and is working very well. I appreciate the hard work by Richard Modaferri and everyone else involved. Thanks for the terrific service! A.G., OH.
Convenient payment plans: Audio Classics, Ltd. accepts Mastercard, VISA, Discover and American Express. For Your protection, we thoroughly investigate the validity of all credit card charges. To avoid delays, we prefer to send credit card orders to Your billing address only. You can pay by personal check, postal money order, certified check or bank cashier's check. Personal checks are subject to credit verification and can delay orders up to two weeks. COD orders must be paid by cash, bank check or money order and require a 10% deposit. The deposit can be paid by check or credit card.
Expert Packing: Your purchase is packed in the original shipping container whenever possible. Double boxing is used for extra protection on most items and Your shipment is insured. Large or heavy items can be crated at an additional charge. Audio Classics, Ltd. ships by your choice of UPS, FEDEX, US Mail, BAX, Roadway or Consolidated and you pay the shipping and handling charges.