Grade: B1
B1: 999.00 EA
Physical: Some light scratches - Excellent Condition
Electrical: Meets or exceeds original specs, all functions operate
Comments:Certified by Audio Classics, RKS

---

Grade: S1
S1: 999.00 EA
Special Item Call for Details
Electrical: Meets or exceeds original specs, all funtions operate
Comments:Prototype on MX112 Chassis.
Call for availability



---

Grade: C1
C1: 799.00 EA
Physical: Some scratches or nicks, light oxidation - Good Condition
Electrical: Meets or exceeds original specs, all functions operate
Comments:Performance Certifed by Audio Classics, DEP

---

Grade: C?
C?: 699.00 EA
Physical: Some scratches or nicks, light oxidation - Good Condition
Electrical: Not graded AS IS
Comments:Will not power up.
Call for availability



---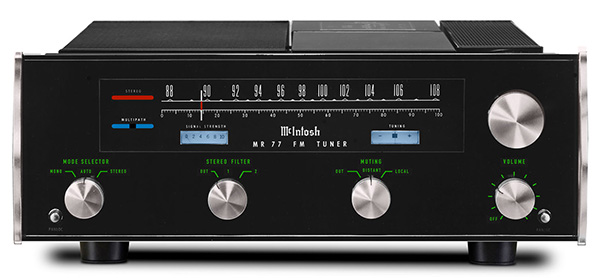 File Photo for Representation of item. May not be the actual item offered for sale.


Shipping weight: 45 lbs.

Related Categories: Modafferi Modifications Antennas


Feedback: ... thank you and the rest of the team. ... I could sense and see the level of attention and caring put into restoring the two units. Cost is a factor with these equipment specially for someone new, and I did not quite know what to expect from them. I do enjoy listening to the radio and prior to the service the MR77 was disappointing but I had no idea what was normal. It now sounds absolutely beautiful and so does the humble MA6100. You guys are like Pediatricians as you cure our babies of their ails and put a smile on their parents! I hope you all enjoy the great work you do. K.A., PA
... I want to thank you for the work you guys did to it. .... I knew immediately the tuner sounded better but wanted to check everything out before I contacted you. You guys have refurbished that unit for me and I have purchased an MR77 tuner and MC2105 amp from you. I am extremely pleased with each piece and the fantastic sound I get out them. May be old stuff, but it sounds great to me. You have been excellent to work with and I appreciate all of your work and help with my various transactions. ... I could not be more pleased with the performance of the MA6100 and other pieces I have purchased from you. J.E., VA
I would not choose any other company than ACL, since I know you are connected with Mr. Modaferri and you are also nice to work with and that is worth a lot these days. ... Thanks for all the care in sending and dealing with the MR77. E.G., Netherlands
MR-77 ARRIVED ! It came this week - looks and sounds great. Thank you for the terrific work. I can't believe how clean the unit looks. .... What care! And it shows. Thank you for the terrific service - and way ahead of schedule. J.H., NC
Thank you for the wonderful deal you gave me on the Mac MR77 tuner… it is just great! The overall sound of this tuner is just outstanding; surely the best I've ever heard! It goes nicely with the MC250 / MX 115 combo for my "vintage system" and I will of course be using the 88 with the mighty MAC6900 if I can ever get away from this beautiful "60's" sound generated by these components! As usual you came up with a sweet deal my budget could handle… I am most pleased to be a steady customer at Audio Classics; everyone there has done well by me and the service you guys provide is top shelf… thanks for all the assistance you, Ryan, and George have given me!Thanks again! S.T., PA
Thanks very much for fine tuner. Listening through the MR77 is as though I were in the monitor room of the radio station. M.F., KS
I purchased a McIntosh MR77 tuner from you recently and I am delighted by it. I do not know what purchase -- other than my beloved car-- that has brought more satisfaction . I could not be more pleased. Many thanks. I really am delighted with my tuner -- and with the way it was packaged and sent. You have made another loyal customer! C.G., PA
Many thanks for showing me around your facility, I was quite impressed with everyone's hospitality and the equipment you had on hand. The MR 77 Tuner I bought from you is like new and the sound is incredible. I look forward to dealing with Audio Classics in the future for all my audio needs.M.M, NY
The tuner, by the way, sounds great. Maybe it is my imagination, but it sounds much cleaner - less tiring over time -than my former tuner..... Everything on the MR 77 was fine when it arrived..... I am extremely impressed with the way you went the extra mile to help me solve a problem with my old amp and to make sure my newly purchased tuner was "good as new" in every way. I am absolutely a satisfied customer of your firm.... I will be happy to tell anyone who asks that they should buy from Audio Classics. Thanks again! M.G. MO.
I am the customer who called last week about the front panel illumination on my McIntosh gear. You sent me some front panel bulbs for both the MR 77 tuner I purchased a couple of weeks ago, as well as my old MA 6100 preamp- amplifier. You also generously included a set of feet for my old MA 6100.... The package arrived in the mail today, at no charge. What a terrific customer satisfaction policy you have! ...... Thank you very much! Ernie has always been very helpful and pleasant to work with, and you were absolutely terrific, too, even though you and I had never even talked before! T.S., MA.
...received mr 77 service manual. the tuner sounds great. it sounds better than my magnum dynalab ft101a. thanks for the help. J.M. IN.
Convenient payment plans: Audio Classics, Ltd. accepts Mastercard, VISA, Discover and American Express. For Your protection, we thoroughly investigate the validity of all credit card charges. To avoid delays, we prefer to send credit card orders to Your billing address only. You can pay by personal check, postal money order, certified check or bank cashier's check. Personal checks are subject to credit verification and can delay orders up to two weeks. COD orders must be paid by cash, bank check or money order and require a 10% deposit. The deposit can be paid by check or credit card.
Expert Packing: Your purchase is packed in the original shipping container whenever possible. Double boxing is used for extra protection on most items and Your shipment is insured. Large or heavy items can be crated at an additional charge. Audio Classics, Ltd. ships by your choice of UPS, FEDEX, US Mail, BAX, Roadway or Consolidated and you pay the shipping and handling charges.