McIntosh Etc. 0-9787236-0-0
McIntosh for the love of music
Original List Price: 150.00


---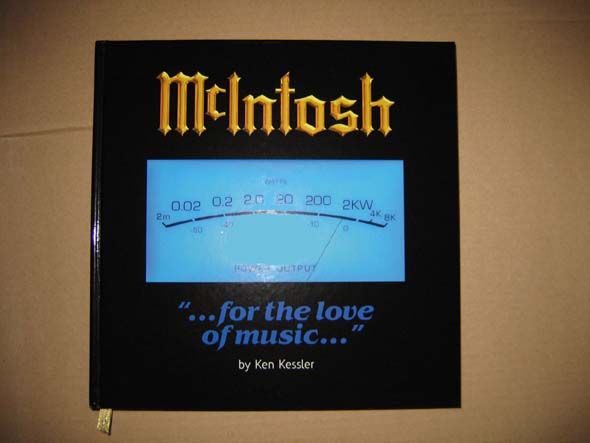 File Photo for Representation of item. May not be the actual item offered for sale.


Shipping weight: 10 lbs.



Feedback: Just wanted to thank you for your time, hospitality and the advise that you extended to me yesterday. I very much enjoyed my visit and chatting with you, as I have been wanting to visit both McIntosh and Audio Classics for many years.... I am now kicking myself for not buying The book while I was there; I could be reading it now.Thanks again and best regards, R.B., AZ
The book arrived yesterday in perfect condition - Mr Tyrell's packing is just the best. There's a lot of reading there, which I can now do slowly as I am starting back at work. I was pleased to see your cheerful photo in the interview with Ken ! The text and the pictures are just great - it's a magnificent quality product, just like the Macs ! Thanks again. R.B., England
Thanks for the book McIntosh - For the Love of Music I have already read it once and I am looking forward to my second reading. It is one of three books we have on our coffee table. As I read the book I found passages that reaffirm my decision to one day own a stereo system with all McIntosh electronics. As I read the clinic section of the book I could recall how proud I felt each time my Mac amp and pre-amp exceeded their published specifications. I also recall the disappointment of non-McIntosh owners when their amps and/or pre-amps failed to meet the published specifications.Thirty years ago when I purchased my first McIntosh integrated amp MAC1500 my mom asked why I needed such an expensive piece of stereo equipment. Last week when my mom and I were listening to Dianh Washington Brook Benton and Gloria Lynn on my stereo system she said it sounded like being there Wow what a compliment My mom and I plan to spend more afternoons listening to my her prized jazz collection. We39re I are looking forward to a tour of the McIntosh factory. Before closing I want to thank you for signing the book and helping me improve my stereo system. Best regards J.G VA
Good call on that amp. Ah the new mc. Is nice. Thank you for your guidance on the mc352 and the autographed book. The amp and book I will cherish them both for the rest of my life. M.A., LA
The MX119 is all hooked up and sounds and works great. Thanks for your help in making the selection of the MX 119 and getting the right cables from the source components. The system is logging a lot of hours. We always have something on when we are in the house. ( FM, CDs, or a movie ). The MAC history book by Ken Kessler really goes into detail from the beginning and must have taken hours and hours to gather all the info. It makes for good reading while listening to good sound on the MX119. Thanks so much for the gift of a copy of a well written history. I need to bring it along and get you and Steve to autograph it since you are both in the book. H.S., VA
Convenient payment plans: Audio Classics, Ltd. accepts Mastercard, VISA, Discover and American Express. For Your protection, we thoroughly investigate the validity of all credit card charges. To avoid delays, we prefer to send credit card orders to Your billing address only. You can pay by personal check, postal money order, certified check or bank cashier's check. Personal checks are subject to credit verification and can delay orders up to two weeks. COD orders must be paid by cash, bank check or money order and require a 10% deposit. The deposit can be paid by check or credit card.
Expert Packing: Your purchase is packed in the original shipping container whenever possible. Double boxing is used for extra protection on most items and Your shipment is insured. Large or heavy items can be crated at an additional charge. Audio Classics, Ltd. ships by your choice of UPS, FEDEX, US Mail, BAX, Roadway or Consolidated and you pay the shipping and handling charges.
Showroom Hours: Monday-Friday 8AM-5PM, Saturday By Appointment Only
3501 Vestal Rd. Vestal, NY 13850 Phone: 800-321-2834 or 607-766-3501
Copyright © 2019 Audio Classics, Ltd. All Rights Reserved.