Marantz 10B
Wanted! Classic tuner see 10-Marantz
Original List Price: 799.00


---
Grade: B1
B1: 4399.00
Physical: Some light scratches - Excellent Condition
Electrical: Meets or exceeds original specs, all functions operate
Comments:Early 10B Performance Certified by ACL, IMM


Call us for availability




---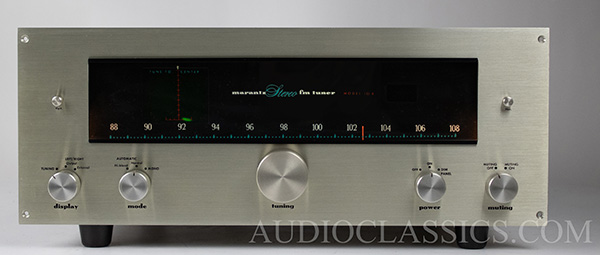 File photo for representation of item. May not be the actual item offered for sale.


The most sought after Marantz tube analog FM Stereo tuner. Rare.
WANTED! Call for availability.

Shipping weight: 45 lbs.

Related Categories: Modafferi Modifications Antennas


Feedback: I wanted to send a note thanking you and your team for the service done on my Marantz 10b. Richard39s work was incredible. Hard to believe you can get someone today with that level of experience and sophistication to bring a classic piece of equipment not only back to working condition but obviously better than it was when it was new in 1964 I am constantly amazed when listening to it now. It puts the other tuners I have to shame. The return packaging was excellent as well. I will certainly look to your group for my next audio service opportunity S.P. CA
just to inform you that the 10b was received yesterday and auditioned to in the evening. it came in triple boxes, very serious packing and it is the 1st time i see such "money no object" packing. certainly, the 10b came in very good shape. i bought a macintosh MR71 from audioclassics back in year 2008 in B1 grade, the same grading as this 10b. i have been listening to the MR71 since the day i received it from you. it has been trouble free for these years, not even a sneeze from the MR71 and i have been happy with it so far. obviously, the character of MR71 is very well known to me. however, when the 10b is a/b compared with the MR71, i have to tell you that i love 10b even more, perhaps 10b is of different league to MR71. 10b offers you a more clear background, a well-shaped body in vocal and you can feel the layers of soundstage coming out of the speakers. even the songs from the cd played by radio station sound better. i have not forgotten the able hands of richard in performing the alignment to this tuner, great job and well done. in conclusion, 10b is expensive, but it worths every dollar it is asking. D.W.Hong Kong
Now that I have had my Marantz 10-B home for a month, I needed to tell Richard Modaferri and you how pleased I am. As I may have mentioned when in your shop, I got into the hi-fi hobby in the early '60s when I was in my early teens. I purchased the tuner new in 1967 and have always considered it my most valuable hi-fi possession. Knowing the complexity of the unit, my concerns over the years have always been who could work on it. Aware of Audio Classics' reputation for vintage Mac and Marantz equipment, I always suspected you were the place and finally just made the phone call. There are other people out there who say they can work on 10-Bs. However, knowing of Mr. Modaferri's fame with his MR-78 and other products, I was relieved that he could and would work on it. As you said, it is now good for the next 50 years. I will have to let my daughter (who when little would sit in front of it when I turned it on and clap when the STEREO light came on -- and who today has a vintage Mac system purchased from your store) cross that bridge. Again, many thanks to you, Audio Classics and especially Mr. Modaferri. JE, ME
I just received my Marantz 10-b and you guys have shipping and packing down to a science. ... I am very satisfied with the repairs and alignment done to my unit. Thank you. P.N., CA
LOVE IT!! Fantastic packaging! Made a couple of tiny adjustments to output and scope. Got a great antenna on it, fantastic sound!! LOVE it. Only better radio-my REL PRECEDENT. R.W., NJ
Just a note to let you know I received the Marantz 10B tuner today without incident. It's perfect; it arrived in such great condition and so beautiful! You were right; Audio Classics certainly know how to pack up a tuner! The 10B is such a marvelous machine, and a pure joy to operate. Everything I imagined it to be, and more! Now I can enjoy, in the best style, what most likely will be the 'waning days' of analog FM listening in this country. Can't think of a better tuner to do this on than the beautiful Marantz 10B. Richard did a great job on this unit. It performs flawlessly, and sounds even better. In fact, I've never heard FM like this before! It's just amazing! I am happy. Again, thanks to you and Richard for this opportunity to own one of the world's best tuners in such excellent cosmetic and operating condition! R.H., CA.
You recently repaired/serviced my 10B tuner. Wanted to let you know that it arrived without incident. I am listening to it now - what a difference!! It sounds GREAT! Just had to let you know that I thought your level of customer service is incredible. Certainly makes me want to do business with you again. Many thanks!! F.M., RI

Convenient payment plans: Audio Classics, Ltd. accepts Mastercard, VISA, Discover and American Express. For Your protection, we thoroughly investigate the validity of all credit card charges. To avoid delays, we prefer to send credit card orders to Your billing address only. You can pay by personal check, postal money order, certified check or bank cashier's check. Personal checks are subject to credit verification and can delay orders up to two weeks. COD orders must be paid by cash, bank check or money order and require a 10% deposit. The deposit can be paid by check or credit card.

Expert Packing: Your purchase is packed in the original shipping container whenever possible. Double boxing is used for extra protection on most items and Your shipment is insured. Large or heavy items can be crated at an additional charge. Audio Classics, Ltd. ships by your choice of UPS, FEDEX, US Mail, BAX, Roadway or Consolidated and you pay the shipping and handling charges.