Grade: C2
C2: 3999.00 EA
Physical: Some scratches or nicks, light oxidation - Good Condition
Electrical: Meets original specs, noisy worn controls
Comments:NO Remote, stand by light, rail scratched.
Call for availability



---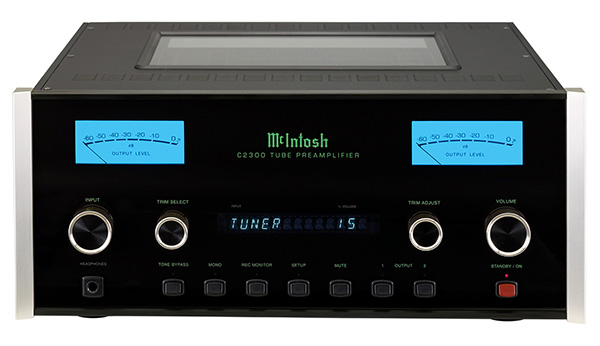 File Photo for Representation of item. May not be the actual item offered for sale.


Vacuum Tube Remote Controlled Preamp
7 Unbalanced Inputs 2 Balanced (XLR) Inputs
ACTIVE MC & MM Phono Stages with Adjustable Loading
2 Pairs Switched plus 1 Pair Fixed Outputs
1 Pair Balanced (XLR) Outputs Front Panel Headphone Jack

Shipping weight: 50 lbs.

Related Categories: Interconnects Line Conditioners


Feedback: Many thanks for the fast delivery of the Mcs-... Everything was packed securely, and arrived in 'as new' condition. Everything works perfectly & the aerial picks up all the radio stations we listen too- and the MC352 is sounding great! Again, many thanks- your service & friendless is a credit to Audioclassics! N.K., Australia
It has been my most satisfying purchase to date. W.G., FL
... thank you for the excellent advice and service you offered me recently when I was looking to upgrade the pre-amp in my system. I have lived with the McIntosh C2300 for a couple of weeks now and continue to be blown away by the improvement it brings to what I had thought was a very good system; it is now an exceptional system could not be happier! J.P., UT.
Sitting here and living the c2300 for the first time. Sounds great out of the box. More detail and a whole lot more depth. A whole new experience. More important was the level of service you provided in turning around my MC 352. Looks great with the LEDs. I have been in sales my whole life and appreciate when I get smothered with great service. I can't imagine buying anywhere else. D.M., NY
Got the 2300 and this is an even bigger upgrade than the amps. The nuance and detail that's been obscured is just magnificent. So so much. Can't wait for next week for the CD player. My god. I may leave this system to my kids in the future (I have no children yet) J.M., NY
SLIIINKY!! It must be great to be in a business that only makes people feel good! Really trick piece. P.L. MA
Very happy with my C2300. Thank you very much for your help Ernie. You guys have the best customer service. Even though you guys are 5,000 miles away, I would definitely buy from AUDIO CLASS-ICS. Aloha! J.S. HI
.... I've been busy listening! I love the Summits and I'm glad I went with them over the vantages. The McIntosh gear is fantastic. I know it is expensive, but I think it is really a great value for the high end world. Thanks again, J.H. NY
Convenient payment plans: Audio Classics, Ltd. accepts Mastercard, VISA, Discover and American Express. For Your protection, we thoroughly investigate the validity of all credit card charges. To avoid delays, we prefer to send credit card orders to Your billing address only. You can pay by personal check, postal money order, certified check or bank cashier's check. Personal checks are subject to credit verification and can delay orders up to two weeks. COD orders must be paid by cash, bank check or money order and require a 10% deposit. The deposit can be paid by check or credit card.
Expert Packing: Your purchase is packed in the original shipping container whenever possible. Double boxing is used for extra protection on most items and Your shipment is insured. Large or heavy items can be crated at an additional charge. Audio Classics, Ltd. ships by your choice of UPS, FEDEX, US Mail, BAX, Roadway or Consolidated and you pay the shipping and handling charges.