McIntosh C28
Versatile Solid State Preamp
Original List Price: 649.00


---
Grade: C1
C1: 1099.00
Physical: Some scratches or nicks, light oxidation - Good Condition
Electrical: Meets or exceeds original specs, all functions operate
Comments:

---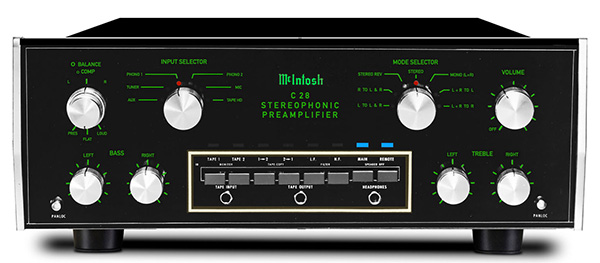 File Photo for Representation of item. May not be the actual item offered for sale.


Shipping weight: 40 lbs.

Related Categories: Interconnects Line Conditioners


Feedback: I've listened the MC2105 and C28 for several hours since returning home. They sound great. Thank you for getting these done ... and doing such a fine job. I appreciate your help and will certainly pass on my experience to others looking for McIntosh pieces to be worked on. D.C., NC
I have received both the (MR71) tuner and C28 Preamplifier. ... The items arrived in very good condition and I am now enjoying the units. Very good job in packing and the items are like what was described in the sales brochure.You can be sure that the next time I go shopping for stereo equipment AudioClassics will be my first stop. Keep up the good work. I will definitely recommend your website to my other colleagues. K.Y., Canada
I've had some time to use the C28 and thought I'd get back to you with my impressions. I am very pleased! The amp is as good or better than new, and I'm sure I will get many years of great service from it. Knowing that makes it easy to amortize the investment I've made. Thank you to you and to your tech(s). I'm glad to see the passion for this old analog gear, and I'm happy to patronize such dedicated professionals. D.H., CA
I just got my C-28 back from you after having a drop-out problem fixed. WOW!! The C-28 looks like new and sounds fantastic. R.P. VA.
would like to take this opportunity to thank you and your staff for a job very well done in the restoration of my C28, MC2205 and MR78 some time back...........The strapped pallet shipped back to me was so beautiful, I didn't want to open it up right away.......Your shipping technique is unmatched...........Nothing short of an explosion or fire could cause any damage to units shipped via your packing methods..........All is well and the units are looking and sounding, at least to my ears, like they did in 1973.........Thanks again for making the decision to have you ship them back to me a "no-brainer"........... I also very much enjoyed the book about the Amplifier Clinics, of which I took advantage a few times at Stuart's Audio in Westfield, NJ. J.G., PA
Great job! I cannot believe how quiet and clearer it sounds, and obviously how noisy it must have been. Thank you. D.S., NY
I just wanted to thank you once more for the beautiful C28. I received the pre-amp in perfect condition thanks to a great packing job.... For the last 2-weeks I have enjoyed the C28 paired with an MC2505 Power-Amp and the results have been excellent. Your professionalism, customer service and quality products are second-to-none. P.C., Canada
Just received the C28 yesterday. Incredible packaging, the unit arrived like it was brand new. Fired it up last night with my rusty Carver magnetic field amps and an old Sony CD player with Focal bookshelf speakers and what a sound….the C28 beats my Audible Illusion (Stereophile Class A) and Audio Research LS3 preamps. The sound of the piano was very liquid and you can hear the very detail from the music. Thank you very much. I will do business again with you guys. R.A, FL
C 28, MC 2105, MCD 7000 I'm speechless....... Popped in Beethoven-Sonaten CD, and just sat frozen, in complete disbelief. It was great to meet you, see the store and talk to all the nice folks that dropped in. Excellent equipment, first class service, everything I expected and much more. Many thanks to you, the engineers and staff, I'm a very satisfied customer. S.B., PA
you don't know how much happy i am. I enjoy so many years my pre-amplifier c-28 & amplifier 2105, with a mr-74 tuner recently. I like THE MCINTOSH SOUND, life-like !!!!! And the look, of course, especially the movement of needle in the blue eyes at my 2105. A MCINTOSH cd player for me is a Dream that comes true . At Shows in belgium ,i 've seen a McLaserdic playing a movie and recently i 've heard a Mc Music Server BUT NEVER NEVER heard a MC CD PLayer (including never seen one in the OFF position also in the store where i buy the book) !!!! As I could read on the web, K/S cables are amazing! I will discover these cables (not available in store outside usa/canada) who impressed so many HiFI brands! A VERY SPECIAL THANKS for your good advices, your help in this transaction, and other people working @audioclassics who can convert the CD player to work on 230 VAC giving so the chance to guy like me living outside USA to own MC products ! And of course your family who MADE HIFI HISTORY !!! V.M., Belgium
....just wanted to let you know that I am completly delighted with my C28 preamp. It is a delight to work with a company that delivers what they promise. I had a slight problem with my first C28, but Ernie/Audioclassics took care of the problem promptly and COMPLETELY to my satisfaction! Be advised that AudioClassics will be my McIntosh source from this point on. There is always a certain amount of concern when dealing with a new company, especially sight unseen. But Ernie/Audioclassics renewed my faith in old fashioned service. Thanks again, R.M., IL.
Thanks for following up with the info on my equipment (MC2205 and C28). You might be surprised at how few places have the selection of equipment I am used to, can repair what I already have, and where the people are friendly and actually know what they are talking about. I look forward to doing more business with Audio Classics in the future. Thanks again for your help. J.M., NJ
... the C-28 arrived here in fine order the other day..... the packing was superb and I appreciate the literature you enclosed. Wish this had been an eBay deal, so I could post positive feedback. Many thanks! I have already referred a couple of McIntosh junkies your direction. D.B., ID
Haven't bought from you in years -- but have been totally enjoying my MCD-7000, C28 and MC2105.... J.D., CA.
Convenient payment plans: Audio Classics, Ltd. accepts Mastercard, VISA, Discover and American Express. For Your protection, we thoroughly investigate the validity of all credit card charges. To avoid delays, we prefer to send credit card orders to Your billing address only. You can pay by personal check, postal money order, certified check or bank cashier's check. Personal checks are subject to credit verification and can delay orders up to two weeks. COD orders must be paid by cash, bank check or money order and require a 10% deposit. The deposit can be paid by check or credit card.
Expert Packing: Your purchase is packed in the original shipping container whenever possible. Double boxing is used for extra protection on most items and Your shipment is insured. Large or heavy items can be crated at an additional charge. Audio Classics, Ltd. ships by your choice of UPS, FEDEX, US Mail, BAX, Roadway or Consolidated and you pay the shipping and handling charges.