Grade: B1
B1: 1599.00
Physical: Some light scratches - Excellent Condition
Electrical: Meets or exceeds original specs, all functions operate
Comments:with box, manual & remote.

---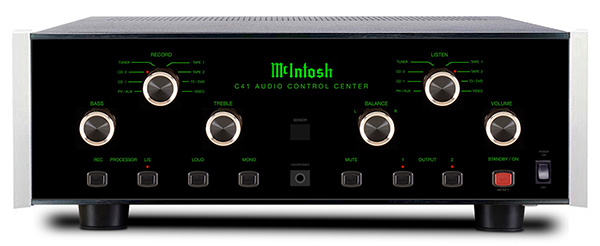 File Photo for Representation of item. May not be the actual item offered for sale.


File Photo for Representation of item. May not be the actual item offered for sale.


Extra-wide dynamic range
Ultra-low distortion
Silent electromagnetic switching
Precision-trimmed volume control
9 source selections including MM phono
Balanced input
Balanced main output
3 unbalanced outputs (Main, 1,2)
Independent listen and record selection
Dual processor loops
Control data output for source components
Remote power control (1 main, 1 accessory, 2 switched)
Power and mute indications shown on remote sensor
Accomodates more sources with McIntosh MVS3 A/V Selector
Exclusive McIntosh tone controls
Switchable loudness compensation
Auto muting during power up
Electronically regulated power supply
Double-shielded power transformer
Low-noise 1% metal film resistors
Gold plated input and output jacks
Modular construction with steel chassis
Glass front panel with illuminated nomenclature
Infrared remote control
Connector for external IR sensor
Headphone jack
Remote controlled preamplifier, Balanced input & output
Dual processor loops, 9 source input including MM phono
independent listen and record selection.

Shipping weight: 40 lbs.

Related Categories: Interconnects Line Conditioners


Feedback: I bought a C41 McIntosh preamp over two years ago, and it developed a problem where the balance control was cutting out. I took it back yesterday, expecting to pay for service, since it's been over two years, I did not buy it new and it had only a one year warranty. Much to my surprise, they fixed it while I waited, and did so for free!!! I would have expected such treatment form McIntosh itself, but I got this from a dealer!! Albeit the world's largest dealer, but I never expected this.W.S., NY
..... THANKS FOR THE EXCELLENT SERVICE. I HAVE BOUGHT FROM AUDIO CLASSICS A MC352, C41 AND, MOST RECENTLY, A C2200. YOU HAVE DELIVERED EVERY TIME! .... I PLAN TO VISIT YOUR STORE WHEN I GET BACK TO THE STATES AS I AM CERTAIN THERE MUST BE ROOM IN MY PLACE FOR ONE MORE PIECE OF MAC EQUIPMENT! P.M., Italy
I thank you for your professional advice and recommendations on the purchase of McIntosh audio equipment from Audio Classics. I am very pleased with the MC252 amp, C41 Audio Control center and the MVP861 CD-DVD player. It was a considerable investment to do in such a short time, but the rewards are outstanding in the improvement in the sound of my music system. My relationship with you and Steve Rowell extend back to 1988, and all of my trades and purchases with the firm have been done with integrity. I.F., IN
I would like to give a big thanks to Ryan who hooked me up with the led kit for my C41. The installation was just as easy as he said and it looks fantastic. My wife had tried to talk me out of getting it,saying that she liked it better with the lights burnt out! Last night we turned off the room lights and listened to some jazz,she kept looking at the pre and then said she had forgotten how much she liked it lit-up. Good stuff D.F., OH
I am so happy over the McIntosh C41 that you recommend, to match the McIntosh MC252 Amp, that you also gave me good advice on. My CDs have come alive and the smooth sound is outstanding. Thanks to you and McIntosh for all the increase in pleasure that will enrich my life. I.F., IN
The C41 arrived today and it is PERFECT!!! It looks great and it sounds magnificent - a night and day improvement over my B&K Ref 5. I want to thank you for expediting and for selling me such a great machine. I'm saving up for one of your McIntosh tuners... Thanks again, T.G., NV
In regard to my purchase of the McIntosh C41 preamp and the MC2125 amplifier, the sound I get of these two pieces is fantastic and is just I was looking for. You guys package every piece so professionally and follow up on delivery. I only hope I can upgrade in the near future to the MC352 amp. Thank you for your help and professionalism. J.E., CT
A note to McIntosh from a satisfied Customer: I just thought i would drop you a line to tell you that I fullfilled a dream i had for about 15 years. I was able to afford some used McIntosh Gear from Audio Classics a few weeks ago. Sorry i could not buy new but it took me forever to be able to get whatI got. I know that new equipment sales keeps your company going of course, but for what I wanted it was just out of reach and I couldn't wait any longer to own a piece of McIntosh gear. I was able to pick up a MC352 and C41, and I can tell you that i am in heaven. I am hearing music I never heard before. These pieces have such musical presence it is unbelievable. There are just no words to explain the experience of hearing a McIntosh in your living room for the first time! It was worth the wait, and I would like to say thank you for being a fine company and making some of the most beautiful sounding and looking audio equipment on the planet. Again, I wish I could have bought new, but I was able to get some incredible equipment and start my McIntosh dream off on a good foot. I will some day build on my investment, and hopefully get myself a new MCD201 as soon as possible. Thanks again M.B. CT.
I got the MC352 and C41 about 3 hours ago - hooked it up immediately upon arrival,took the day off work to be here for the UPS truck, turned it on, put in one of my CD's and ............. WOW! This was worth the wait. You were great to work with. I already told someone else to call you guys about getting a setup like mine! M.B., CT.
I'm enjoying that C41 you "talked me into" (that damned kung fu sales strategy). S.F., AZ
It's almost like Mac captured the best of tubes and solid state in the C41. Really impressive!! One again, thanks mucho for putting me on to this unit. I'm coming back for more. R.B., N
Once again you have led me down the right path. The C41 I just bought from you is in awesome condition. It is a perfect match to the MC162 I recently purchased from you. Future purchases will be a Mac tuner and maybe another Mc162 so I can bridge the amps. Thanks T.S.,VA.
everything ok with the c41: very neutral and transparent, even have the impression that it boosts the amp (vintage mc2105 mcintosh). i am very pleased and it was every penny worth. F.D., Belgium
Convenient payment plans: Audio Classics, Ltd. accepts Mastercard, VISA, Discover and American Express. For Your protection, we thoroughly investigate the validity of all credit card charges. To avoid delays, we prefer to send credit card orders to Your billing address only. You can pay by personal check, postal money order, certified check or bank cashier's check. Personal checks are subject to credit verification and can delay orders up to two weeks. COD orders must be paid by cash, bank check or money order and require a 10% deposit. The deposit can be paid by check or credit card.
Expert Packing: Your purchase is packed in the original shipping container whenever possible. Double boxing is used for extra protection on most items and Your shipment is insured. Large or heavy items can be crated at an additional charge. Audio Classics, Ltd. ships by your choice of UPS, FEDEX, US Mail, BAX, Roadway or Consolidated and you pay the shipping and handling charges.