Grade: A1
A1: 4500.00
Physical: Mint condition
Electrical: Meets or exceeds original specs, all funtions operate
Comments:

---

NEW McIntosh available in store only

---

Grade: B1
B1: 3299.00
Physical: Some light scratches - Excellent Condition
Electrical: Meets or exceeds original specs, all functions operate
Comments:box, manual, remote.

---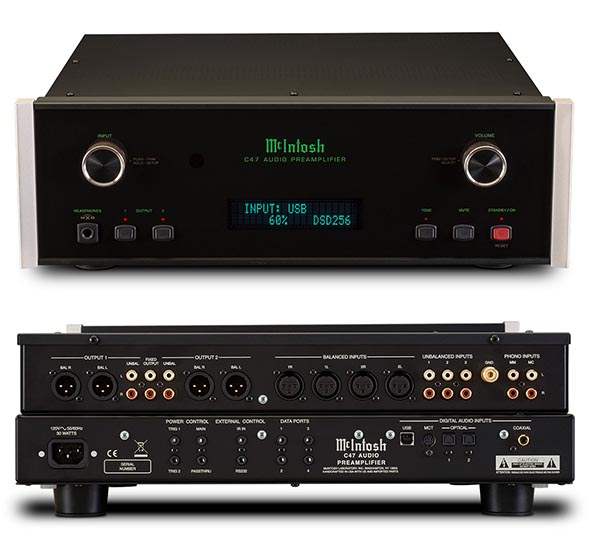 File photo for representation of item. May not be the actual item offered for sale.


Shipping weight: 45 lbs.

Related Categories: Interconnects Line Conditioners


Feedback: I got the C47 today. Its sounds great with the 2 MC301. J.H. GA
I bought a C47 in 2016 ...in trade. I also have a MC152 from your shop. Both units are working and sounding first class. M.H. VA
everything set up by 6:30 Monday evening. Spent that evening and virtually all day yesterday listening....it is awesome. System sounds great! Playing familiar CD's is like listening to new music.... so much more going on that I had heard before. I want to thank you for all your help. I've never been to an audio store where I was given such personal and competent attention. The fact that you were willing to set up the identical system I thought I wanted, and then insert the alternative components, was very instructive and gave me confidence I was getting the best system for my needs (and budget). And it was also just plain fun too! The recommendation I got from a friend in Houston,TX was spot on and the 4 hour drive from Vermont was well worth it. I will be recommending you and Audio Classics to anyone who is looking for high-end equipment. G.R., VT

Convenient payment plans: Audio Classics, Ltd. accepts Mastercard, VISA, Discover and American Express. For Your protection, we thoroughly investigate the validity of all credit card charges. To avoid delays, we prefer to send credit card orders to Your billing address only. You can pay by personal check, postal money order, certified check or bank cashier's check. Personal checks are subject to credit verification and can delay orders up to two weeks. COD orders must be paid by cash, bank check or money order and require a 10% deposit. The deposit can be paid by check or credit card.

Expert Packing: Your purchase is packed in the original shipping container whenever possible. Double boxing is used for extra protection on most items and Your shipment is insured. Large or heavy items can be crated at an additional charge. Audio Classics, Ltd. ships by your choice of UPS, FEDEX, US Mail, BAX, Roadway or Consolidated and you pay the shipping and handling charges.