McIntosh C50
Meters, 8 band EQ, 4 digital inputs
Original List Price: 7000.00


---
Grade: B1
B1: 3599.00
Physical: Some light scratches - Excellent Condition
Electrical: Meets or exceeds original specs, all functions operate
Comments:with box, manual & remote.

---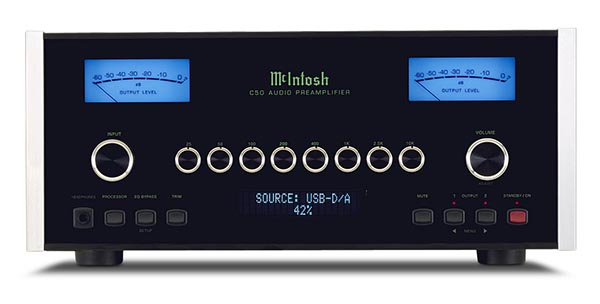 File Photo for Representation of item. May not be the actual item offered for sale.


8 Unbalanced Inputs Including 2 Phono 2 Assignable Balanced
ACTIVE MC & MM Phono Stages with Adjustable Loading
4 Assignable S/PDIF Digital Inputs and 1 Dedicated USB Input
32 bit / 192kHz USB Audio and USB Control through PC or MAC
8-Band Tone Controls Programmable by Input Selection Output
Burr Brown 32/192 DAC.

Shipping weight: 45 lbs.

Related Categories: Interconnects Line Conditioners


Feedback: I got my order everything super good !!!!! I set up with my Mcintosh MC402, C50 Mcintosh preamp and pair of B&W 803 Diamond ...... oh my god ...sound wonderful make me can not leave the stereo room. Thank you very much for such you are a very good and super sale man and easy deal ..... I just want to leave you and audioclassic the positive feed back but I don't know how to do it . In future I will contact you again and will refer any friend to you when ever we need stereo stuff .... The Marantz SA11S2 super sound !!!!! K.L., MC
I'm enjoying the C50 very much, Its a great unit. Thanks once again for arranging the tour on such short notice and for a most enjoyable audio buying experience. ... Best to you and all the great staff! P.D., NY
The C50 is starting to break in very nicely indeed... E.F., OH
I recently purchased a McIntosh C50 preamp and traded my C40 preamp and delt with Ernie. He is a credit to your company and it really was a pleasure dealing with Audio Classics. I will certainly tell my friends about your company. I am a blind McIntosh fan, and again it was my pleasure dealing with your company, everything was just perfect. ...Thanks again for a wonderful experience. A.D., NJ
Convenient payment plans: Audio Classics, Ltd. accepts Mastercard, VISA, Discover and American Express. For Your protection, we thoroughly investigate the validity of all credit card charges. To avoid delays, we prefer to send credit card orders to Your billing address only. You can pay by personal check, postal money order, certified check or bank cashier's check. Personal checks are subject to credit verification and can delay orders up to two weeks. COD orders must be paid by cash, bank check or money order and require a 10% deposit. The deposit can be paid by check or credit card.
Expert Packing: Your purchase is packed in the original shipping container whenever possible. Double boxing is used for extra protection on most items and Your shipment is insured. Large or heavy items can be crated at an additional charge. Audio Classics, Ltd. ships by your choice of UPS, FEDEX, US Mail, BAX, Roadway or Consolidated and you pay the shipping and handling charges.