Denon DL103R
Low output MC .25mv NLA
Original List Price: 449.00 EA


---
NEW Denon available in store only
---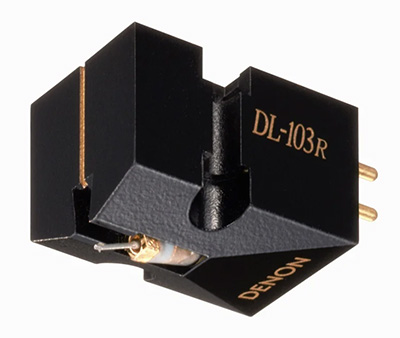 File Photo for Representation of item. May not be the actual item offered for sale.


Shipping weight: 2 lbs.



Feedback: I just wanted to thank you. You fellas run a class operation. Thought I'd share this mornings AudioKharma post with you. I drove down to Audio Classics yesterday to pick up the DL103R. 1st of all, they are about the most friendly, helpful people I have ever run into in the business. I would highly recommend you visit if it's close to you. They are more than willing to let you listen even if you're not ready to drop big cash, and don't give any hint of the old "audio snobbery". That being said, I bought the DL-103R, their custom in house built MC head amp - the ACP-1, which has 4 different load inputs, and a set of Kubala-Sosna cables. After setting up the cartridge, I started listening. The midrange is as open as anything I've heard in many years, with very good high end as well. Pianos, Cymbals, and Sax are breathtaking, noise is maybe 20% of what it was. I then decided to move from the 40ohm tap through the range to see if it matters - does it ever!! Worse - loss of high end level and clarity @ 90ohms (drop in level too). OK - try 20ohm, much better - more and better of everything the 40ohm was doing. More maybe on the 10ohm tap. Nope, harsh and siblance, just a touch, but not for me. Back to 20ohm with some more varied material, geez, the mid is so smooth ..... Audibly as flat (f response) as I've ever had the system, with all tone controls off.....The DL-103R might not be the ultimate or most prestigous cart out there (I really want to try the Dynavector), but for now I think I got a lot of bang for the buck and am going to enjoy it for a while. I suppose I'll have to consider an amplifer change next, but that'll have to wait till the piggy bank fills up again. S.M., NY
Convenient payment plans: Audio Classics, Ltd. accepts Mastercard, VISA, Discover and American Express. For Your protection, we thoroughly investigate the validity of all credit card charges. To avoid delays, we prefer to send credit card orders to Your billing address only. You can pay by personal check, postal money order, certified check or bank cashier's check. Personal checks are subject to credit verification and can delay orders up to two weeks. COD orders must be paid by cash, bank check or money order and require a 10% deposit. The deposit can be paid by check or credit card.
Expert Packing: Your purchase is packed in the original shipping container whenever possible. Double boxing is used for extra protection on most items and Your shipment is insured. Large or heavy items can be crated at an additional charge. Audio Classics, Ltd. ships by your choice of UPS, FEDEX, US Mail, BAX, Roadway or Consolidated and you pay the shipping and handling charges.