McIntosh LS340
3 way (2)8, 6.5, 1 inch
Original List Price: 5200.00 Pair


---
Grade: C1
C1: 1499.00 Pair
Physical: Some scratches or nicks, light oxidation - Good Condition
Electrical: Meets or exceeds original specs, all functions operate
Comments:Red cherry.

---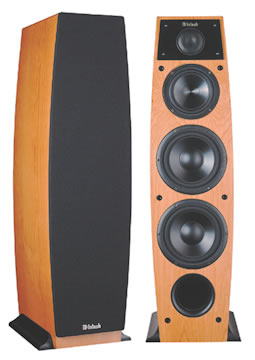 File Photo for Representation of item. May not be the actual item offered for sale.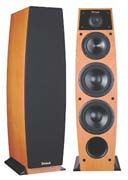 File Photo for Representation of item. May not be the actual item offered for sale.





A loudspeaker that truely complements the performance and style of McIntosh electronics. The laminated sides of the cabinets oppose one another, helping to eliminate resonances and reflections that disrupt a smooth frequency response. Within the graceful arch shape, internal trusses create an extremely strong and durable cabinet virtually immune to vibrations that distort sound. The tweeter is mounted in a manner that reduces the edge hole effect - cancellation of certain frequencies caused by diffraction at the edge of the cabinet. The tweeters are mounted in traditional McIntosh screened black glass. Suggested power amp 100 to 350 watts.

Anechoic Response: 48Hz to 20kHz, ± 2dB

SPL, 2.8V/1m: 89dB

Nominal Impedance: 4 ohms

Drivers: (2) 8 inch LD/HP bass, (1) 6.5 inch LD/HP mid, (1) 1 inch dome tweeter

Crossover Frequencies: 200Hz, 1.8kHz

Suggested Amp Power: 100 to 350 watts

Dimensions (h x w x d):
inch: 40.25 x 10.4 x 16.8
cm: 105.4 x 26.4 x 42.7

Weight: 105lbs (47.7kg) boxed each

Shipping weight: 110 lbs.

Related Categories: Speaker Cable Speaker Stands


Convenient payment plans: Audio Classics, Ltd. accepts Mastercard, VISA, Discover and American Express. For Your protection, we thoroughly investigate the validity of all credit card charges. To avoid delays, we prefer to send credit card orders to Your billing address only. You can pay by personal check, postal money order, certified check or bank cashier's check. Personal checks are subject to credit verification and can delay orders up to two weeks. COD orders must be paid by cash, bank check or money order and require a 10% deposit. The deposit can be paid by check or credit card.
Expert Packing: Your purchase is packed in the original shipping container whenever possible. Double boxing is used for extra protection on most items and Your shipment is insured. Large or heavy items can be crated at an additional charge. Audio Classics, Ltd. ships by your choice of UPS, FEDEX, US Mail, BAX, Roadway or Consolidated and you pay the shipping and handling charges.