Grade: B1
B1: 4799.00 EA
Physical: Some light scratches - Excellent Condition
Electrical: Meets or exceeds original specs, all functions operate
Comments:with box, maual & remote.
Call for availability



---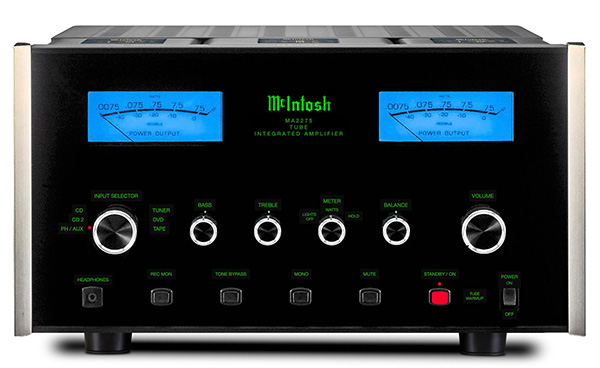 File Photo for Representation of item. May not be the actual item offered for sale.


2 X 75 Watts. Unity-Coupled Vacuum Tube Output Stage.
MM Phono Stage. Fiber-Optic Illuminated Glass Front Panel
Peak Reading Wattmeters. 1/4" Headphone Jack.

Shipping weight: 120 lbs.

Related Categories: Interconnects Speaker Cable Line Conditioners


Feedback: Had a great experience visiting Audio Classics and the McIntosh Laboratory a couple of days ago. What a outstanding bunch of Gentlemen at Audio Classics, first class all the way! We checked out a McIntosh MA2275 and were able to listen to it through Klipschorns, (what are the odds of that). We thought the MA 2275 had a great synergy with the Klipschorns and wound up leaving with it. J.T., 11214
…so went ahead and ordered MA2275 from Audioclassics yet again. I received it last week …set it up and I must say …..Wow ...fantastic ...I think I have best amp I have ever owned. I don't think it's even broken in or settled in yet but it's already sounding just fantabulous. I agree that it does not have brutal deep base of 352 but instead I am getting extremely tuneful base with realism, vocal which are absolutely breathtaking, treble which is sweeeeet like sugar ...wow Female vocals give me goose bumps every time I listen to it. I am so thrilled that I am going to let it burn in for some time and then try some tube and cable rolling but wonder if it can get any better than this… In all this I must mention that I have never encounter customer service like Audioclassics before. I have been dealing with Ernie @ Audioclassics and he nothing but just class act...he has been extremely patient and more than helpful to guide me thru this journey. S.D., GA.
Convenient payment plans: Audio Classics, Ltd. accepts Mastercard, VISA, Discover and American Express. For Your protection, we thoroughly investigate the validity of all credit card charges. To avoid delays, we prefer to send credit card orders to Your billing address only. You can pay by personal check, postal money order, certified check or bank cashier's check. Personal checks are subject to credit verification and can delay orders up to two weeks. COD orders must be paid by cash, bank check or money order and require a 10% deposit. The deposit can be paid by check or credit card.
Expert Packing: Your purchase is packed in the original shipping container whenever possible. Double boxing is used for extra protection on most items and Your shipment is insured. Large or heavy items can be crated at an additional charge. Audio Classics, Ltd. ships by your choice of UPS, FEDEX, US Mail, BAX, Roadway or Consolidated and you pay the shipping and handling charges.