Grade: C2
C2: 2299.00
Physical: Some scratches or nicks, light oxidation - Good Condition
Electrical: Meets original specs, noisy worn controls
Comments:Smokers unit, with box & manual.

---

Grade: B1
B1: 2299.00
Physical: Some light scratches - Excellent Condition
Electrical: Meets or exceeds original specs, all functions operate
Comments:with box, manual & remote.
Call for availability



---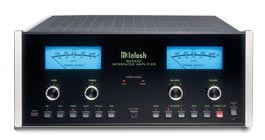 File Photo for Representation of item. May not be the actual item offered for sale.


2 channel, 200 WPC integrated amplifier, 6 source
input including MM phono, switching for 2 pairs of speakers,
precision trimmed volume control, remote power control,
exclusive Power Guard System.

Shipping weight: 75 lbs.

Related Categories: Interconnects Speaker Cable Line Conditioners


Feedback: Just want to say thanks for everything The MA6500 arrived on time and in perfect shape. It is rated as a B1 though I cant find any issues in its appearance to keep me from thinking this is closer to A condition. As far as the sound goes the amp has surpassed all expectations. I find myself staying up way too late listening to LP after LP hearing things I had never heard with my previous set-up. It is absolutely amazing to listen to open and powerful and a great fit with my system. My wife and kids who are notoriously skeptical about audio have even noticed the difference and are impressed I wont hesitate to recommend Audio Classics to any friends that are also looking to upgrade. S.S. GA
Thank you for the repair of my MA6500, for which I am very grateful. I appreciate you and your teams effort to help me. T.O. OH
WOW! I can hear a difference in sound quality.My Tannoy S-10's never sounded so good! The MA6500 & MR85 came to me as you stated A-1 cond. Thank you! .....Looking to hear from you soon,thank you again! I am a first time McIntosh owner! Thanks to Frank and Audio Classics! D.K., CA
THANKS FOR TAKING THE TIME TO LOOK AT MY INTEGRATED AMP MA6500 YESTERDAY. YOU GUYS TAKE EXCELLENT CARE OF ME AND YOU HAVE A LIFE LONG CUSTOMER. R.A., NJ
I just wanted to thank you again for spending most of your Saturday with me while I debated my choices and listened to music - it was definitely worth the trip! As you can imagine, I've already set up my new Martin Logans ( Mosaic ) and can already tell that they're going to work extremely well in my little NYC apartment with my MA6500 & new MVP831... not to mention all of my music. I don't know what the %$#* I was thinking when I feared that the MLs wouldn't "handle" my rock or exhibit much bass, because as my neighbors have already figured out, they certainly do. Unlike all my other prior speakers (Infinity Kappa, Monitor Audio Silver, B&W601) the MLs don't seem to have a limited 'sweet spot'. I was already prepared for ML's amazing image / soundstage, but when we were listening to them in your store, I was also amazed because it didn't seem to matter where we sat/stood - the MLs sounded amazing anywhere in the listening room! I know I originally made the trip for a McIntosh CD player, but the speakers were the real treat for the day. Thanks again for your help; I hope to make another trip sometime soon... like when my bank account gets replenished or the 851s come down a bit. B.M., N.Y.
Wow! The MA6500 sounds tremendous. The phono section in particular has me so psyched that my LP's are getting as much play as my CDs. ..... I amazed at the clean power and minimal amount of heat produced. When I was auditioning the Bryston B-60 integrated amp, the B-60 was very hot to the touch whereas the Mac is barely warm after one or two hours of being cranked up. By the way, the Mac was as clean as a whistle...I didn't even see a fingerprint on it... Thanks to you and the staff at Audio Classics for a topnotch job. T.C., MA

Convenient payment plans: Audio Classics, Ltd. accepts Mastercard, VISA, Discover and American Express. For Your protection, we thoroughly investigate the validity of all credit card charges. To avoid delays, we prefer to send credit card orders to Your billing address only. You can pay by personal check, postal money order, certified check or bank cashier's check. Personal checks are subject to credit verification and can delay orders up to two weeks. COD orders must be paid by cash, bank check or money order and require a 10% deposit. The deposit can be paid by check or credit card.

Expert Packing: Your purchase is packed in the original shipping container whenever possible. Double boxing is used for extra protection on most items and Your shipment is insured. Large or heavy items can be crated at an additional charge. Audio Classics, Ltd. ships by your choice of UPS, FEDEX, US Mail, BAX, Roadway or Consolidated and you pay the shipping and handling charges.