McIntosh MAC6700
200 WPC analog/digital Receiver
Original List Price: 6500.00


---
Grade: B1
B1: 4299.00
Physical: Some light scratches - Excellent Condition
Electrical: Meets or exceeds original specs, all functions operate
Comments:with box, manual & remote.

---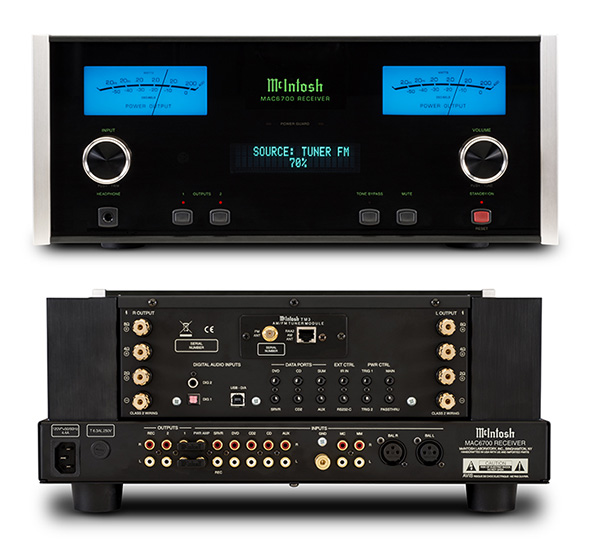 File photo for representation of item. May not be the actual item offered for sale.


2 x 200 Watts Output Autoformers for 2, 4 & 8 Ohms
Bass and Treble Controls 5 High-Level RCA & 1XLR Inputs
MC & MM Phono Sections
1/4" Headphone jack.
3 Digital Inputs: 1 Coaxial, 1 Optical and 1 USB
32-bit, 192kHz D/A Converter
Wide Dynamic Range and Extremely Low Distortion
Built in AM/FM Tuner with HD RadioT Technology

Shipping weight: 98 lbs.

Related Categories: Interconnects Speaker Cable Line Conditioners


Feedback: I received the MAC6700. Thank you. It39s more beautiful in person than I imagined. It39s ridiculously heavy Sound is incredible. My first McIntosh but hopefully not the last. I have owned NAD H/K and currently use a Yamaha 3070 as a prepro connected to my ATI 2007 Amp for HT. I love the ATI but this McIntosh presents a more natural and detailed sound that I39ve never heard before.B.Y. MD
...the McIntosh MAC6700 - arrived in perfect condition and sounds fantastic. T.B., DC
We have listened to a number of CDs on the new system and it sounds amazing. The pairing of the MVP 86 DVD/CD player, MAC6700 receiver and the XR200 speakers is wonderful. Thanks again for all of your help. M.H., MI
I installed the MAC (MAC6700) last night and "we" are enjoying it so much! Packaged very well for UPS. No issues so far, it is in great cosmetic condition, looks never used. Now we can hear the music/tv in the large room. So glad to be able to find. Thanks again for your help last week. J.B., CA
the MAC6700 arrived today and it is the most magnificent piece of gear I've ever had. ...I can't thank you enough for working with me and helping me make this a reality. The packaging is unlike anything I've seen before. Thank you SO much!!! J.D., MN
I'm immensely happy. The unit and speakers are everything I could have asked for. Together they are completely fulfilling and I think will ameliorate my need for upgrade for a while. The packing was impeccable. I never imagined needing to have to break out my drill to unpack the thing. I love the fact that there's a DAC in the receiver eliminating the need for additional cables. ... You guys been great. Class act. S.J. PA
I finished unboxing the MAC6700 and got a bit of listening in last night and today. I really like the built in DAC and HD radio!My iTunes ( lossless) library sounds amazing via USB. The HD radio is as good as you said it would be! I have to admit I was a bit of a skeptic on the HD radio. ...You weren't wrong about the power either. According to the meters I was only using 2 watts max at my normal listening level. We turned it up for a little bit to about 20 watts but as this is a townhouse I was afraid I'd get a police visit if it went more than a few minutes. B.P., FL
I ... called Ernie and he was very helpful with questions I had reference the new MAC MAC6700 receiver since he himself has one. He took the time to explain to me exactly the background on B1 condition of a units, as well as describing the receiver in general. I hope to do business with him in the future plus he is about my age!! J.Y. MO.
I've been an AudioClassics customer for several years. I just wanted to write and say "Thank you." Ryan and Ernie have been taking care of my needs (well, maybe my "wants" more than "needs") for several years. Today I purchased a McIntosh receiver (MAC6700) from Ernie. ... it will be an outstanding piece in my home office. Thank you again for your friendly and helpful staff. T.G., NV
I just wanted to drop you a line and tell you how pleased I am with the amp and speakers. Your recommendations were spot on and the system sounds incredible. thank you so much. D.H., ID

Convenient payment plans: Audio Classics, Ltd. accepts Mastercard, VISA, Discover and American Express. For Your protection, we thoroughly investigate the validity of all credit card charges. To avoid delays, we prefer to send credit card orders to Your billing address only. You can pay by personal check, postal money order, certified check or bank cashier's check. Personal checks are subject to credit verification and can delay orders up to two weeks. COD orders must be paid by cash, bank check or money order and require a 10% deposit. The deposit can be paid by check or credit card.

Expert Packing: Your purchase is packed in the original shipping container whenever possible. Double boxing is used for extra protection on most items and Your shipment is insured. Large or heavy items can be crated at an additional charge. Audio Classics, Ltd. ships by your choice of UPS, FEDEX, US Mail, BAX, Roadway or Consolidated and you pay the shipping and handling charges.