NEW McIntosh available in store only

---

Grade: B1
B1: 4995.00
Physical: Some light scratches - Excellent Condition
Electrical: Meets or exceeds original specs, all functions operate
Comments:
Call for availability



---

Grade: C1
C1: 4495.00
Physical: Some scratches or nicks, light oxidation - Good Condition
Electrical: Meets or exceeds original specs, all functions operate
Comments:

---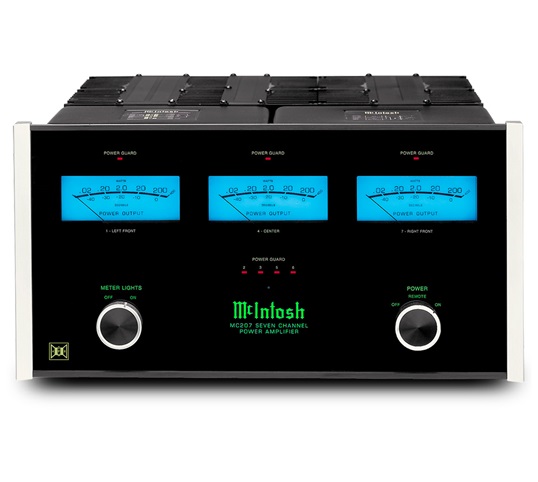 File photo for representation of item. May not be the actual item offered for sale.


7 channel Amp: 7 X 200 watt @ 4 or 8 ohms
6 channels: 1 X 400 WPC @ 8 ohms only, 5 X 200 WPC @ 4 ohms only
5 channels: 2 X 400 WPC @ 8 ohms only, 3 X 200 WPC @ 4 ohms only
7 x 200 Watts Two-Zone Operation
DPM Circuit Design Ensures Full Power at 4 or 8 Ohms
Peak Responding Wattmeters LED Fiber-Optic Panel Illumination
Exclusive McIntosh Power Assurance System
Remote Power Control Trigger
Multi-Way Speaker Binding Posts

Shipping weight: 120 lbs.

Related Categories: Interconnects Speaker Cable Line Conditioners


Feedback: This Mc207 sounds terrific and is absolutely beautiful. Thank you. It took 2 people to get this monster situated. J.B., MO
MC207 arrived safely. This amplifier basically looks new.... I will recommend to everyone i know looking for purchase. Very satisfied customer :) J.B., CT.
Thanks for the help on the phone today. I followed your directions and the amp works great. I spent the afternoon listening to music and love the sound of the amp. Thanks again and I look forward to doing business with you again. A.G., VA
I want you to know that my interactions with you and your whole gang there at Audio Classics have been nothing but friendly, courteous, and as helpful as I could ever hope for. I very much appreciate your guidance in steering me towards some excellent componentry for my audio and video systems: the MC275-V, the C500T and, yes, the MC207. R.M., HI
Thank you so much for shipping the MC207. Thank you for working with me and making it possible for me to get this amp. I don't know how to tell you how much I appreciate your help... T.C. WY.
I started hooking up the system yesterday and finished mid day today. It drives the Martin Logan Monoliths with ease. Ran out to the local A/V store to buy some new "action" DVD's to ring out the system before my wife comes home next week. ...thanks for your kind assistance. This system is the best that I have owned in my life. P.W., AZ a 100% satisfied client!!!!

Convenient payment plans: Audio Classics, Ltd. accepts Mastercard, VISA, Discover and American Express. For Your protection, we thoroughly investigate the validity of all credit card charges. To avoid delays, we prefer to send credit card orders to Your billing address only. You can pay by personal check, postal money order, certified check or bank cashier's check. Personal checks are subject to credit verification and can delay orders up to two weeks. COD orders must be paid by cash, bank check or money order and require a 10% deposit. The deposit can be paid by check or credit card.

Expert Packing: Your purchase is packed in the original shipping container whenever possible. Double boxing is used for extra protection on most items and Your shipment is insured. Large or heavy items can be crated at an additional charge. Audio Classics, Ltd. ships by your choice of UPS, FEDEX, US Mail, BAX, Roadway or Consolidated and you pay the shipping and handling charges.