| | | |
| --- | --- | --- |
| | McIntosh MC225 | |
Classic 25 WPC Stereo Tube Amp
Original List Price: 198.00


---
Grade: S1
S1: 5000.00
Special Item Call for Details
Electrical: Meets or exceeds original specs, all funtions operate
Comments:


Call us for availability




---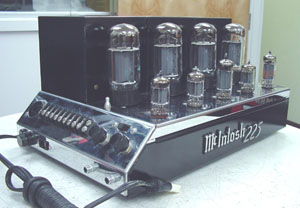 File photo for representation of item. May not be the actual item offered for sale.


25 WPC Classic McIntosh Stereo power amplifier.

Shipping weight: 55 lbs.

Related Categories: Interconnects Speaker Cable Line Conditioners


Feedback: Just a note of thanks for the superb job in refurbishing my mx110 (and last month, my mc225). couldn't ask for a more beautiful sound. its clear from the handwriting on the work write-up that the same person did both. please give him or her my thanks for the care and craftsmanship. C.S. MD
I ordered a super beautiful restored MC225 from my friend Mike Sastra from Audio Classics. This is a highly regarded Mc vintage amplifier and pretty rare in this condition. My 225 is ... connected to the Rega RS10 speakers. I understand now why some people consider it as the best amplifier ever made by Mc. It is very special indeed. Super sweet and super transparent and refined. For the very first time, I can say that I'm hearing a McIntosh probably as good as my Shindo amps. And this comes from a former 275, 501 and 2301 owner. ... Mike, I want an other one like that !!!!! J.W., France.
Received the MC225 and MX113 - both were packed perfectly, with TLC. The performance of these two units surpasses my expectations - warm, engaging, dynamic with detail. My audio library sounds so very different now! Thanks again for an excellent representative of McIntosh golden years. S.A. TX
Mc225 shootout event. The MC225 I bought from u beat every other tube amp tonight. It was sagnificantly better than the Jadis, Shindo and Hovland. R.M. Canada
the MC225 .... was brought to spec by George Melnyk at AC last year. It sounds amazing! Ryan was a great help in coordinating the repairs, please say hello to him from us. N.A., NY
The 225 tube unit is the one I purchased from you, way back in 1989........ has given me many years of trouble free service & operation. I really enjoy the sound from it. M.C., NJ.
Just wanted to drop you a line saying what a enjoyable experience it has been buying a vintage McIntosh MC225 from Mike Sastra. J.R., NY
Thank you for your attention in locating the MC225. It was received in excellent shape as were my previous purchases with your organization. Your outfit provides excellent service and has always proven courteous and helpful over the phone. I am looking forward to doing business with you again soon. D.O., AK.
Thank you for the meticulous care spent in checking-out and shipping the McIntosh MC225 I ordered... Your packing was superb and the condition of the amplifier excellent. The unit is a visual as well as a sonic delight.....Thanks again for the fine service. R.H., PA.
Recently, I purchased an MC-225 power amplifier from Audio Classics. I would like to convey my satisfaction with the instrument. The near-new condition and the fact that it easily beat its' rated specifications was very surprising. Your generous lay-a-way plan and timely shipping was also very much appreciated. I will certainly shop for McIntosh gear at Audio Classics in the future. Keep up the good work! Thank you. D.B., WV
Once again, I bow and kiss your gnarly feet. Thanks for helping me troubleshoot yesterday. Now I know why I've resisted selling off my "spare" 2155! Nice to have a back-up, and I still think it's one of the loveliest amps Mac ever made (not too big, not too small, great punch, etc.). Speaking of which, having now really heard what my refurbished 225 can do, you can bet I won't be selling its "spare" brother either!! I know that by real high-end status, I'm a "mid-high" audiophile. But the synergy you have helped me achieve on my budget, the intense love and respect you have helped me form for my classic Mac gear, is all I'll ever need. I'm happy. I listen to a lot of music. My systems are musical.Thanks as always for being there for me! J.M., MD.

Convenient payment plans: Audio Classics, Ltd. accepts Mastercard, VISA, Discover and American Express. For Your protection, we thoroughly investigate the validity of all credit card charges. To avoid delays, we prefer to send credit card orders to Your billing address only. You can pay by personal check, postal money order, certified check or bank cashier's check. Personal checks are subject to credit verification and can delay orders up to two weeks. COD orders must be paid by cash, bank check or money order and require a 10% deposit. The deposit can be paid by check or credit card.

Expert Packing: Your purchase is packed in the original shipping container whenever possible. Double boxing is used for extra protection on most items and Your shipment is insured. Large or heavy items can be crated at an additional charge. Audio Classics, Ltd. ships by your choice of UPS, FEDEX, US Mail, BAX, Roadway or Consolidated and you pay the shipping and handling charges.