| | | |
| --- | --- | --- |
| | McIntosh MC240 | |
Wanted! 40 WPC Tube Amp circa 1960s
Original List Price: 288.00


---
Grade: S1
S1: 5999.00
Special Item Call for Details
Electrical: Meets or exceeds original specs, all funtions operate
Comments:The Original MC240 Prototype.


Call us for availability




---

Grade: C3
C3: 4199.00
Physical: Some scratches or nicks, light oxidation - Good Condition
Electrical: Meets original specs, some functions broken NO WARRANTY
Comments:


Call us for availability




---

Grade: D1
D1: 3499.00
Physical: Some dents or oxidation - Fair Condition
Electrical: Meets or exceeds original specs, all functions operate
Comments:Performance Certified by AudioClassics, RKS

---

Grade: C?
C?: 3499.00
Physical: Some scratches or nicks, light oxidation - Good Condition
Electrical: Not graded AS IS
Comments:


Call us for availability




---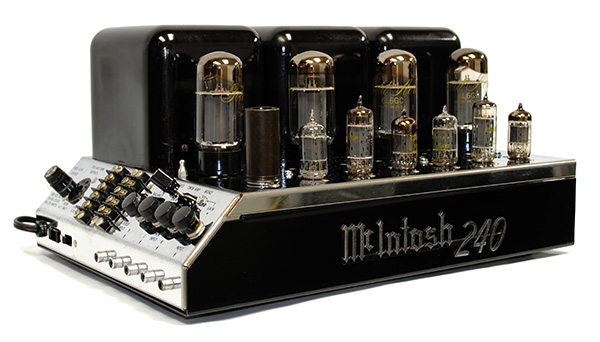 File photo for representation of item. May not be the actual item offered for sale.


Classic 40 WPC tube amp with chrome & black chassis.
Features extremely low distortion even at full power!


Shipping weight: 70 lbs.

Related Categories: Interconnects Speaker Cable Line Conditioners


Feedback: I have been listening to my refurbished 240 for several days straight through now and I am beyond pleased with the results. It was great meeting and talking to Ryan he did a an amazing job going through the amp top to bottom. It sounds better than I have ever heard it sound. not to mention super clean. The entire experience was top notch. Great customer service amazing store to visit in person Ryan and everyone I met were just awesome Also huge shout out to whomever packed her up for shipping you my friend are an artist You have a customer for life. D.D. OH
I just wanted to say thanks for your great service on my c22 and mc240 that you restored .... The equipment sounds fantastic better than I would have imagined. But I hope that you don39t tire of hearing this kind of praise G.F. NY
Love my MC240, C20 & MR67 that Andy sold me!! It was everything I expected & more. I hooked it up to a pair of vintage JBL C38's and it was pure heaven. Even the tuner sounds great listening to my favorite jazz station.B.M., CA
You guys did a great job on my mc-240. Amazing sounding 50 year old amp. Very happy. Thanks again. J.N., NY
The amplifier arrived ... I have been listening to it ... and wanted to let you know that I am very happy. It is paired up with a C11 and my Cornwalls are singing as I type! Thanks, F.E., PA
Thanks for your always great customer service. The MC252 and MC7104 are hooked up and are sounding great in the main listening area. The MC252 is really a smooth sounding 2 channel amp. With new input jacks, the MC240's are back to 80 plus watts and life is also good in the cave. You guys have the best customer service going and if anyone ever needs a referral or wants an endorsement please use me as a reference. As far as we are concerned the 500 mile trip to Vestal from VA is well worth the experience for purchase and service on any McIntosh equipment. H.S. VA
This is my first MX110 / MC240 McIntosh combination - nothing short of amazed at how good the sound is. Smooth, but with no huge lose of detail, extended w/o any harshness on the top octaves, GREAT bass without being boomy. .... - between you and me - I think our industry has been walking backwards since point to point tube designs were abandoned for higher profit / shorter production time solid state designs. I REALLY am enjoying this combination. J.B., NY
My MC240 & Mx110 were stored away for several years because they did not sound right. Ryan Kilpatrick described the quality of ACL's repair service. The entire process went smoothly, just as he promised. My sincere thanks to Ryan and with much appreciation also to Richard Modafferi. Richard, you are an true artist in your profession. The system sounds awesome, great job!Your shipping Dept takes a lot of pride in their work too. Keep up the good work. C.V., N.H.
RE: MC240 Repair It sound great, better than I've heard it sound in the 25 years that I've owned it! Ryan was a pleasure to deal with, he was helpful and informative, and got it back to me quickly. I had a very tight schedule and he worked it out to meet my time frame. You have a new and very satisfied customer! Thank you and please thank Ryan for me, I owe him one. J.W., MO.
Last year you rebuilt my MC240. I was a bit apprehensive until the amp returned & I took it for a spin. I'm 100% satisfied. No component went unchecked. Since your kind of quality service is a rare find these days, I've saved my pennies and I'm ready to send you my C20 preamp and MR65B tuner for their 1st overhaul. After many nitemares with repair shops over the years, it's a pleasure to finally find someone you can trust. G.D., NJ
Thank you..... for your help in choosing the MC240 for my system. In this day of the increasingly impersonal marketplace, your commitment of time and knowledge is truly outstanding. You have (almost) restored my faith in mankind and The American Way! C.F., NC
Re: MC240 Repair It ran a bit over what I expected but I must say that it's money well spent. I also appreciate Richard's detailed description of his work. I was quite surprised at the extent of the disrepair. It only goes to show that when something comes at a bargain price, there is usually a catch to it. Please relate my thanks to Richard for his quality work...... C.Y., CA

Convenient payment plans: Audio Classics, Ltd. accepts Mastercard, VISA, Discover and American Express. For Your protection, we thoroughly investigate the validity of all credit card charges. To avoid delays, we prefer to send credit card orders to Your billing address only. You can pay by personal check, postal money order, certified check or bank cashier's check. Personal checks are subject to credit verification and can delay orders up to two weeks. COD orders must be paid by cash, bank check or money order and require a 10% deposit. The deposit can be paid by check or credit card.

Expert Packing: Your purchase is packed in the original shipping container whenever possible. Double boxing is used for extra protection on most items and Your shipment is insured. Large or heavy items can be crated at an additional charge. Audio Classics, Ltd. ships by your choice of UPS, FEDEX, US Mail, BAX, Roadway or Consolidated and you pay the shipping and handling charges.