| | | |
| --- | --- | --- |
| | McIntosh MC252 | |
Wanted! 250 WPC Stereo Amplifier
Original List Price: 5000.00


---
Grade: B1
B1: 4299.00
Physical: Some light scratches - Excellent Condition
Electrical: Meets or exceeds original specs, all functions operate
Comments:


Call us for availability




---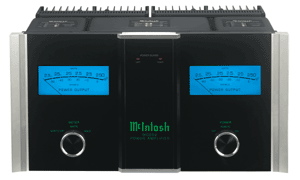 File photo for representation of item. May not be the actual item offered for sale.


2 X 250 Watts Bridged and Parallel Mono Modes
Exclusive McIntosh Power Assurance System
Peak Responding Wattmeters
LED Fiber-Optic Illumination

Shipping weight: 120 lbs.

Related Categories: Interconnects Speaker Cable Line Conditioners


Feedback: I thank you for your professional advice and recommendations on the purchase of McIntosh audio equipment from Audio Classics. I am very pleased with the MC252 amp, C41 Audio Control center and the MVP861 CD-DVD player. It was a considerable investment to do in such a short time, but the rewards are outstanding in the improvement in the sound of my music system. My relationship with you and Steve Rowell extend back to 1988, and all of my trades and purchases with the firm have been done with integrity. I.F., IN
The amp arrived safely yesterday. I am blown away, it sounds absolutely fantastic! Now I see what all the fuss is about with McIntosh. J.G, NV
I am so happy over the McIntosh C41 that you recommend, to match the McIntosh MC252 Amp, that you also gave me good advice on. My CDs have come alive and the smooth sound is outstanding. Thanks to you and McIntosh for all the increase in pleasure that will enrich my life. I.F., IN
Thanks for your always great customer service. The MC252 and MC7104 are hooked up and are sounding great in the main listening area. The MC252 is really a smooth sounding 2 channel amp. With new input jacks, the MC240's are back to 80 plus watts and life is also good in the cave. You guys have the best customer service going and if anyone ever needs a referral or wants an endorsement please use me as a reference. As far as we are concerned the 500 mile trip to Vestal from VA is well worth the experience for purchase and service on any McIntosh equipment. H.S. VA
I would like to thank you and the whole Audioclassics team for the beautiful amplifier. Condition of the amp was great, B1 was a bit conservative, I would say A1. Packing was great, extremely safe. On the box is a little badge that says "Built with pride in America". If there is one company that America should be pride of, it's Mcintosh. P.B., Belgium
Thank you for this purchase.The amplifier is perfect.You have done a very good job.You have a great compagny and in France we have to take a lesson from you. A tres bientot et encore merci. M.H., France
It works fine.... Thanks for all of your help... ! BTW... Sounds wonderful... I'm very happy! Thank you, gentlemen... J.M., FL
I received the MC252 today in perfect condition, hooked it up to my 20 year old NAD and---absolutely incredibly beautiful music, even on my crappy speakers. By far the most expensive audio purchase I have ever made, yet the easiest at the same time. Thanks for your help. E.C., CA
Amp was better than I could imagine. What authority over the MC126!!! Really takes command over the B&Ws. S.H., CA.

Convenient payment plans: Audio Classics, Ltd. accepts Mastercard, VISA, Discover and American Express. For Your protection, we thoroughly investigate the validity of all credit card charges. To avoid delays, we prefer to send credit card orders to Your billing address only. You can pay by personal check, postal money order, certified check or bank cashier's check. Personal checks are subject to credit verification and can delay orders up to two weeks. COD orders must be paid by cash, bank check or money order and require a 10% deposit. The deposit can be paid by check or credit card.

Expert Packing: Your purchase is packed in the original shipping container whenever possible. Double boxing is used for extra protection on most items and Your shipment is insured. Large or heavy items can be crated at an additional charge. Audio Classics, Ltd. ships by your choice of UPS, FEDEX, US Mail, BAX, Roadway or Consolidated and you pay the shipping and handling charges.