| | | |
| --- | --- | --- |
| | McIntosh MC275-II | |
Wanted! Gordon Gow Commemorative
Original List Price: 3995.00


---
Grade: B1
B1: 6995.00
Physical: Some light scratches - Excellent Condition
Electrical: Meets or exceeds original specs, all functions operate
Comments:Performance Certified by AudioClassics, RMH

---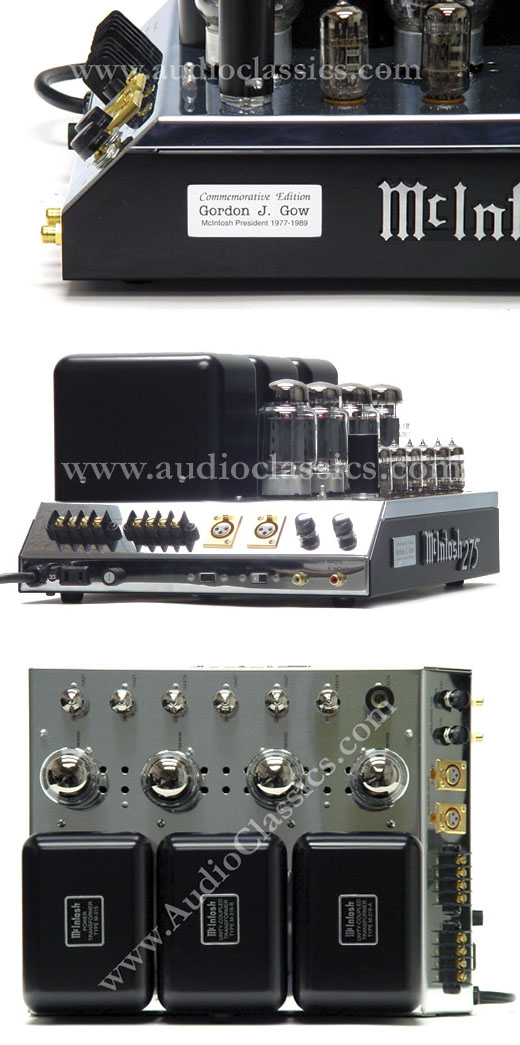 File photo for representation of item. May not be the actual item offered for sale.


This Amplifier was produced by McIntosh from 1993 until 1996 to commemorate the late Gordon J. Gow, McIntosh President from 1977 until 1989 and Vice President since the inception of the company in 1949. Mr. Gow was the co-inventor of the original McIntosh Unity Coupled Amplifier circuit. He was also the person most responsible for the unparalleled success and reputation of McIntosh Laboratory as the manufacturer of the world's finest audio electronics.
The overall appearance of the commemorative MC275 amplifier is very close to the original. It has the same dimensions, chrome chassis and black transformer housings. Several changes were made to the original design to take advantage of newer technology and accommodate the needs of contemporary sound systems.
Gold plated XLR balanced input connectors were added on the sloping section of the chrome chassis. This allows the use of balanced interconnect cables for lower noise and improved signal transfer. The amplifier sensitivity at the balanced input jacks is fixed at 2.0V for rated output.


An increase in gain was necessary to accommodate the balanced inputs. Circuit changes were made for this purpose, resulting in the change of four vacuum tubes. Each 12BH7 was replaced by a 12AZ7 and each 12AU7 was replaced by a 12AX7.


Two gold plated RCA unbalanced input jacks were placed on the front of the chrome chassis. Above these input jacks on the sloping section of the chassis are corresponding left and right volume controls. The sensitivity at the unbalanced inputs, with controls set at maximum, is 1.0V for rated output.


Two slide switches were placed below the balanced input connectors. One switch selects balanced or unbalanced inputs. The other switch selects stereo or mono parallel configuration.


Gold plated high current output barrier strips were placed on the sloping section of the chrome chassis. Output taps were provided for speaker impedances of 4, 8 and 16 ohms stereo or 2, 4 and 8 ohms mono.


The octal output socket that originally connected to the high impedance (500 ohm) transformer tap was removed. The 3 position lever mode switch, stereo balance control, twin amp volume controls, mono volume control and the twin amp input jacks were also removed.


Close tolerance film resistors, polypropylene coupling capacitors and fiberglass printed circuit boards were used.
MC275 Commemorative Edition
Stereophile Recommended Component Oct.95 Class B.

Shipping weight: 90 lbs.

Related Categories: Interconnects Speaker Cable Line Conditioners


Feedback: I have to tell that the mc275-II is always wonderful. S.D.S., Italy
I received the MC275, it's perfect and wonderful, it sounds like you expect to hear. To buy from AudioClassics is a pleasure because the item, the package, the shipment organization it's at top level. thanks sincerly from Italy S.D.
I got the MC275 last night. W/o a doubt the best purchase I have ever made. It looks completely brand new. What a sound. I always heard that tubes "didn't do bass". No, that was wrong. I think I got another whole octave out of my speakers. Somehow my speakers sounded louder w/o actually being louder (spl meter verified). I can't wait to get home tonight and do some more listening...... I had bought parts and stuff from you guys b4. From now on, you guys are the only people I will buy anything from. Do you happen to sell groceries by any chance? L.J., TN
Also, just a note to let you know how much I'm enjoying the MC-275II I purchased from you several months ago. I'm running it in mono with my other MC-275II driving Magnepan 3.6Rs. Wonderful H.F., FL
I'd like to thank you for all your help in my recent purchase of the MC275II and the cabinet The amplifier and new cabinet are in magnificent condition, better than I had anticipated, and I particularly appreciate you sending the new cabinet and a pickup for the old one at your expense. I am running both of my MC275IIs in mono, driving Magnepan 3.6Rs, and the sound is wonderful. I wasn't sure how much difference it would make, but it is significant. Thanks again. It is indeed a pleasure to do business with professionals such as AudioClassics. H.F., FL.

Convenient payment plans: Audio Classics, Ltd. accepts Mastercard, VISA, Discover and American Express. For Your protection, we thoroughly investigate the validity of all credit card charges. To avoid delays, we prefer to send credit card orders to Your billing address only. You can pay by personal check, postal money order, certified check or bank cashier's check. Personal checks are subject to credit verification and can delay orders up to two weeks. COD orders must be paid by cash, bank check or money order and require a 10% deposit. The deposit can be paid by check or credit card.

Expert Packing: Your purchase is packed in the original shipping container whenever possible. Double boxing is used for extra protection on most items and Your shipment is insured. Large or heavy items can be crated at an additional charge. Audio Classics, Ltd. ships by your choice of UPS, FEDEX, US Mail, BAX, Roadway or Consolidated and you pay the shipping and handling charges.