Grade: B1
B1: 4499.00 EA
Physical: Some light scratches - Excellent Condition
Electrical: Meets or exceeds original specs, all functions operate
Comments:with box & manual.

---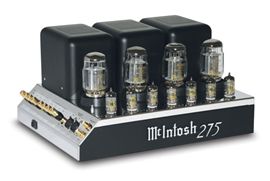 File Photo for Representation of item. May not be the actual item offered for sale.


Most popular of all 275's. Stereophile Class A rated April 2010
2 X 75 WPC. Patented Unity-Coupled Circuit. Bifilar Output Trans
4,8 & 16 ohm output Ceramic Tube Sockets - Gold-Plated Pins
Balanced XLR and Unbalanced Input Jacks
Front Apron Power Switch Stereo Mono Switch
Taps for 4, 8 & 16t Ohm Speakers
Triple Polished Stainless Steel Chassis

Shipping weight: 80 lbs.

Related Categories: Interconnects Speaker Cable Line Conditioners


Feedback: Our beloved MC275 MkV monoblocks came straight from Mike Sastra at Audio Classics. Leave it to the Mac experts when you're looking for that perfect McIntosh amp or preamp. Why would you trust your next McIntosh Labs purchase to anyone else? They now have a Syracuse location in Upstate, NY too!K.O.,NY
I haven't quite heard low end like that before. I'll call you tomorrow anyway because I have a few questions.... But yes, it's everything you said it was. K.N., CA
Just a quick note to thank you. I got home and hooked up my new MC275, and not expecting too much until it breaks in, was just amazed. If it gets better than this I can't believe it! The C220 and the MC275 are just a match made in heaven. This is music, now this is what I am talking about! ...I think I may have one of the "last of the good ones" here. This is a definite keeper and your price was also the best, I do appreciate that as well. I do know how much I saved. Fantastic. It was great to meet you and see your store, very much worth the long drive. You have an amazing place there. Thank you again ! ! S.W., NY
The McIntosh MC275-MKV and MC501 are great. K.M. NW
The Amp is working great and sounds fantastic. This is the first time I have delved into tube equipment in over 30 years but it is a real joy to hear the warm sound of the McIntosh 275. Seeing the glowing filaments in the dark room and smelling the aroma of the hot glass gives me flashbacks to my youth. Anyway, thanks for the help... M.C., FL
I want you to know that my interactions with you and your whole gang there at Audio Classics have been nothing but friendly, courteous, and as helpful as I could ever hope for. I very much appreciate your guidance in steering me towards some excellent componentry for my audio and video systems: the MC275-V, the C500T and, yes, the MC207. R.M., HI
remember snoopy and "happiness is a warm puppy"? well, i can't argue with that, but happiness is also a pair of mc275s! the second amp gives it that little push over the top that just makes you forget there's an audio system between you and the music. even at lower volumes, the drums and bass seem to jump out of the speakers! anyway, just wanted to let you know i got the amp and all is well here. thanks again for your great service. i hope i don't catch this "macinitis" thing, but you've definitely got another customer for life S.H., OK
after some days that i'm listening the amplifier i would say THANKS INDEEED MAN !!! it sound great and very sexy M.M. Italy
Convenient payment plans: Audio Classics, Ltd. accepts Mastercard, VISA, Discover and American Express. For Your protection, we thoroughly investigate the validity of all credit card charges. To avoid delays, we prefer to send credit card orders to Your billing address only. You can pay by personal check, postal money order, certified check or bank cashier's check. Personal checks are subject to credit verification and can delay orders up to two weeks. COD orders must be paid by cash, bank check or money order and require a 10% deposit. The deposit can be paid by check or credit card.
Expert Packing: Your purchase is packed in the original shipping container whenever possible. Double boxing is used for extra protection on most items and Your shipment is insured. Large or heavy items can be crated at an additional charge. Audio Classics, Ltd. ships by your choice of UPS, FEDEX, US Mail, BAX, Roadway or Consolidated and you pay the shipping and handling charges.