75 WPC Stereo Tube Amplifier
MSRP: 6500.00


---
NEW McIntosh available in store only
Pre-owned call for availability

---

DEMO McIntosh available in store only
Pre-owned call for availability

---

Grade: C1
C1: Call us for availability
Physical: Some scratches or nicks, light oxidation - Good Condition
Electrical: Meets or exceeds original specs, all functions operate
Comments:with box. Certified by AudioClassics, RMH



---

Grade: B1
B1: Call us for availability
Physical: Some light scratches - Excellent Condition
Electrical: Meets or exceeds original specs, all functions operate
Comments:Box, Manual. Certified by ACL, RMH



---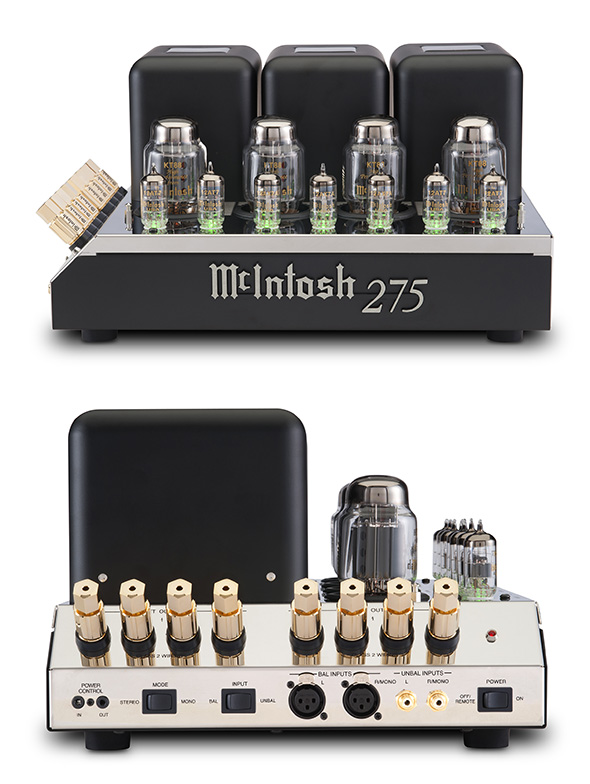 File photo for representation of item. May not be the actual item offered for sale.


2 x 75 Watts Outputs for 4, 8, & 16 Ohms
Sentry Monitor Protection
Unique Tube Illumination to Indicate Operational Status
Front Apron Power Switch Stereo/Mono Switch
Patented McIntosh Speaker Binding Posts
Power Control to Enable Remote On/Off with McIntosh Preamplifiers
Recommended by The Absolute Sound 2019

Shipping weight: 80 lbs.

Related Categories: Interconnects Speaker Cable Line Conditioners


Feedback: Just wanted to take a minute and say thank you. The amps (MC275-MKVI) arrived in absolutely perfect condition. Can't tell them from new units. I could not be more satisfied with our transaction. I have known about your company for a while now, but never utilized your services until I got deeper into my McIntosh ride. Needless to say, as long as you remain in business, I will be a loyal customer. S.R.
I wanted to say THANK YOU for the MC275. It is gorgeous and sounds even better. It is now hooked up to my C47 and my Martin Logans. I always appreciate the personal attention you give me and my audio requests Thanks to you and Audio Classics.D.N. OH
Ok, that 275 was awesome. K.M., NM
...our 1 year old daughter loves our 275! She stands in front of it and says "on", and will start to dance when the music plays. However, she does not understand it takes time for tubes to warm up, as she keeps saying "on" and gets mad until then. B.S. WI
We're enjoying the MC275 and still talking to our friends about the McIntosh tour you arranged for us. P.L., NY

Convenient payment plans: Audio Classics, Ltd. accepts Mastercard, VISA, Discover and American Express. For Your protection, we thoroughly investigate the validity of all credit card charges. To avoid delays, we prefer to send credit card orders to Your billing address only. You can pay by personal check, postal money order, certified check or bank cashier's check. Personal checks are subject to credit verification and can delay orders up to two weeks. COD orders must be paid by cash, bank check or money order and require a 10% deposit. The deposit can be paid by check or credit card.

Expert Packing: Your purchase is packed in the original shipping container whenever possible. Double boxing is used for extra protection on most items and Your shipment is insured. Large or heavy items can be crated at an additional charge. Audio Classics, Ltd. ships by your choice of UPS, FEDEX, US Mail, BAX, Roadway or Consolidated and you pay the shipping and handling charges.