2000 Watt amp mono block
Original List Price: 43000.00


---
Grade: B1
B1: 24999.00
Physical: Some light scratches - Excellent Condition
Electrical: Meets or exceeds original specs, all functions operate
Comments:sell with 100, with box & manual.

---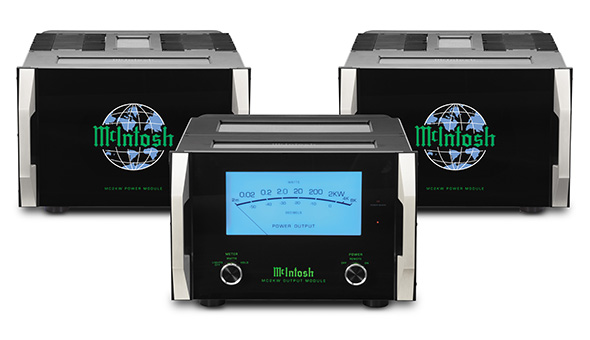 File photo for representation of item. May not be the actual item offered for sale.


1 x 2000 Watts Reference Series
Quad-Balanced Design
Separate Positive & Negative Amplifiers
3 Full Sets of Terminals for Tri-Wiring @ 8, 4 & 2 Ohms
Silent Convection Cooling Safe Operation to Below 2 Ohms

Shipping weight: 535 lbs.

Related Categories: Interconnects Speaker Cable Line Conditioners


Feedback: all is perfect!!! the amps are wonderful!!! you can see the install in my living room! thank you very much!! M.C., France
I had a hickup with my MC2KWs recently, and Mike at Audioclassics TOTALLY took care of me from start to finish. Sometimes it pays to have a dealer working on your behalf when dealing the the factory. Professionalism, honesty, responsibilty, and integrity are qualities which gets tested when you run into trouble, even when it is not the dealers fault. They passed the test. There was no IF AND OR BUTS, there was no bullshit or excuses. They were completely honest and was with me every step of the way. If I was to buy McIntosh again, I probably won't be visiting the new dealers close to me. I intend to drive 5 hours to buy from Audioclassics, as a good working relationship and mutual understanding is hard to develope. If your "old dealer" possess the qualities which I have described, he will have nothing to worry about. R.M, Canada

Convenient payment plans: Audio Classics, Ltd. accepts Mastercard, VISA, Discover and American Express. For Your protection, we thoroughly investigate the validity of all credit card charges. To avoid delays, we prefer to send credit card orders to Your billing address only. You can pay by personal check, postal money order, certified check or bank cashier's check. Personal checks are subject to credit verification and can delay orders up to two weeks. COD orders must be paid by cash, bank check or money order and require a 10% deposit. The deposit can be paid by check or credit card.

Expert Packing: Your purchase is packed in the original shipping container whenever possible. Double boxing is used for extra protection on most items and Your shipment is insured. Large or heavy items can be crated at an additional charge. Audio Classics, Ltd. ships by your choice of UPS, FEDEX, US Mail, BAX, Roadway or Consolidated and you pay the shipping and handling charges.