| | | |
| --- | --- | --- |
| | McIntosh MC302 | |
Wanted! 300 WPC Stereo Amplifier
Original List Price: 7000.00


---
Grade: B1
B1: 4995.00
Physical: Some light scratches - Excellent Condition
Electrical: Meets or exceeds original specs, all functions operate
Comments:with box & manual.

---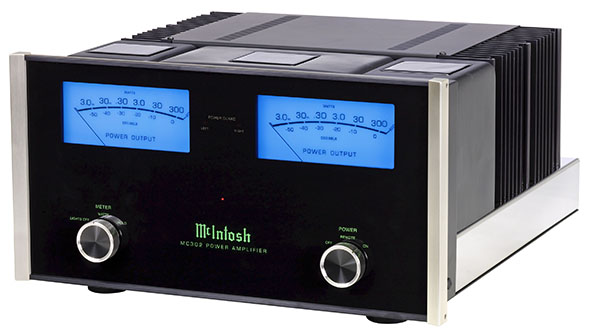 File photo for representation of item. May not be the actual item offered for sale.


2 x 300 Watts Peak Responding Wattmeters
Output Autoformers for 2, 4 & 8 Ohms
ThermalTrakT Output Transistors
60 amps Output Current Capability Over 140 Joules of Energy
Patented McIntosh Speaker Binding Posts

Shipping weight: 150 lbs.

Related Categories: Interconnects Speaker Cable Line Conditioners


Feedback: Thank you for your time and wise counsel yesterday. The MC302 is the perfect complement to my system. I cannot believe it could have gotten and any better and then this. Also I love the new e110 subwoofer much tighter. B.G. NY
I unpacked the MC302 from the awesome triple box packaging, ...The tonal chemistry between it and the C2300 is awesome………makes beautiful music. Much more texture and dynamics and sense of untapped power. Beautiful equipment and thanks for another great example of McIntosh heritage. S.A. TX
... the MC302 goes unnoticed by a lot of people, but it performs just like it's big brothers. Bass is deep, imaging is good, and soundstage in my environment is good. The MX121 is a great preamp if you bypass the Audyssey, the dynamic volume controls! Run in Direct or Pure Direct...I cannot fault the performance. It is exceedingly quiet, has a stable soundstage, bass that is truly extended, and a traditional Mc top end. The digital processing is okay. Meaning if you use Audyssey, it is important to follow their guide, focus on measurements around the sweet spot. If you do, the bass is truly tight and extended, top end great. Thanks for the great service and equipment. R.L., IN.
Thank you for helping my son ...with his purchase of such a nice selection of equipment. He is very thrilled with it and I am sure it will last a long time for his enjoyment. I am thrilled also now that he is a McIntosh owner. R.R.,FL
The equipment arrived yesterday and was all in great shape. I installed everything this morning and it's all just phenomenal. The speakers sound great!! Thank you so much for everything! D.R., NC

Convenient payment plans: Audio Classics, Ltd. accepts Mastercard, VISA, Discover and American Express. For Your protection, we thoroughly investigate the validity of all credit card charges. To avoid delays, we prefer to send credit card orders to Your billing address only. You can pay by personal check, postal money order, certified check or bank cashier's check. Personal checks are subject to credit verification and can delay orders up to two weeks. COD orders must be paid by cash, bank check or money order and require a 10% deposit. The deposit can be paid by check or credit card.

Expert Packing: Your purchase is packed in the original shipping container whenever possible. Double boxing is used for extra protection on most items and Your shipment is insured. Large or heavy items can be crated at an additional charge. Audio Classics, Ltd. ships by your choice of UPS, FEDEX, US Mail, BAX, Roadway or Consolidated and you pay the shipping and handling charges.