Grade: B2
B2: 4999.00
Physical: Some light scratches - Excellent Condition
Electrical: Meets original specs, noisy worn controls
Comments:with box & manual.
Call for availability



---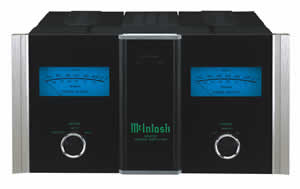 File Photo for Representation of item. May not be the actual item offered for sale.


2 X 400 Watts Quad-Differential Design
Exclusive McIntosh Power Assurance System
Peak Responding Wattmeters
Fiber-Optic Illuminated 3D Glass Front Panel

Shipping weight: 175 lbs.

Related Categories: Interconnects Speaker Cable Line Conditioners


Feedback: I got my order everything super good !!!!! I set up with my Mcintosh MC402, C50 Mcintosh preamp and pair of B&W 803 Diamond ...... oh my god ...sound wonderful make me can not leave the stereo room. Thank you very much for such you are a very good and super sale man and easy deal ..... I just want to leave you and audioclassic the positive feed back but I don't know how to do it . In future I will contact you again and will refer any friend to you when ever we need stereo stuff .... The Marantz SA11S2 super sound !!!!! K.L., MC
Thanks for the fantastic service and customer support that you have provided during the past few weeks. Your detailed knowledge and practical advice on multiple audio brands and equipment is priceless. I appreciate your enthusiasm and professionalism in helping me to select the Mcintosh MC402 and C45 w/TM1. M.S.,TX
.....a good prescription for dealing with being home sick is to have lots of good music to listen to! The combination of the 803's and the 805's in my listening space are absolutely spectacular. They are a little power hungry but the 402 drives them just fine. My friend who works at the local retailer helped me set up everything is also quite envious of the MR88. He had never seen one except at Mac in-services, and the luck of the draw for us is that two of our favorite stations that account for 99% of our listening, have HD transmitters on a nearby mountain. BIG difference in fidelity over analog FM. The only downside is that there is a slight delay in the signal between the two formats so that having them on in other parts of the house with a traditional tuner can be a little annoying. Oh well small price for good listening. We still look forward to getting up there to visit and get a tour. Thanks so much for all of the time spent. I'm good to go for another 30! R.R., VA
I could not believe it, but you are 100% correct. There is a noticable difference in bass response between th MC300 and the MC402. In addition, the MC402 has a more pronounced dynamic presentation. I nearly fell out of my chair. Plus there is the icing on the cake - never have to change a light bulb! M.Z., N.Y.
At last, we take some time to thank you. The amps sound really fantastic and indeed everything arrived on time and in a perfect condition...The MC402 and C2200 together with the Sonus Faber Elipsa are just amazing, so much space and air. I think the Elipsa really needed a powerful amplifier and the MC402 is perfect. The MA6900 with the Sonus Faber Cremona is fantastic, as beautiful as we expected. This integrated amplifier is such a good value and sounds in the McIntosh way, the way we love. Thank you again for everything. A.R.& D.C., France
Just a quick note to say both units have arrived safely. We started with the C46 and the difference it made was just awesome. One of the reasons I wanted the C46 was because of the equalizer. Its turned out the unit is so good, I do not need tone controls at all - unbelievable! Adding the 402 a week later took things to a much higher plane and we now no longer feel the urgent need to change our speakers. Thanks again for two superb pieces of kit. R.B.
Convenient payment plans: Audio Classics, Ltd. accepts Mastercard, VISA, Discover and American Express. For Your protection, we thoroughly investigate the validity of all credit card charges. To avoid delays, we prefer to send credit card orders to Your billing address only. You can pay by personal check, postal money order, certified check or bank cashier's check. Personal checks are subject to credit verification and can delay orders up to two weeks. COD orders must be paid by cash, bank check or money order and require a 10% deposit. The deposit can be paid by check or credit card.
Expert Packing: Your purchase is packed in the original shipping container whenever possible. Double boxing is used for extra protection on most items and Your shipment is insured. Large or heavy items can be crated at an additional charge. Audio Classics, Ltd. ships by your choice of UPS, FEDEX, US Mail, BAX, Roadway or Consolidated and you pay the shipping and handling charges.