| | | |
| --- | --- | --- |
| | McIntosh MC501 | |
Wanted! 500 Watt mono block
Original List Price: 5500.00


---
Grade: C?
C?: 5500.00
Physical: Some scratches or nicks, light oxidation - Good Condition
Electrical: Not graded AS IS
Comments:


Call us for availability




---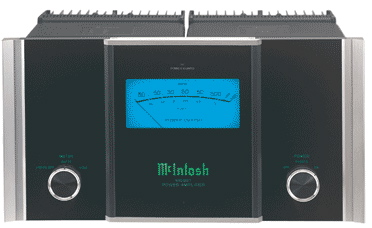 File photo for representation of item. May not be the actual item offered for sale.


500 Watt Mono Block
Stereophile Recommended Components Class A, April 06
Quad-Differential Design
Exclusive McIntosh Power Assurance System
Peak Responding Wattmeter
LED Fiber-Optic Illumination

Shipping weight: 125 lbs.

Related Categories: Interconnects Speaker Cable Line Conditioners


Feedback: Just wanted to say thank you again for the entire purchase process. Everything was pleasant and straight forward. We enjoyed visiting AudioClassics and meeting you, and we got all the support to make the right decision. Then the "package" arrived already on Thursday (and caused some raised eyebrows of my colleagues). It was perfectly packed up and the units are really in like-new condition. Thank you also for the XLR cable. I have now everything set up in our living room and I'm very happy about the look and sound of our new system. Of course I'm aware that this might be subjective, but I really think it's a substantial improvement and the 501s suit the 802s better than the newer Mc generation. The 501s are more laid back, maybe less brilliant, and the 802 is a very detailed and and extremely clear speaker. The combination is now not so much in your face as the previous combo, but just the right compromise: relaxed, controlled, still very clear, simply more musical. And the C48 adds exactly the missing functionality of passthru and the D/A converters. So you can probably hear through these lines that your made two happy customers. P.Y. MA PS: Special regards and thanks from (my wife). She wanted to make sure that I send greeting from her, too. She really liked the trip and meeting you (which is certainly the best a stereo nerd can hope for).
The McIntosh MC275-MKV and MC501 are great. K.M. NW
...just wanted to thank you for the MC501's.The experience I had made the trip to pick them up well worthwhile.The amps look and sound amazing,a great improvement over the also excellent MC352. Referring all my audio friends to you. I'll be coming down again for any future McIntosh purchases. My friend ..who came with me,is now seriousily considering McIntosh. You guys are high-end audio done right. Thanks again for a awesome day. D.F., NY
I just thought i would write to say a very big thankyou! the Amps arrived early last week and I took them down to a friends audio shop and had a really good listen. We were both really blown away by the condition and the sound of the amps(1st time I had ever listened to 501's) and let me tell you I was very very impressed. So am extemely happy with the sound and the level of service that you and Audio Classics provided. cheers mate C.O., Australia
... everything is perfect. you were right, he sings like a bird ... and snores like a B52's ... again thank you to you and your team. C.P., France
I have hooked the MC501s into my stereo system and the soundstage of the Maggie's 3.6Rs now has more depth! My wife... has also noticed the improved soundstage! We have listened to two of the CDs that were a challenge for the MC150 to play loud. We can now play them without lowering the volume! We currently own a McIntosh C712 pre-amp. Based on my very positive and delightful buying experience yesterday, I know that my search for a McIntosh dealer is over! Audio Classics is the only stereo store I have found that displays every current McIntosh product! Whenever I need to preview and/or purchase a McIntosh product, I will gladly make the 5.5 hour drive from Alexandria, Virginia to Audio Classics. Hopefully, the next time I am at Audio Classics, I will be able to take the tour of the McIntosh Plant. Again thanks for helping me find the right amps (two MC501s) to enhance the soundstage of my Maggie's 3.6Rs! I will very highly recomend Audio Classics to anyone interested in purchasing McIntosh new and vintage products! J.G., VA
I want to thank you for a very positive sales experience today! Thanks for helping me purchase two McIntosh MC501 amps from AudioClassics and for showing me new and prized McIntosh equipment. I found you to be very knowledgable about vintage and current McIntosh equipment. I will be in contact with you when I decide to purchase a new McIntosh preamp. J.G., VA

Convenient payment plans: Audio Classics, Ltd. accepts Mastercard, VISA, Discover and American Express. For Your protection, we thoroughly investigate the validity of all credit card charges. To avoid delays, we prefer to send credit card orders to Your billing address only. You can pay by personal check, postal money order, certified check or bank cashier's check. Personal checks are subject to credit verification and can delay orders up to two weeks. COD orders must be paid by cash, bank check or money order and require a 10% deposit. The deposit can be paid by check or credit card.

Expert Packing: Your purchase is packed in the original shipping container whenever possible. Double boxing is used for extra protection on most items and Your shipment is insured. Large or heavy items can be crated at an additional charge. Audio Classics, Ltd. ships by your choice of UPS, FEDEX, US Mail, BAX, Roadway or Consolidated and you pay the shipping and handling charges.