McIntosh MCD500
Improved Signal Path 2 digital inputs
Original List Price: 7000.00


---
Grade: B1
B1: 3699.00
Physical: Some light scratches - Excellent Condition
Electrical: Meets or exceeds original specs, all functions operate
Comments:with box, manual & remote.

---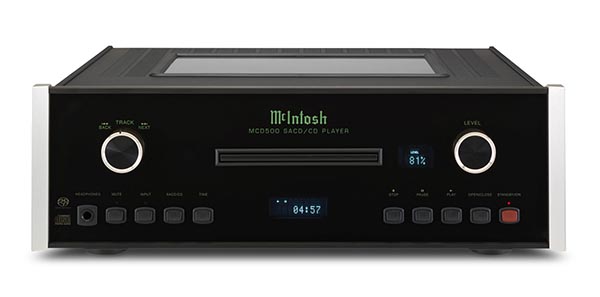 File photo for representation of item. May not be the actual item offered for sale.


2-Channel CD / SACD Player 24 Bit/192 kHz Resolution
Quad Balanced DACs
Aux Digital Inputs x 2 Differential Balanced Output Stage
Die-Cast Disc Tray w/ Stainless Steel Bearing
2x-Speed Disc Reading
Fixed & Variable Analog Outputs

Shipping weight: 45 lbs.

Related Categories: Compact Disks Interconnects Line Conditioners


Feedback: Thought I would drop you a note to say that the MCD500 arrived safely. Packed to perfection and looked like new. You even added a couple of trigger cords which although a small item was a very nice touch. Of course the big question always how does it sound and did I make the right decision Id answer with a resounding Yes Absolutely love what the mcd500 does with my CDs. It did not take long before I quit listening to the player and just enjoyed the music. For my tastes this player is as good as it gets. Thanks again for the great experience and dealings with Audio Classics would not hesitate to do it again. T.W. CA
just a note to let you know the mcd500 is everything you said it would be and more, I am very happy with it. S.S., NY
I have not had a chance to say thank you for the professional attention with my last purchase. The player safely arrived and is impressive. I believe that it takes several months for a person to fine tune the listening experience and the initial experience is just the beginning. Thank you for your continued support. C.A., NJ
like to thank mike for helping me build my stereo. mcd500/ c2200/ 2 mc352 and b7 phantoms. I want to take a minute to thank yall for your service. yall are the best in my eyes. a company that helps there customers after the sale. and takes pride in helping there customers. my best to mike. and the team thanks again R.B., TX
I wanted you to know how much I have been enjoying my McIntosh 500 CD player. I listen to it nearly every night. This is a wonderful addition to my Mac system. I think it may be the best purchase I have ever made from you. J.S., VA
Well, I set up the MCD-500 and it is truly amazing. As you suggested, I have used it as a DAC for the MR-88, and even as good as the MR-88 is, it makes a very big difference. Using it with Ithacaís two HDFM radio stations is very special. It even improves the way the Lexicon processor sounds when itís number crunching at 96 khz to derive ambience information. K.H., NY
I wanted to thank you and everyone at Audio Classics and McIntosh for a fantastic afternoon yesterday! We had a terrific time! It was great to meet you and the rest of the gang at AC as well as everyone at McIntosh. It was an experience we won't forget! As for the MCD500, I wasn't prepared for just how good it would sound cold, right out of the box. It's amazing! It makes the Theta sound broken. Seriously! It only got better as I listened until way past when I should have been in bed. Yes, I made it to work this morning but it wasn't easy.Thanks again for all of your hospitality and please pass our thanks on to Chuck too! K&Z.L.,PA
Well, last week I made good on my next McPurchase(s). I took a ride up to Audio Classics and came home with a new MCD 500 and a pre owned MR 85! Before I elaborate on the purchases, I have to thank Ryan for his hospitality. I got a tour of their great facility and had a nice lunch with the guys. I even got to meet a fellow Aker. If you are planning a tour of McIntosh, I highly reccommend a stop at Audio Classics it's a fun place with loads of Mac gear and great group of people. And I know I don't need to tell anybody here what a great guy Ryan is! Ryan did a wonderful job installing an LED kit in the MR 85, it looks absolutely incredible. While I am still playing with these units (swapping interconnects SACDs, CDs, etc) all I will say at this point is that the MCD 500 lives up to the great reviews it has gotten on this site and in the press. The sound is so smooth and silky and my whole system just seems so much more quiet. While I have upgraded the sound from my Tuner and CDs the biggest change has been what the MCD 500 DAC has done for my Squeezebox/Server. The sound was OK for background music but was always what I would describe as thin compared to the original CD. With the MCD 500 in the mix, I can't really decide if the CD or the Squeezebox is better. It seems to vary with the CD or even the track. My next purchase may now be a 1.5 TB hard drive! If you're wondering the rest of my two channel system consists of a C2300, MC 252 and a pair of B&W803D's. J.B., NY

Convenient payment plans: Audio Classics, Ltd. accepts Mastercard, VISA, Discover and American Express. For Your protection, we thoroughly investigate the validity of all credit card charges. To avoid delays, we prefer to send credit card orders to Your billing address only. You can pay by personal check, postal money order, certified check or bank cashier's check. Personal checks are subject to credit verification and can delay orders up to two weeks. COD orders must be paid by cash, bank check or money order and require a 10% deposit. The deposit can be paid by check or credit card.

Expert Packing: Your purchase is packed in the original shipping container whenever possible. Double boxing is used for extra protection on most items and Your shipment is insured. Large or heavy items can be crated at an additional charge. Audio Classics, Ltd. ships by your choice of UPS, FEDEX, US Mail, BAX, Roadway or Consolidated and you pay the shipping and handling charges.